Soviet childhood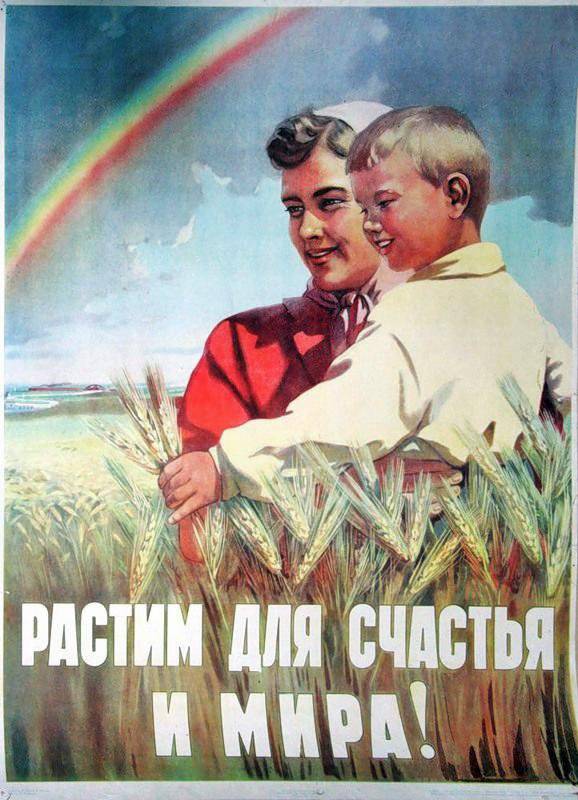 Childhood is a wonderful time in the life of every person. And as adults, we remember only the best things about childhood. This does not mean that the bad was not in childhood at all. Were in childhood and their tragedies, and frustration, and bitter resentment. It was all, but ...
But there was more. Something else cannot be explained with words. It is necessary to feel. And today I am trying to tell my children about my childhood. About your country. Although, incidentally, why about your childhood and your country? I try to tell about our childhood and about our country. About the Soviet childhood and about the Soviet country.
Trying to cover everything at once. And I can not find the words. How to explain to them our childhood? They who have not lived a single day in the country of the USSR. In order to explain it, you need to feel, you have to live like us. How to do it? If not only our Motherland is split, our memory is split, our life is broken. Broken into small pieces. And here I am trying to collect these fragments. Gather them so that my children can understand and feel the Soviet childhood, the Soviet homeland.
What do I remember first when I think about childhood? An autumn day arises in memory. Rain on the street. I look out of the window of the tram at people hurrying about their business under transparent umbrellas. And for some reason, this rainy day remains forever in my memory. Kindergarten. Our educators. Fish in the aquarium, a turtle and two parrots. Matinees, for which my mother always sewed costumes herself. The most long-awaited Christmas party. Elegant Christmas tree and Santa Claus with the Snow Maiden. And of course gifts. In addition to candy, you could get a toy as a gift by telling a verse to Santa Claus. And I was always embarrassed to go out for this gift, despite my mother's persuasion, Borscht and semolina, which were always tastier than at home. The quiet hour, which sometimes turned into a "slaughter", cost someone to throw a pillow. And the magic phrase to mom: "Will you take me to sleep?". And pride, if that happened. If not, it doesn't matter. In the evening we go home with our neighbor Zhenka. Closed on Sunday. In the morning - "Alarm clock" and "Visiting a fairy tale." And then…
How much was then. Full yard guys of different ages. And we are always and everywhere together. Swings and classics in the fall and spring. Cossacks-robbers and rezinochki. In winter, it was necessary to hurry (in the Arctic it gets dark early). Snowballs and sledding. And the rink !!! Skating rink on which time flew by. And here we go home. Dark. Already late - and probably will fall at home. But there is always a way out. Having fallen in the snow, you boldly knock on the door (it worked without a hitch). Mom, seeing the "snow man", hands a brush and a broom, scolds for the appearance, but not a word about the late arrival. New Year has always been a NEW YEAR. It was a holiday. The mood did not disappear even after the strikes of the Kremlin chimes. Elegant Christmas tree and gifts. Full house guests. After twelve, mother's colleagues arrive. And songs under the accordion. People sang songs. After all, when do people sing songs? People sing songs when they are happy.
The kindergarten ends with a tea party after a samovar and a dance with the mother. The sadness of parting. And yet the unknown school future does not scare. After all, we also go to school together.
To school together with our sadikovsky group. So there are acquaintances in all the first classes. First September 1, gray sky and rain. We first-graders are a bit hushed by the spacious classes and the unfamiliar first teacher. But we go to school together in the morning. After all, only the first-graders from our house were eight people. And in the morning we run to the school with a flock, and after the lessons ... After the lessons we run for half an hour in the kindergarten to our tutors. And, proud, we adore ourselves in front of the little ones who are now hosting in our group.
Free time ... How many things fit in this very free time. Skates. Skiing. Jogging in the stadium. Volleyball sports section and soft toy club. And still street. And books. You read books all the time. Reading, you do not hear the mother, who screams to you almost above the ear, but you do not hear. The book world captures you completely. Heroes of Jules Verne, Jack London and Mine Reed. Heroes fictional and real. You were with them. You equaled them. Gadfly, Sanka Grigoriev, Alexey Maresyev, Zina Portnova and others. Heroes of books and real, but decisive and courageous.
How many beautiful films were made for us. "Adventures of Electronics", "Guest from the Future", "Dunno from our yard", "Mama", "Adventures of Buratino", "Point, point, comma", "Redhead, honest lover", "Mary Poppins, good bye". .. As a child, I watched these films and did not understand, or rather did not think about, the secret of these films. After all, I watch them now as an adult: the feeling that I am a child does not pass. And only now I understand that the soul of each of their creators is in the films. Each contributed a bit of himself and the actor, and director, and composer. And after many years, it is the music of these films that most accurately conveys the atmosphere of our childhood.
The music of our childhood. Earlier, listening to songs and music, I never thought about the people who wrote it. And now for me, an adult, the names of these people are important. People who allow me to remain human today. Allow me to remain a child today. Being an adult and a child at the same time. Thanks to these films and the songs of them, I believe in wizards. I believe in a miracle.
And if childhood has music, then it should be like in Soviet films for children. Music, with which you take off, soar. Music with which you believe. The music you live with.
"Mary Poppins, goodbye." Music by Maxim Dunaevsky, words by Naum Olev. Wonderful songs "Bad Weather", "Lady Perfection", "Colored Dreams." "He is happy, he is happy, In whom childhood is."
"Peter Pan". Music by Igor Efremov, lyrics by Leonid Derbenev. "Not without reason, of course, not without days the flow is so bright and swift. Do not rush, do not rush, children grow up. Let slower parents age. " "We cannot forget that bright time, to which, alas, it is not possible to return. And childhood has no past, and childhood has no past. And, perhaps, in this, it is so infinitely happy. "
"The Adventures of Electronics" ... Music by Evgeny Krylatov, lyrics by Yuri Entin. "In the young month of April, the snow melts in the old park, and the cheerful swing begins its run. Forgotten everything in the world, my heart sank in my chest, only the sky, only the wind, only joy ahead. " "But you are a man, you are both strong and brave, do your own destiny with your own hands, go against the wind, do not stand still, understand, there is no easy road."
"The magic voice of Gelsomino" ... Music by Igor Efremov, lyrics by Mikhail Tanich and Leonid Derbenev. "My loud voice will come in handy, let him wake them up. I will try so that they will hear, I will sing: People, wake up! Where is your pride? The power of simple people? People, wake up, listen to my song! ". "As long as Giacomon writes lies on the banners, our people, our people are divided into sentries and prisoners."
"Auburn, honest, in love" ... Music by Igor Efremov, words by Georgy Polonsky. "Dear mother, do not be angry with your son: something plays in him, but not indulgence, the son has the secret of the color of orange or even the sun, the sun itself." "Maybe I'm wrong. Maybe I'm a fool. Maybe in these matters, I'm completely new. Maybe everyone will ridicule this opinion of mine, only I am fed up with lies. "
"Point, point, comma" ... Music by Gennady Gladkov, lyrics by Julia Kim. "Point, point, comma - a funny face came out. Pens, legs, cucumber - a little man appeared. " "What are you, what are you ?! It is important that he grows brave, so that he can find the way, calculate the run-up. It is difficult, it is difficult, but otherwise it is impossible - only in this way will a man come out of a man ... "
"Three Fat Men," "You Never Dreamed," "Arrows of Robin Hood," "The Kingdom of Curved Mirrors," "Finist — A Clear Falcon," "One Hundred Days After Childhood," "Key Without The Right Of Transmission", "We Will Live Until Monday" , "Drawing", "Children of Captain Grant", "Elusive Avengers", "Fourth Height", and of course "Guest from the Future". And many others. Films shot for raising children, for raising a real person. Shot for us Soviet children.
Many people created childhood for Soviet children. Soviet composers, writers, poets, actors, teachers, counselors and our parents created our childhood. They built the foundation of our life. They laid the first bricks in this foundation. Laid the most important thing that makes a person a real person. We, Soviet children, believed in goodness and justice. We, Soviet children, believed in man and trusted people. We, Soviet children, believed in love and friendship. We, Soviet children, respected the work and working man. We, Soviet children, did not measure our lives with money, but we considered friends and knowledge as wealth. We read and studied. We sought the stars, and dreamed of feat.
Thanks to the composers whose music helps to be people. Boris Alexandrov, Edward Artemyev, Vladimir Bystryakov, Moses Weinberg, Grigory Gladkov, Gennady Gladkov, Yevgeny Doga, Isaak Dunaevsky, Alexander Zatsepin, Mikhail Ziv, Eduard Kolmanovsky, Yevgeny Krylatov, Vladimir Lvovsky, Kirill Molchanov, Boris Mokrousov, Sergey Nykintyn -Byul oglu, Raimonds Pauls, Alexander Pakhmutova, Andrei Petrov, Stanislav Pozhlakov, Mikael Tariverdiev David Tukhmanov, George Firtich, Yan Frenkel, Alexander Flyarkovsky, Eduard Hanok, Tikhon Khrennikov, Igor Tsvetkov, Yuri Chichkov Vladimir Shainskiy Isaac W Varts, Vladimir Yurovsky, thank you!
Thanks to the poets whose poems help to live. Leonid Derbenev, Alexey Didurov, Nikolai Dorizo, Yulia Drunina, Boris Zakhoder, Sergey Kozlov, Vasily Lebedev-Kumach, Mikhail Matusovsky, Mikhail Nozhkin, Grigory Oster, Mikhail Plyatskovsky, Ilya Reznik, Robert Rozhdestvensky, David Samoilov, Heinrich Sapgir, Mikhail Tanich, Eduard Uspensky, Efim Chepovetsky, Alexey Fatyanov, thank you!
And today I try to tell my children about the childhood, about my country the USSR. What do they know about the country of the USSR? "Totalitarian state", "repressions", "leveling", etc. These are standard horror words that sound from TV screens, but there are other words as well. And I try to explain how I lived, what I felt then and what I feel now. Often there are not enough words and I give them to read books, turn on Soviet cartoons and films, turn on music and songs. After all, it is impossible to tell, it must be felt. Skip through the heart and soul. Learn to be different.
Learn to be different. Learn to be human. A man of the future. After all, the country of the USSR was a country with a new system. With a new system, unknown until 1917. There was not a single country in the world that lived such a system. For the first time in
stories
of humanity, people began to build a just society on Earth. For the first time there were people who believed that this was possible. And for the first time, these loners raised millions. Millions who believed in the words: "Freedom, equality and fraternity." For the first time, people could be better, more honest, bolder and more conscious. For the first time, they were able to do so much in short 70 years. For the first time in such a short period of time they passed from the plow to the nuclear
weapons
. For the first time we have become different.
Soviet children were taught to be kind, honest, courageous, resolute. We were taught to think. We were taught to work. We were taught to learn. We were taught to strive. We were taught to dream.
We were not taught to adapt. We were not taught to cheat. And most importantly - we were not taught to hate. We never had a double morality. Never what we were taught, did not diverge from life. We were not taught to be scoundrels. We were not taught to be traitors. We were not taught to sell and sell.
In the USSR, we were taught the main thing - to be people. The Soviet Union needed people with a capital letter. Needed workers and farmers. Looking for teachers and engineers. Scientists and inventors were needed. We needed composers and poets. We needed people honest and decent. We needed people open and brave. We needed people who believed. They needed conscious people. We needed creative people, educated and hardworking. And most importantly - the people themselves were needed! Because this country was a country of PEOPLE, and for PEOPLE! "
Today, when you are suffocating from the constant running around, when you drop your hands from hopelessness, when you quench from lies, when you feel that you are dying of faith in goodness, justice and faith in a person, I turn on Soviet films. And they help me survive. They help my faith in good and justice not to die. They help not to die of my faith in man.
And today I remain a man, yet I believe. Believe in good. I believe in love and friendship. I believe in justice. I believe in man.
[media = http: //www.youtube.com/watch? feature = related & v = _vQWswnXrnU & gl = RU]

[media = http: //www.youtube.com/watch? v = KdjIzQOQQNw & feature = channel & list = UL]