The State Duma gave the right to retired naval officers to wear daggers for life without a permit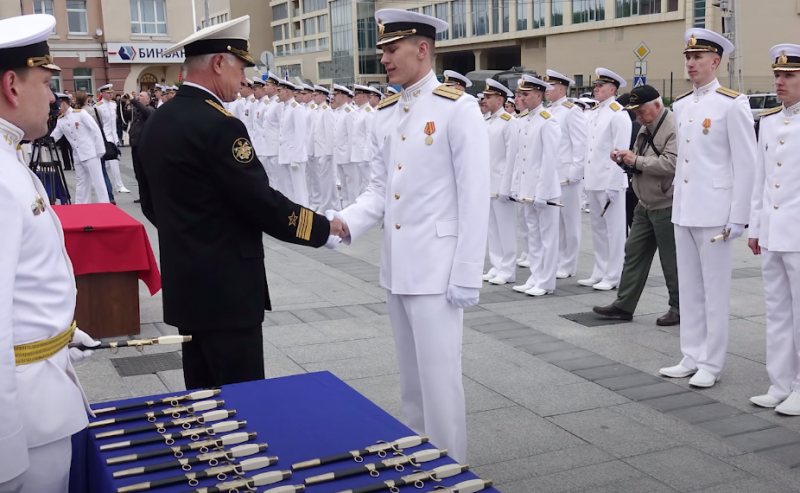 The State Duma allowed retired Russian naval officers to wear a dagger for life as part of their dress clothes. At the same time, you do not need to issue a permit for this.
The new bill was adopted by the State Duma deputies in the second reading. He amends Article 19 of the Law "On
weapons
". According to these amendments, daggers, as part of the dress clothes of military sailors, will not be subject to registration with special bodies of the Russian Guard. Thus, special permission for storage and wearing is not required for daggers. In the current version of the law, retired officers were required to register weapons within two weeks. place of residence.
(...) taking into account the purpose of the transfer of daggers and their purpose (life-long storage and wearing with a military uniform, observance of military traditions and rituals), it is advisable to establish the procedure for their circulation without keeping records in the Russian Guard
- said in the explanatory note to the bill.
It is specified that daggers are provided to retired officers of the Russian Navy for life-long wear on request and in the absence of diseases in which possession of a weapon is contraindicated.
Note that after the collapse of the Soviet Union, the issue of officer daggers was raised several times. First signed by Yeltsin in 1996, the new law "On weapons" recognized the dagger as a melee weapon and its wearing required a special permit. In 2010, the dagger was removed from the list of personal weapons of midshipmen and officers altogether, and in 2013 a new Manual on weapons accounting was approved, which required, upon dismissal from military service, to hand over a dagger and other weapons to the warehouse of a military unit on invoices.
Subsequently, the right to wear a dagger to retired officers was returned, but ordered to register daggers with the territorial departments of the Russian Guard.