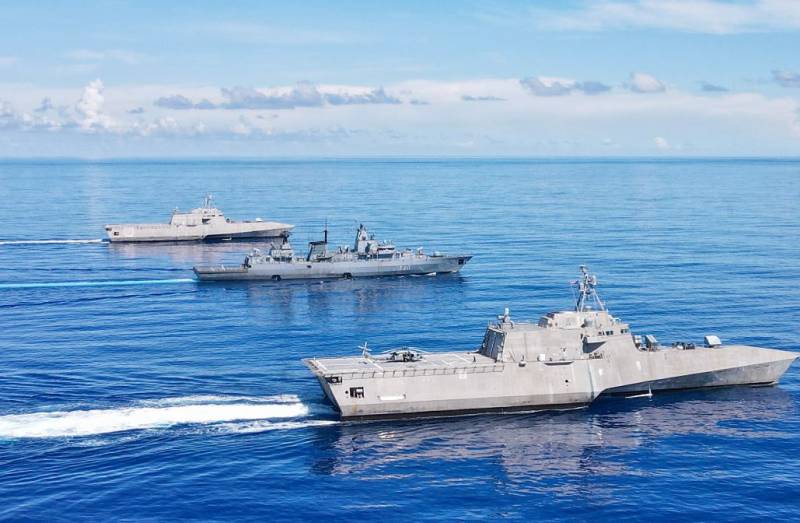 The US Navy is starting to deploy warships in the disputed waters of the Western Pacific. According to the command of the Navy, this will help increase the combat power.
fleet
in the context of promising clashes with the Chinese fleet in the region.
In mid-October 2021, there were three LCS warships in the US Seventh Fleet in the western Pacific. As of October 21, USS Tulsa and USS Jackson were participating in joint exercises with the German Navy frigate FGS Bayern. They are planned to be deployed off the coast of China.
Recall that coastal warships are armed with a 57-mm cannon, short-range missiles, and can also deploy MH-60 and
Drones
MQ-8. Their task is to protect against small enemy ships, as well as to transport various cargoes. But, according to many military experts, these ships are practically toothless compared to the well-armed Chinese fleet. For example, they lack long-range anti-aircraft missiles, which makes it impossible for them to fully operate against
aviation
the adversary.
Another problem that experts point out is the technical unreliability of the LCS. In particular, ships of the Freedom class have mechanical malfunctions in the power plants. Now the US Navy is planning to replace the necessary parts, but it will take millions of dollars and time. In addition, the fleet no longer wants to accept ships of the Freedom class. The Navy is going to gradually get rid of the outdated LCS, which do not fully meet modern standards and are too expensive to upgrade. Freedom and Independence were decommissioned this summer and fall, respectively, although they have been in service for just over 10 years.
The US Navy plans to get rid of three more single-hull LCS, with a disposal plan already included in the budget proposal. If the US Congress agrees with the arguments of the military, then 4 ships will leave service in March 2022. Then no more than 29 LCS will remain in the Navy, and then taking into account the ships at the shipyards.
Therefore, now the command of the Navy wants to make the most of the capabilities of the LCS. It is likely that they will be sent to help a new destroyer squadron in Singapore, whose task is to contain China in the Indo-Pacific region.