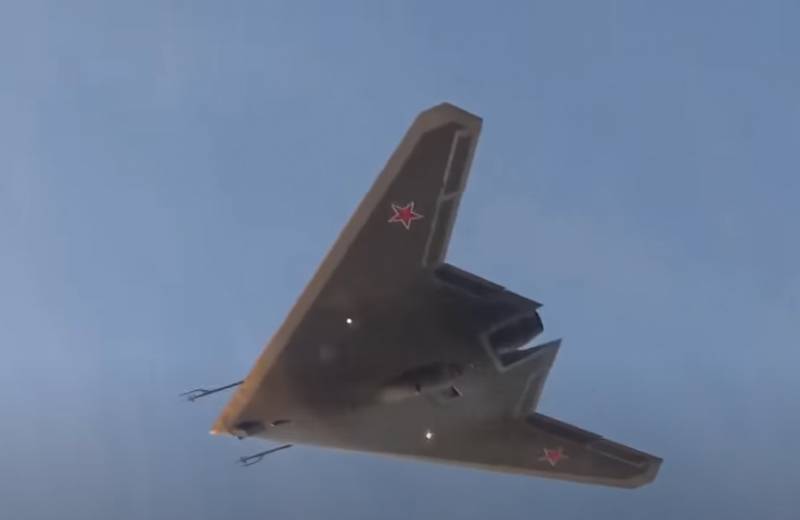 The American press released material that is dedicated to the development of the Russian unmanned
aviation
... It is noted that in just a few years Russia has managed to go through the technological path that the United States has traveled for decades. In particular, it is said that Russia managed to create a high-speed heavy attack drone from scratch, which is positioned not only as an autonomous combat unit, but also as a UAV capable of acting as a slave against a fifth generation fighter.
American journalists from 19FortyFive write that the Russian Okhotnik UAV is "one of the most modern
drones
impact type in the world. At the same time, American reporters note precisely the fact that the Russian Okhotnik is distinguished by its ability to act as a wingman for the Su-57 fighter.
From material in the American media:
The Russian strike drone is capable of accelerating to a speed of 1000 km / h with a mass of 20 tons. It is heavier than individual fighters, but this does not prevent it from developing high speed.
American authors note the following fact: a bunch of Su-57 and shock
drone
"Hunter" allows the latter to strike at targets at distances of up to 6 thousand km with a rocket and bomb load of up to 2 tons.
American experts, commenting on Russian aviation technologies, note:
The Russians have always managed to create super-maneuverable aviation.
Based on this, the comments of US experts indicate that now Russia will have to implement proven technologies for maneuverability on drones.
In this regard, the question arises: is super-maneuverability really necessary for the Hunter heavy attack drone? On this occasion, a dispute has entered the network. One of the parties to the dispute says that the purpose of creating the "Hunter" was originally associated with the destruction of ground assets and infrastructure. However, later, statements began to appear that the Okhotnik UAV could also be used as an interceptor. If we talk specifically about the interceptor variant, then it will be difficult to do without increased maneuverability, because otherwise the enemy's chances of destroying the Russian drone will increase.