Germany begins production of a new cannon for British Challenger 3 tanks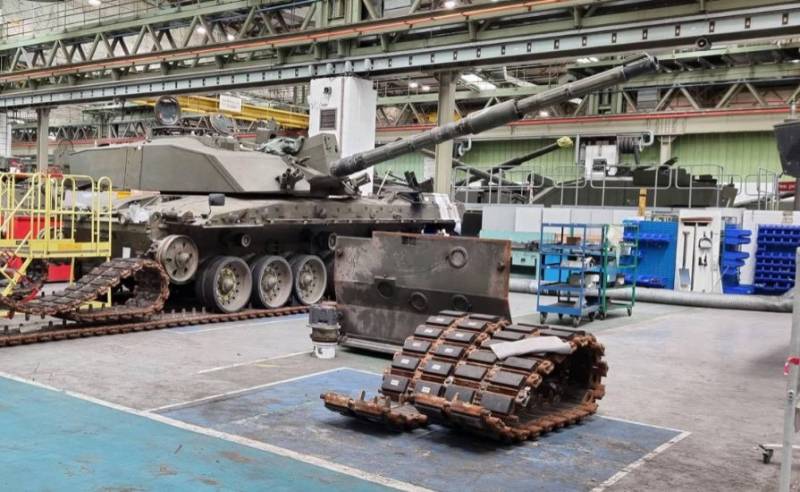 The new 120mm gun, developed by the German company Rheinmetall, will be manufactured at the Unterluss plant. In a press release from the British Royal Armed Forces on September 21, 2021, it is said that two 120 mm Rheinmetall L55A1 smoothbore guns have already been launched well ahead of schedule.
Produced in Germany, the gun will be used to modernize 148 main combat
tanks
Challenger 2 (CR2) to the new Challenger 3 (CR3) modification. Recall that Challenger 2 tanks have been in service with the British army since 1995. Since tanks were being developed back in the 1990s, now is the time to improve and modernize a number of their key components, including weapons.
Concern Rheinmetall AG is one of the largest manufacturers in the West
weapons
and military equipment. It was created back in 1889 and for almost a century and a half of its existence, it produced a variety of weapons - from small arms to armored vehicles and armored trains. Now the concern remains one of the largest companies in the military-industrial complex of Germany.
The company's products are supplied to the armament of not only the Bundeswehr, but also the armed forces of other NATO countries. Thus, the 120 mm Rh120 tank gun under the designation M256 (M256A1) was used on American Abrams tanks, and not only on the tanks of the German army.
After the guns are produced at a facility in Germany, they will be tested and approved before being shipped to the UK. The new gun, combined with improved armor and the latest ammunition, according to the British press, will continue to leave the Challenger among the most powerful battle tanks in Britain and NATO as a whole.
Colonel Will Waugh, in charge of the implementation of the program to improve the combat qualities of the tank, noted that the production of the new gun is another step towards the modernization of the main battle tank of the British army. Combining the cannon with the latest ammunition will give the Challenger 3, according to the colonel, a genuine change in combat capability from its predecessor, the Challenger 2.
The new weapon will significantly increase the combat effectiveness of British tanks in modern conditions, and therefore make Britain's participation in the NATO bloc more effective.
- as stated in the command of the royal army.