Deputy Prime Minister of the Russian Federation named possible dates for the start of mass production of The Checkmate fighters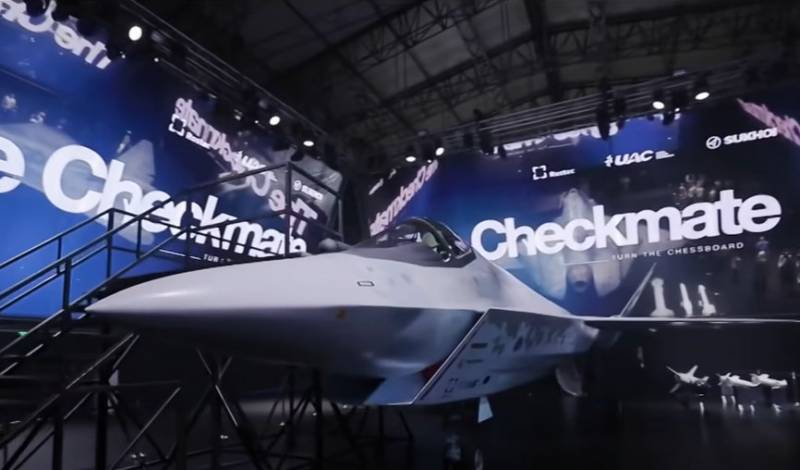 In our country, the issue of a possible purchase of the promising fighter The Checkmate, presented not so long ago at the aerospace show in the Moscow region, is being discussed at the highest level. In particular, statements on this issue were made at the Tyumen Oil and Gas Forum.
One of the discussed sides of the issue is whether to offer for export weapons that are not yet purchased for the needs of our own Armed Forces. If no contracts have been signed for the Russian Aerospace Forces for the supply of a promising new generation light fighter (Su-75), will foreign partners be ready to invest money in a Russian manufacturer to buy these combat vehicles?
This issue was discussed with the participation of the Deputy Prime Minister of the country Yuri Borisov. According to him, it is normal for potential foreign buyers to ask if Russia itself is going to adopt The Checkmate's Su-75 fighters, which it offers for export.
According to Yuri Borisov, who spoke out during the aforementioned forum, when considering plans for a new state armaments program (GPV), attention will be paid to the possible purchase of a new generation of single-engine fighters for the Russian Aerospace Forces. Yuri Borisov noted that without such a purchase within the country, the export potential of The Checkmate will be significantly lower.
At the same time, the deputy head of the Russian Cabinet of Ministers noted that the establishment of mass production of this aircraft could take place by 2025-2026. And then he made an important remark - "if there is a demand".
According to Borisov, if this does not happen, if there is no demand and, accordingly, the mass production of the Su-75, then Russia simply will not be able to enter the market of single-engine modern fighters, where the United States is already present and where China is trying to enter.
Deputy Prime Minister noted the spread of single-engine fighters in the world
aviation
, their relevance and broad prospects for combat use. If the Russian fighter has such a competitive advantage as the price against the background of advanced capabilities, then there is no doubt about its prospects in the domestic and world markets. However, so far everything is only in the future tense ...