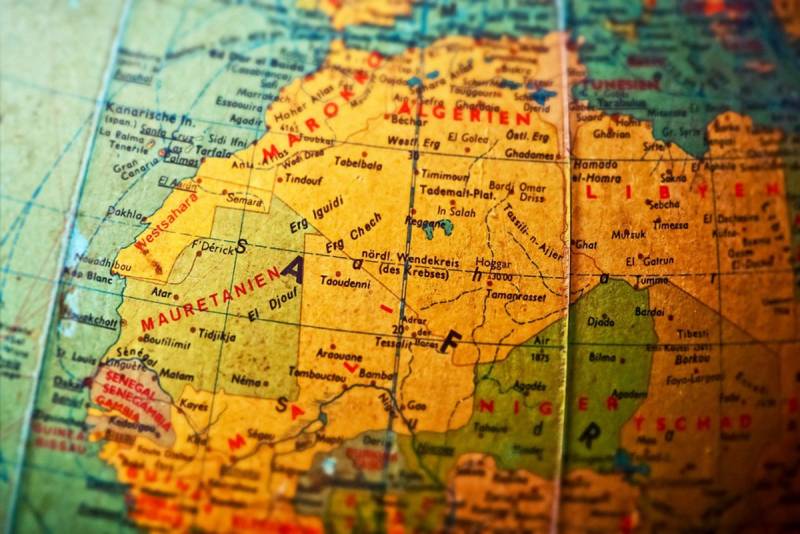 Distracted by the events that are taking place in Europe, Ukraine, the United States, for some reason we stopped writing and talking about Africa. Meanwhile, quite recently, in 2019, this topic was among the most discussed in the world and Russian press.
What happened? And why has Africa ceased to interest us?
The reason, it seems to me, was our misconception about this continent, laid down by the writings of the writers of the late XNUMXth and early XNUMXth centuries. And subsequently - also stereotypes actively imposed on us by both television and the media in general.
Agree, for most of the inhabitants, Africa has remained a backward, impoverished, illiterate territory inhabited by some wild tribes?
A sort of eternal outsider of world politics and economics, who does not even strive to catch up to the level of the world's leading countries. Some people in torn clothes and fancy hairstyles on their heads, who only think about how to get another cow or camel.
Is this true?
It's time to break stereotypes
Those of the readers who were born and raised in the USSR remember very well our attitude to the People's Republic of China at that time. They sleep on mats, eat a ball of rice a day, drive old Soviet cars, licenses for the production of which were once given by Stalin to Mao.
Remember the old anecdote about the Chinese offensive? "
Aviation
will not. The pilot got sick. "
Quite a little time passed and ... Today, no one remembers that China. It is currently the first economy in the world at purchasing power parity. Moreover, today it is China that largely determines world development. Literally yesterday's episode - the conversation between the US President and the Chinese leader - is very indicative in this regard.
About the same
история
in a fairly short time we are expected on the African continent. In just 10–20 years, Africa will become one of the most promising regions for investment. There are all the prerequisites for this.
I will try to combine them into a single complex for understanding.
Firstly, it is Africa that has the largest reserves of many minerals today. African countries are the absolute leaders in the reserves of bauxite, manganese, uranium, a number of rare earth metals, platinum, coltan, without which no mobile phone will work, cobalt, without which no bomber can take off.
Even Russia after the collapse of the USSR does not have such a "periodic table" in its vastness. We simply lost access to many deposits that were inherited by neighboring states.
Secondly, it is Africa that is leading today on one more, most important, without exaggeration, issue. The birth rate of the population. The so-called demographic dividend. Now about 15% of the world's population lives there, but according to scientists' forecasts, in a hundred years this figure will become simply huge - 40%!
Thirdly, very high rates of development of countries.
It is enough to give one figure to understand how important it is. Over the past 20-25 years, the average rate of development of African countries has been more than 4% per year! Here you can add a couple of facts about the "underdevelopment" of African countries. For example, mobile phones from Egypt are not uncommon in European markets. And in "wild Kenya" you simply cannot pay in cash at the store:
- Card, sir ...
The collapse of the USSR and our thoughtless desire to become "part of the world community", part of the "democratic world" led to disastrous results. We have almost completely abandoned cooperation with African countries.
One fact is enough to understand what we have done. We have only four sales offices left for the entire continent - in Egypt, South Africa, Morocco and Algeria.
Trade turnover fell 6 times even in comparison with the "Gorbachev era".
We're going back to Africa
Today, our economic relations with Africa mainly translate into cooperation with seven countries: Egypt, Algeria, Morocco, South Africa, Tunisia, Nigeria and Sudan. The rest of the countries can boast of meager contracts for amounts ranging from several million to a maximum of hundreds of millions of dollars.
At the same time, many countries are very positive about cooperation with Russia.
The reason for this attitude towards us on the part of Africans is simple. For many decades after gaining independence, civil wars periodically flare up in most countries, dictators come to power. And all this is happening with the active participation of Western countries. Undesirable presidents are simply removed by force.
For quite a long time after the collapse of the USSR, there was no country or military bloc in the world that could defend its business, its economic independence from the United States and NATO. But Syria happened. For the first time, Africa realized that Americans do not decide everything. There is a country that knows how to defend its interests and can do it.
Of course, it is difficult to talk about stability in Africa today.
Conflicts arise and develop rapidly: in one place, then in another.
But we cannot fail to return to this region.
Above, I already wrote about the minerals that are there and that are not in Russia. Add to this perspective in the future and you get exactly the same conclusion.
A confrontation that's inevitable
Oddly enough, but today we have several serious competitors at once.
I will not call them opponents simply because we, of course, will not fight in the literal sense. There will be serious political, economic, ideological and other work to oust our competitors from African countries. This is too tidbit for the USA, Europe, China and some other countries.
Moreover, such a struggle has already begun.
Russian companies have become active in several African countries at once. These are the Central African Republic (CAR), Mozambique, Mali, and Sudan. What caused countermeasures from Western companies. Including with the use of local gangs. Attacks on company employees, destruction of some important production facilities are not uncommon.
Naturally, Russian companies act in exactly the same way as all companies in the world in such harsh conditions. They hire private security agencies, which they stubbornly confuse with PMCs, to protect their property. There are many such companies in Africa from many countries. Moreover, where the company is registered is not at all important.
Let's look at the situation using a particular example.
The situation in Mali. At the end of 2019, the former President of Mali, Ibrahim Boubacar Keita, signed a military cooperation agreement with Russia. Thus, the Russian military should have arrived in the country. But back in 2013, French army units were deployed in Mali to fight terrorists associated with al-Qaeda and the Islamic State (banned in the Russian Federation).
The French perfectly remember the saying about attack as the best form of defense. So immediately after the appearance
news
about the agreement in the media, in the French press there were many reports about the notorious PMC "Wagner", whose employees began to walk around the capital of the country, almost advertising themselves. In particular, Agence France-Presse has repeatedly published such messages from the capital of Mali, Bamako.
The campaign for linking PMC "Wagner" to the Kremlin took place before our very eyes for the last couple of years. How many materials have been published in the foreign press about this? Countless.
And who remembers, in general, where did this formation, terrible in the eyes of the West, come from?
Let me remind you that this company has the name of a PMC only on the pages of the Western press. And the popularity was brought to her ... by the American sanctions list, where this company was included in 2017. A little earlier it was "untwisted" by "Fontanka.ru". It was there that in 2015 they talked about two employees of the Moran Security Group PMC - Vadim Gusev and Yevgeny Sidorov, who registered the Slavic Corps PMC in Hong Kong to "guard oil pipelines in Syria".
It is clear that there is no such company in Russia. Simply because mercenary is a criminal offense in our country. The officers enter into regular contracts with a foreign security agency. But even with the company's external legality, Russians and citizens of other former Soviet republics are hired in the strictest secrecy.
It was not for nothing that I called the Wagner PMC a terrible fiction. Recently Agence France-Presse again frightened the French government with a report about the Wagnerians. According to French journalists, the government of Mali is negotiating with the security company PMC Wagner on the organization of protection of the most important infrastructure facilities.
French Defense Minister Florence Parley quickly reacted to this message:
"If the Malian authorities conclude an agreement with Wagner, it will be an extremely disturbing and contradictory signal, incompatible with everything that we have done for many years and intend to do to support the countries of the Sahel."
Florence Parley even threatened the Mali government with the withdrawal of French troops from Mali to Sudan.
At the same time, the French refer to a certain representative of the Mali Defense Ministry, who did not deny such negotiations. Although it is clear that if you do not know about the negotiations, this does not mean that they did not exist or that they did exist.
What is in perspective?
Coming back is always more difficult than coming for the first time.
We were in Africa. And we left Africa to make room for companies from other countries. Over the past 30 years, these firms and other countries have created their own infrastructure in African states and built enterprises. They do not intend to give theirs at all. Just as now they do not want to share with someone else the undeveloped deposits.
The competition will be fierce. Up to power seizures of enterprises and institutions. Security companies from all over the world will fulfill their direct contractual responsibilities. It is clear that those who will guard the facilities of Western companies will be called "correct", and those who will work with the Russians will automatically be labeled as "terrible monsters". You have to be ready for this. This is to be expected.
But in spite of everything, we must return to Africa.
We cannot miss a promising market, lose the opportunity to obtain the necessary minerals, or refuse our own profit. The country must develop. Including at the expense of money earned abroad. It is time for us, as a zealous owner, not only to sell our wealth, but also to bring into the house what we lack or do not have at all.