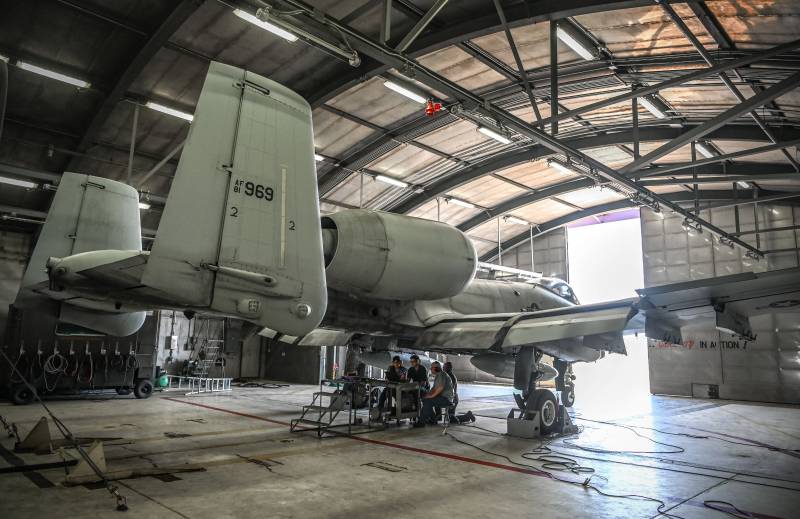 The Pentagon intends to release some of the funds in the next fiscal year by withdrawing from the combat composition of equipment that has already served its term. As follows from the documents currently being considered in the Senate, the most significant reductions are expected by the US Air Force and Navy.
So, according to the plans of the Air Force command for the next, 2022 fiscal year (starting in October 2021), the Air Force refuse to modernize and intend to withdraw more than 180 combat aircraft from service. Thus, the Air Force intends to save up to $ 1,34 billion, which can be spent on the purchase of new weapons.
The main reductions will affect the assault and fighter
aviation
... According to the plans, the F-15C / D and F-16C / D fighters (48 and 47 aircraft, respectively) and the A-10 Thunderbolt attack aircraft in the amount of 42 aircraft are to be cut. The reduction will also affect the fleet of tanker aircraft and military transport aircraft. 32 tankers (14 KC-10 and 18 RC-135, respectively) and 13 C-130H will be removed from the structure.
The forthcoming reduction in the fleet of fighters and attack aircraft was reported back in May this year. As stated by the chief of staff of the US Air Force, General Charles Brown Jr., the Air Force will gradually get rid of "extra" aircraft in fighter aircraft, leaving in the future 3-4 used types. The Air Force's task is to make the F-35 "dominant" by purchasing the latest modifications of the F-15 and F-16. All other aircraft, including the F-22, will be phased out of service.
Well, about American
navy
... According to all the same documents, the US Navy intends to withdraw six warships from the fleet next year. These are two Ticonderoga-class cruisers and four coastal patrol ships.