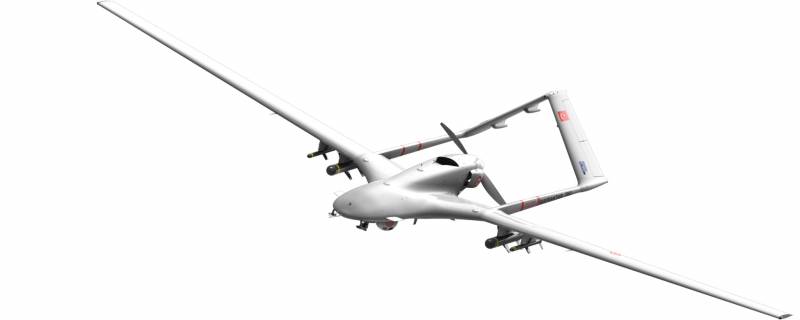 General view of the UAV Bayraktar TB2. Baykar Savunma Graphics
The most famous development of Turkey in the field of weapons and military equipment at the moment is the Bayraktar TB2 reconnaissance and strike unmanned aerial vehicle developed by Baykar Savunma. Such products entered service with the Turkish army, and are also actively supplied to foreign customers. Several contracts have already been completed and new ones are expected.
For your needs
According to known data, Bayraktar TB2 has been developed since the end of the two thousandth years. In 2014, the first flight of such a UAV took place, and a few years later it was adopted by the Turkish army. Such success of the apparatus was facilitated by the overall excellence of the project, as well as direct assistance from the country's top leadership, provided for family reasons.
The manufacturer offers customers a full-fledged unmanned
aviation
complex with all the necessary tools. The typical composition of the complex includes a ground control post, three drones and a set of various systems and products for maintenance, etc. Available data on export contracts indicate that such a kit costs about US $ 35 million.
The Turkish Armed Forces became the first customer of the Bayraktar. In addition, they were and remain the constant and largest buyer of such equipment and its main operator. According to the Turkish press, the army operates over a hundred TB2 UAVs. At the same time, the reference book The Military Balance 2021 gives more modest numbers - only 33 units. What is the reason for this difference in data is unclear.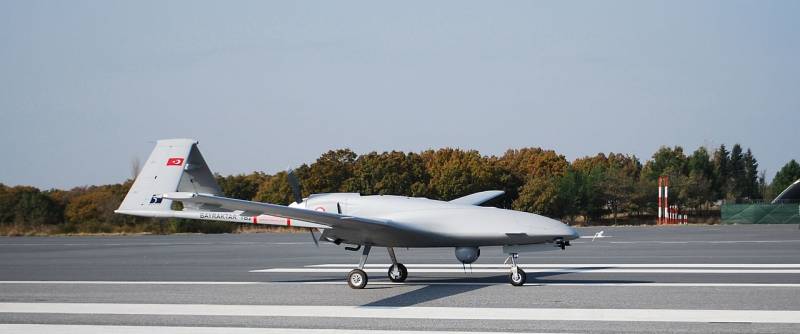 One of the combat drones of the Turkish army. Photo Wikimedia Commons
Almost simultaneously with the army, in 2015-16, other law enforcement agencies began to purchase Bayraktar TB2 drones. To date, this technique consists of supplying the police and gendarmerie, as well as the National Intelligence Organization. They have at least 30-35 UAVs and a corresponding number of ground vehicles at their disposal.
It should be noted that the Turkish army is actively using its UAVs. This makes it possible to solve urgent military-political tasks, but it leads to losses. According to various estimates, at least 30-50 TB2 products were shot down over Syria and Libya, and such losses had to be replenished through new purchases and supplies. Thus, the drone fleet available does not reflect the total Turkish orders for Baykar Savunma.
Overseas deliveries
Already in 2016-17. "Baykar Savunma" began searching for foreign customers, and quickly enough solved such problems. It is very likely that in this area, too, it was not without help "at the top", and contracts appeared not only for economic, but also for political reasons.
Qatar is considered the first foreign customer for TB2. The contract with this country was signed in March 2018 and provided for the supply of two complexes with 6 UAVs. A few months later, the buyer received the desired products and took them into service.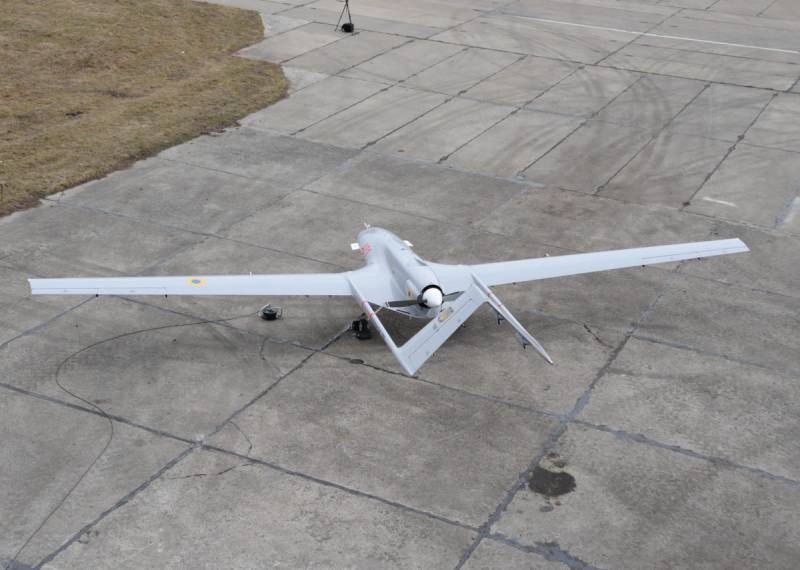 One of the "Bayraktars" from the Ukrainian Air Force, 2019 Photo Wikimedia Commons
In the autumn of the same year, it became known about the future deliveries of "Bayraktars" to Ukraine. Then it was about the delivery of two sets. This technique was handed over in 2019 and has since been highly praised. Last year, Ukraine and Turkey agreed to organize a joint production of unmanned aerial vehicles. At the expense of him, the Kiev side expects to acquire 48 new UAVs, and Ankara intends to gain access to Ukrainian-made engines.
The Turkish-Azerbaijani cooperation is of the greatest interest. In the recent past, an unknown number of Bayraktar TB2 UAVs entered service with the Azerbaijani army. In 2020, this technique was actively used during the battles for Nagorno-Karabakh and showed its best side. Combat work like this made the drone a good publicity and turned it into a topic of much discussion.
Parties of the future
Baykar Savunma has already completed several export contracts and this work will continue. There are a number of orders from both old and new customers to be fulfilled in the near future. In addition, several countries are showing interest in Turkish drones, but this has not yet translated into real agreements.
First of all, the production of "Bayraktars" TB2 for the Turkish army will continue. With its help, it will be possible to replenish the losses and / or increase the number of the existing group. In addition, work is underway to launch a joint production of devices in Ukraine. The first of the 48 ordered vehicles are planned to be delivered this year.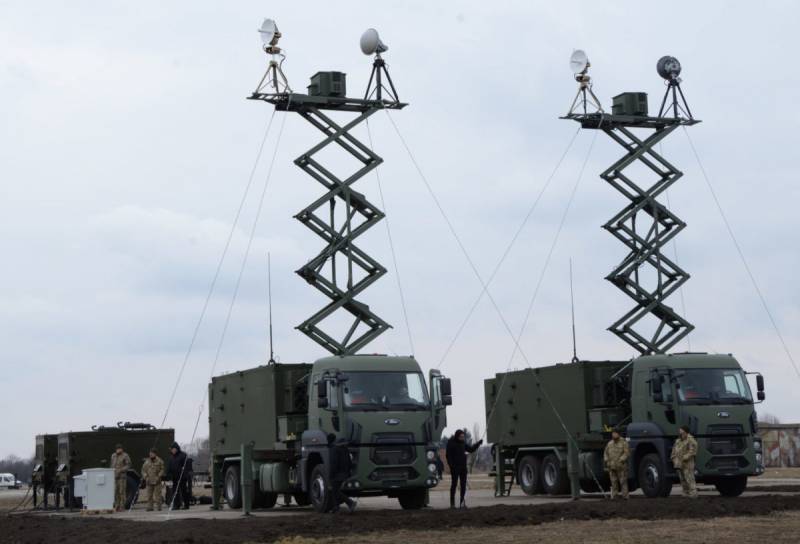 Control stations of Ukrainian UAVs. Photo Wikimedia Commons
In April 2021, it became known that the Moroccan armed forces would become the next TB2 customer. The country's government has approved the purchase of several unmanned systems with 13 aircraft. According to the Moroccan press, about $ 70 million has been allocated for this purpose.
A few days ago, Baikar Savunma received an official order from the Polish army. According to this agreement, the buyer will receive four complexes and 24 UAVs, as well as compatible weapons. It is curious that the contract was signed without a tender, as part of an "urgent need". The delivery of the first devices is expected in 2022.
Several new contracts may appear in the near future. So, in October last year, the leadership of Serbia responded positively to the Turkish UAVs and announced their intention to study the possibility of acquiring them. However, so far everything has been limited to words only. In November, Russian media reported on the possible purchase of Bayraktar TB2 by the Kazakh army. It was argued that she was not satisfied with the existing Chinese-made drones, and they could be replaced with Turkish products.
In January 2021, the Turkish press reported that Bulgaria was showing interest in Bayraktars. The contract for the supply of two complexes with six UAVs could have appeared last year, but its signing was postponed due to the pandemic and economic difficulties. Despite this, the negotiations continued and could lead to the desired results.
In March 2021, foreign sources reported that military personnel from Somalia were being trained to operate TB2 products. This could indicate an upcoming or already signed contract, but details were not provided.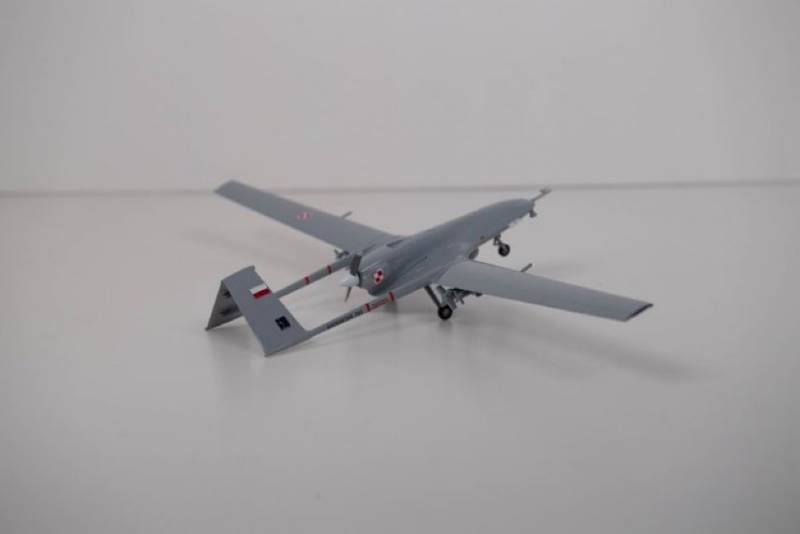 UAVs of Turkish production with Polish identification marks. Graphics of the Ministry of Defense of Poland
A few weeks ago, Hungary joined the list of potential customers for Turkish UAVs. Its Defense Ministry plans to purchase a number of new types of weapons and equipment, and together with other products, it is proposed to purchase reconnaissance and strike UAVs.
Commercial performance
To date, Baykar Savunma has supplied the Turkish army with at least 150-170 Bayraktar TB2 drones, which has made it possible to build a large and well-developed "air fleet" - despite combat and operational losses. The costs of the Turkish army for such purchases are unknown, but one can imagine their approximate level.
The total volume and value of export deliveries are unknown. There is information about 12 UAVs for Qatar and Ukraine with a total value of about $ 140 million. There is no exact data on the Azerbaijani order. Accordingly, it will not be possible to determine the value of these supplies and their share in the total earnings of the manufacturing company.
Contracts have been signed for another 37 UAVs and an agreement for 6 products is expected. Their total cost may be close to $ 500 million. Interest from Hungary and Somalia may result in new contracts. Also, the list of customers may be replenished by other countries. It is obvious that all these processes will, to one degree or another, increase the total number of ordered and built TB2s, and will also have a positive effect on the earnings of the manufacturing company.
Factors of success
To date, the Bayraktar TB2 UAV has become one of Turkey's main military exports. Moreover, it is he who is the most famous example of Turkish production, which is associated with effective and effective combat use in real armed conflicts. Apparently, the success of Baykar Savunma will not be limited to this, and new lucrative contracts will appear in the future.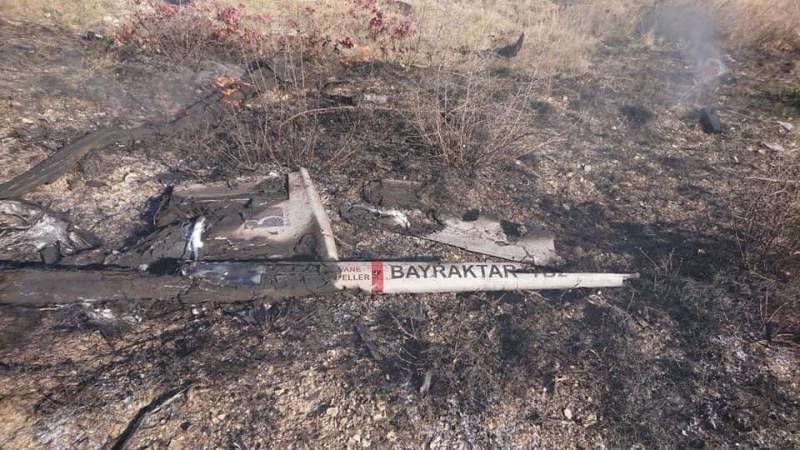 Remains of TB2, shot down during a combat mission. Photo Lostarmour.info
It's not hard to see why TB2 is so popular and is generating good revenue for developers. The development company, using the support of the state, was able to create a project that was technically successful enough in a limited time frame. Then the finished sample easily entered service, which created a good reputation for him. In the future, these factors contributed to the sale of equipment to friendly foreign countries.
It should be borne in mind that the international market for reconnaissance and strike UAVs is not yet too large, and a limited number of samples from just a few countries are represented on it. Any new sample can catch the attention of buyers - and Bayraktar TB2 is no exception.
An important factor affecting orders in recent years has been the successful combat use in real operations. In conditions of local conflicts "Bayraktars" were able to show their reconnaissance and strike capabilities. At the same time, they did not encounter a developed modern air defense system, which could seriously damage efficiency and reputation.
Thus, several main factors underlie the commercial success of the Bayraktar TB2 unmanned complex. In fact, a fairly successful UAV was created and entered the market at the right time, and its operation is carried out in relatively favorable conditions, which made it possible to create a good reputation. How long this state of affairs will last is unknown. But until the situation changes, Turkey will be able to continue selling its unmanned vehicles and show new successes.