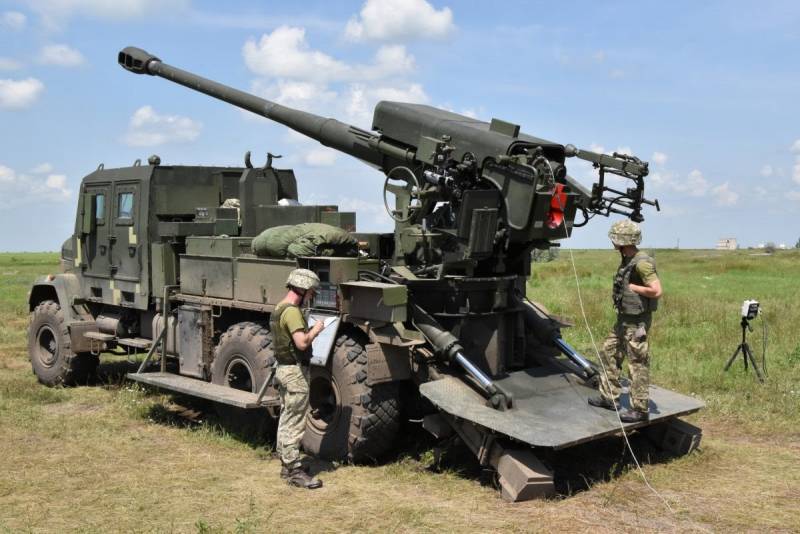 Ukrainian self-propelled artillery unit "Bogdan" caliber 155 mm, created in a single copy, returned to testing. According to Defense Express, the ACS is being tested at the Shirokiy Lan test site.
According to the Ukrainian media, preliminary tests are underway at this stage, during which the real installation capabilities and compliance with the requirements for self-propelled howitzers are assessed. The details of the tests are classified, but it is known that as part of the tests, "Bogdana" has already fired "fifty shells."
Both the specialists of the Bogdany manufacturer and the Ministry of Defense of Ukraine take part in the tests of the self-propelled guns "NATO caliber". It is planned that, based on the results of preliminary tests, a decision will be made on the possible revision of the howitzer, taking into account the requirements of the military. Further plans - state tests, adoption and serial production of the self-propelled guns "Bogdan", which should go into service with the artillery brigades of the Armed Forces of Ukraine.
ACS tests were not carried out for more than a year due to the lack of NATO caliber ammunition, for which the "Bogdan" was developed. The last shooting was reported at the end of 2019. At the "zero" stage of testing self-propelled
weapon
checked with a hydraulic shot, then the so-called inert ammunition was used.
As previously reported, 155-mm ammunition for testing the Bogdan self-propelled artillery mount at the end of December 2020 was supplied by the Czech company Excalibur Army. The delivery included practical and high-explosive fragmentation ammunition.