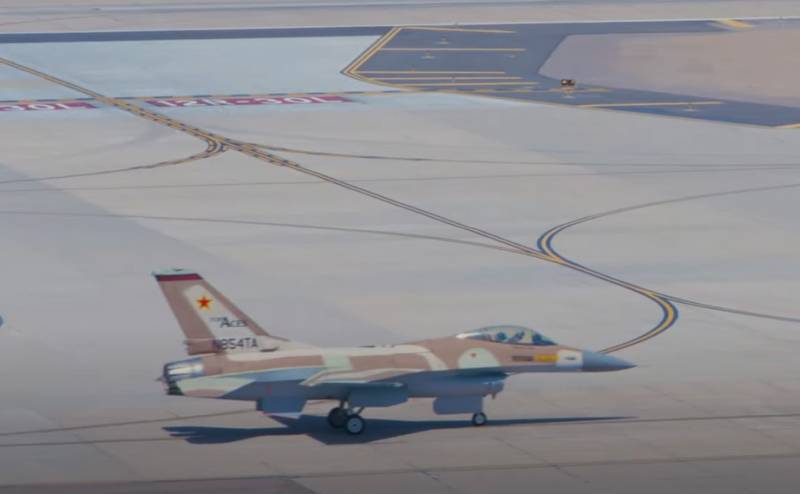 The other day in one of their
news
materials "Voennoe obozreniye" reported that a private F-16 fighter jet took off for the first time in the United States. This is an aircraft that was previously operated by the US military and then sold to the private company Top Aces. At the same time, after the "privatization" of the fighter, the American Air Force suddenly needed it again - as an aircraft that will represent
Aviation
the adversary.
The aircraft flew from Mesa Gateway airbase (Phoenix) and remained in the air for about an hour. During this time, according to the American side, tests of its individual characteristics and flight parameters were carried out.
Representative of the company that owns the F-16A fighter with number 78-0322:
This is a new milestone for our company. It opens up new opportunities for us, including the acquisition of more aircraft.
This
история
, as it turns out, has received criticism from a number of American experts. In particular, the issue of a "strange scheme" is being discussed, according to which the aircraft was first sold to a private company, and then, as a result of a contract with this company, it was again actually in the combat service of the US aviation. One of the complaints:
If the F-16 was needed by our aviation, then why was it sold to a private company? If it is not needed, why then a contract with this company for its further exploitation as an "aggressor"?
It should be noted that the first private F-16 entered the squadron of "aggressors" - this is how the US calls the aircraft that imitate the means of enemy combat aviation (most often we are talking about Russia and China).
In the United States, criticism of the activities of the squadron itself also rises. After the video showing the first flight of a private fighter as part of this air unit, American users noted the following:
They painted red stars and think that they imitate the actions of the Russians and the Chinese. To imitate their actions, you need to understand the psychology of these pilots. She is different. Here red stars alone are indispensable.
Video of the first training flight 78-0322 as an "aggressor" criticized in the United States by experts and ordinary users.