Take on work boldly
Don't turn around
do not hurry.
And always any business
do only from the heart!
(Song from the screensaver of the TV show of the USSR shopping center "Skillful hands")
Creativity is around us.
So, summer is approaching - the time of holidays and the time to finally work out with your child, be it a girl or boy, son or daughter, grandson or granddaughter. For this, today everything is there. You don't even need to strain your head. You just need a desire, but buying something in addition is not a problem either. Of course, there are branded and, by the way, very expensive sets for creativity. But ... you can replace them with literally everything that we have at hand.
Nowadays, many goods in stores are packed in large boxes made of three-layer cardboard. It is perfectly cut and glued with PVA glue. That is, it is an ideal material for working with children both at home and in the school circle. And you can make absolutely everything out of it, and quickly. The latter is especially important because children are naturally impatient.
Homemade cardboard
For example, your son is interested in toy cars. And all the boys are interested in cars. Can buy. Including radio-controlled. But ... where better to make such a car like in the photo. All of it and even the wheels on it are made of cardboard boxes. But there is a steering wheel, and a wiper, and doors, and even soft upholstery on the seats. Moreover, such a car can be very useful for those who have a girl in their family. Let's say she is "playing with the family." In this case, it will depend on you
история
this family and, so to speak, the chronology of its existence. But if this family is from our time, then ... why not buy a car? And children from this family, as well as from neighboring families, may well go to school ("playing school" is very popular among girls) on such a "school bus". Moreover, it is also entirely glued from cardboard from packaging.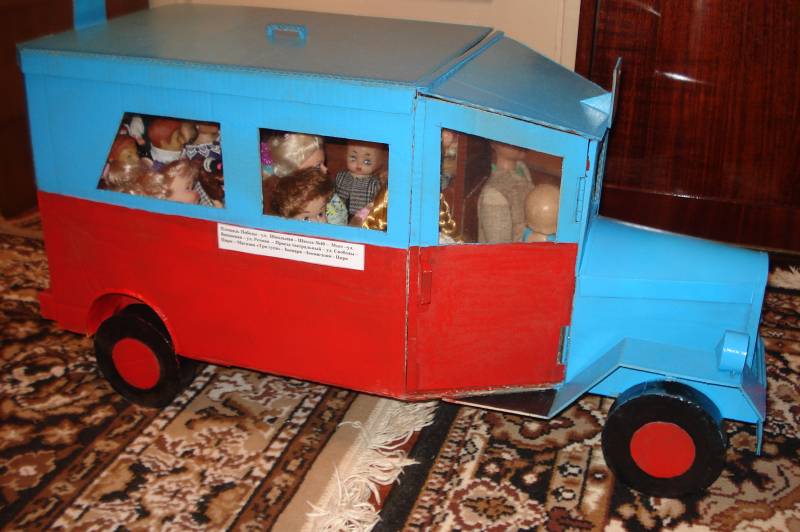 School bus made of cardboard packaging. Please note that the front door opens and the roof is removed for the convenience of seating passengers. The latter must be foreseen without fail to make it easier for your child to play and make it more entertaining.
I have already talked about "Shpakovsky's vibrating pass". The magazine "Popular Mechanics" once even wrote that in the USSR who just did not make "Shpakovsky's vibrating pass from a soap dish", even in the movie "The Adventures of Petrov and Vasechkin" it was shown, but ... according to this principle, you can make not only a fantastic vibrating pass, but also an excellent toy for a kid - "vibro walk-beetle". Look at the diagram of its manufacture. Everything is very simple here. The base is either plywood or polystyrene, into which six legs of steel wire are either fused or glued. Papier-mâché body. And you need to paint it brightly to make it look beautiful! The main thing is that a micromotor with an unbalance on the shaft, a battery and a switch should fit under the body. And we need to figure out how to make the case removable. When such a beetle hums, trembles and "runs" - it makes an amazing impression on the child. However, on some physics teachers too ...
When your child was just a toddler, you bought cubes for him. Cubes develop - that's for sure. But now he has grown up. What to do with them? Postpone until the new baby or throw it away, so as not to clutter up the apartment? Not. Your child has become older - make him a fantastic all-terrain vehicle on cubic wheels. It is necessary to plant six cubes on axes made of metal rods so that on each axis they are shifted in pairs relative to each other by 180 degrees. In our diagram, the model is moving. The cubes are set on the shafts of the R-1 gearboxes. In our case, for a child (and with him, of course!) It is best to make a simple toy-wheelchair with a plastic box body. And explain to him why, in some cases, cubic wheels may well be used. What is the chassis provides a very high passability on sand. And if you plan to go to the sea, just where there is sand, then it is simply necessary to make such a car so that he has something to play and at the same time develop his imagination.
The same plastic box and Christmas tree balls made of polystyrene will also help you make an original rolling toy for your child. Well, having put the engine and gearbox, it is not difficult to turn it into a self-propelled mechanism. At the same time, there is a reason to talk with your child about Mars and about flights to this planet, and he may well be carried away by this topic so much that he can read aloud Tolstoy's Aelita (throwing out 80% of the love theme and all kinds of psychedelic outpourings), and " The Martian Chronicles by Ray Bradbury. But also ... not all! "Absolute
weapon
"Especially at night it is not worth reading.
We talk a lot about ecology, about the recycling of waste, we proclaim the slogan: "Waste to income", but so far we have little success. Even India is bigger than ours. There, a very original type of fence is stamped out of garbage. But the same plastic jars for food can be used as ... wheels for original children's homemade toys. Here, for example, such an all-terrain vehicle for other planets, as in the photo below.
Models from packaging
To make it, you need 13 cans of processed cheese or sour cream, a plastic box, three axles - these can be thick polystyrene knitting needles. Again: you went to rest. The child quickly got tired of both the sea and the sun. It was then that you suggest to him: "let's do it ...". All this will not take up much space in the luggage. Tools are practically unnecessary if everything is prepared in advance. Adhesive - for polystyrene - polystyrene, for everything else - superglue. Well, silver-colored car paint in a spray can and a set of "sticky letters". In the non-motorized version, it is an excellent toy-wheelchair, transport for the robots-transformers and "soldiers" taken with them. And your child will have something to play with, and what is not at all a pity to leave at the place of rest: "We will make a new one at home!" And he will remember this gift of yours for the rest of his life!
You can rest assured that when you tell your child that, after returning home, you will make with him another "bank rover", and completely different from the first, his curiosity will have no limit. "What else did his beloved and so clever dad think of?" (or grandfather, he can do this too if you have grandchildren!). The second is more complicated, but also very simple in general. It is necessary to make four pentagons out of polystyrene so that the sides of each are equal to the diameter of the bottom of the packaging jar you have chosen. You can also cut small triangles to attach them cross to cross! The axles are again thick polystyrene knitting needles or metal tubes. Case - polystyrene box. Cabin - rectangular can of sour cream. That, in fact, is all!
We glue the jars to the pentagons, attach the pentagons to the axes - and our "bank vehicle" is ready. Although you can still paint it with an autosilver from a spray can. It looks absolutely fantastic. Moreover, its design is modular. If you make eight pentagons, then you can get double wheels, which will increase the smoothness and ... entertainment of the model. And if you put not four wheels, but six? Yes, at school, when in the fall they demand a homemade product from your son or grandson for the competition, everyone just gasps at this, and the first place (if they have places) will be provided to him. And it's very easy for a child to make such a "miracle": "Dad only cut out the pentagons, and I glued it all together and connected the wheels in two rows; and then he painted everything from a spray can! " And even the most envious kids in his class can fully believe in this.
Toy soldiers and cannons
It is well known that children love to play toy soldiers. Make a few exemplary ones, mold them into vixint and ... print them in dozens, and maybe even hundreds of plastic. The main thing is to cure and paint them well. It is best to use bright acrylic paints and then varnish them. White Austrians, red and white British and blue and white French, black and gray Germans and green and white Russians will allow you to successfully fight the battles of the 1812 war both at home on the floor (in inclement weather!) And in your country house.
But it's not interesting to play just like that. It is advisable to shoot at the soldiers. You need guns, the tapered barrels of which can be easily made from old, dried brushes, lightly sanding them.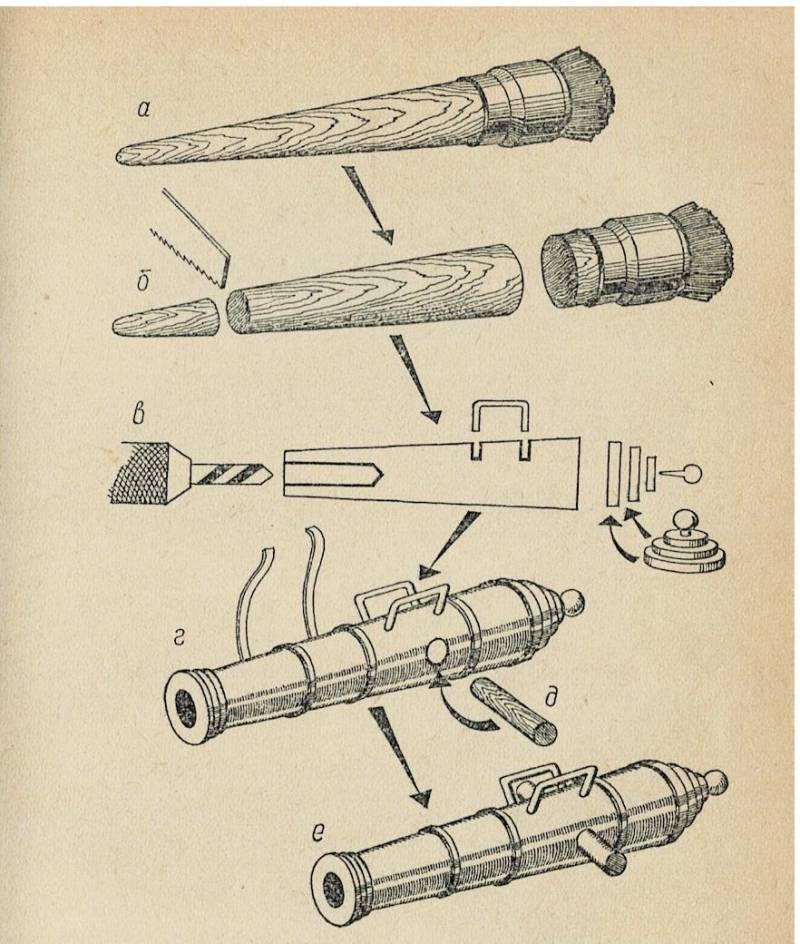 You can just make copies, as in our picture. But you can drill a channel through them, make a piston striker, and make such a gun firing by attaching a Hungarian rubber band to the striker. And instead of shells, use peas painted black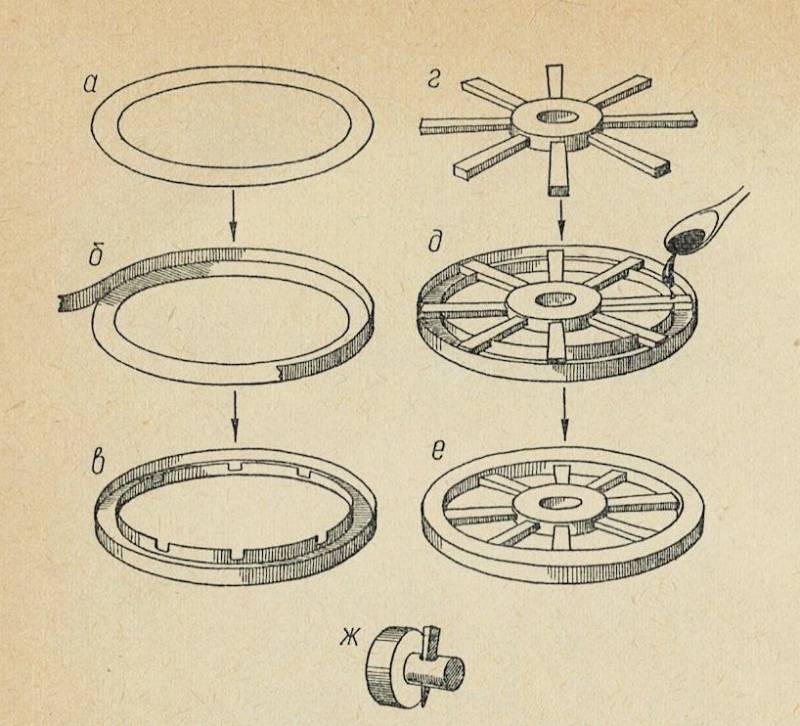 And this is how the wheels are made for field implements. Rims are made of paper, spokes are made of matches, and epoxy resin is poured into the rim for strength
Houses all over the world, but let's start with our mansion ...
By the way, in addition to packaging cardboard, corrugated cardboard is now on sale, which allows you to make miniature copies of log buildings. For example, this "terem-teremok" has been hanging on the tree for many years. But it is quite possible to build a whole old Russian city out of such houses. Or you can start collecting houses all over the world: from Brazilian favelas to Indian teepees ...
It is clear that since I am a "boy" myself, the development for boys dominates here. But there is something for girls too. For example, many together with their mothers make embroidered pillows, which is welcome. But ... what if we make it under such a turtle pillow, with a shell made of "plates" made of ... thick ropes? The twisted rope is glued together with some kind of synthetic glue and additionally stitched from the inside with threads. Then it is sewn in its place on the shell, head and paws. Thus, you can make a pillow for pins and ... a large pillow under your head!
And even from ropes!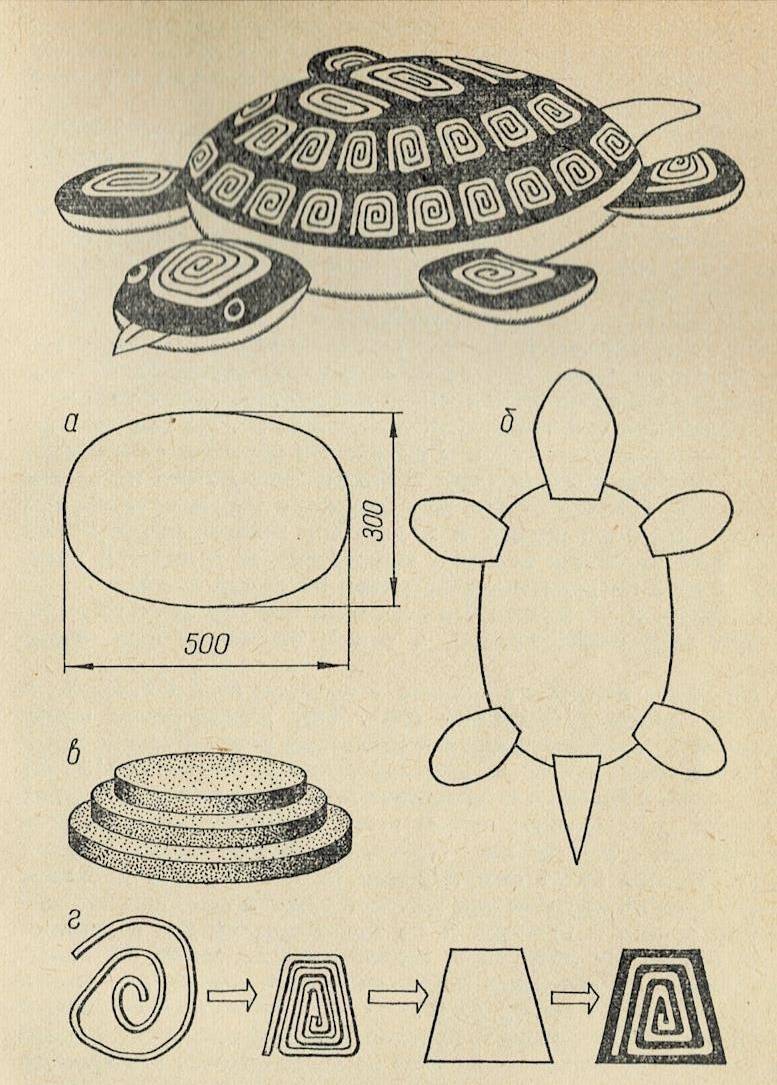 Turtle pillow
In general, thick ropes and cords are a godsend for a person with a creative streak. The picture you see shows an element of wall decor, completely covered with cords, and even decorated with patterns made of ropes. To have this at home, however, is very time consuming and expensive. But, let's say, this is how you can arrange the "Rope Bar", where all the interior details in one way or another, including decorative floor vases and "seats" for stools, will be made of ropes. This is unusual, this is new, people will start talking about it, others will want to see - this is how PR becomes completely banal, seemingly to establishments: well, a bar, it is a bar!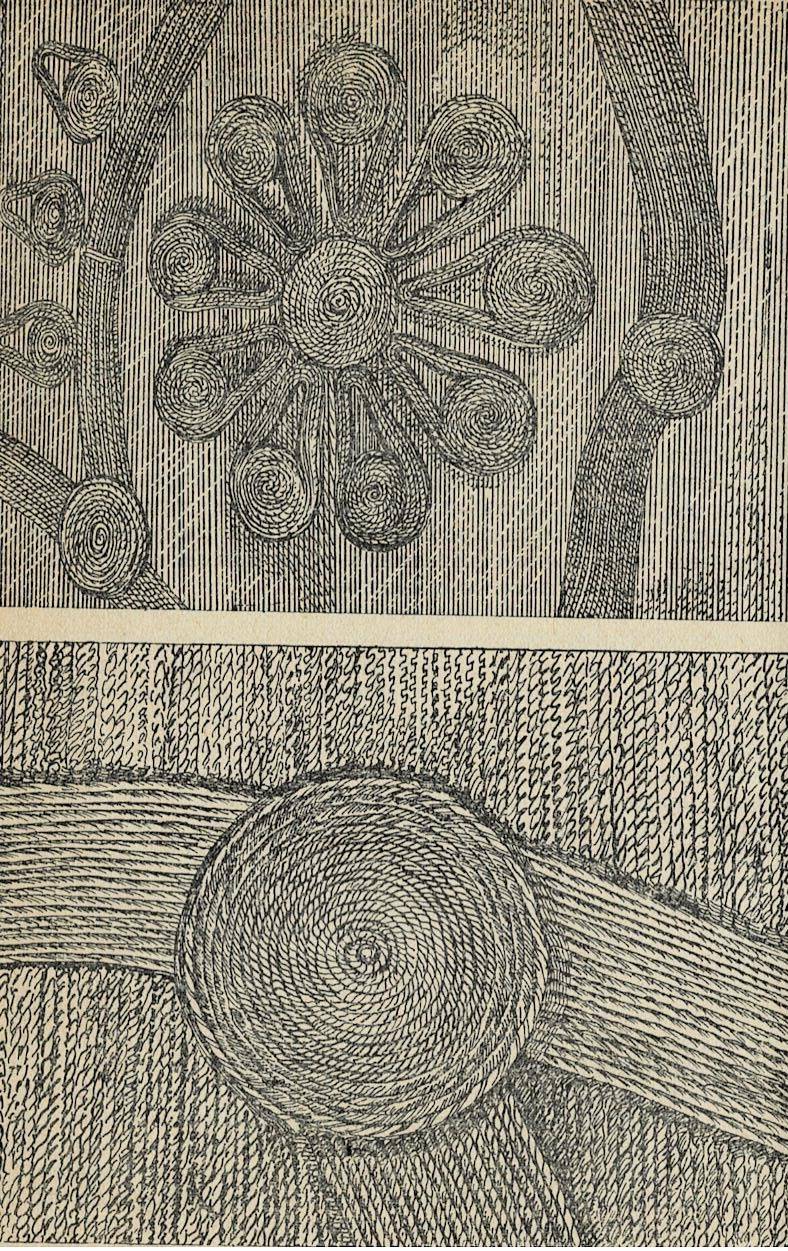 Rope Wall and Rope Patterns
So summer is not only a time for relaxation, but also a time for creativity for children and with children!