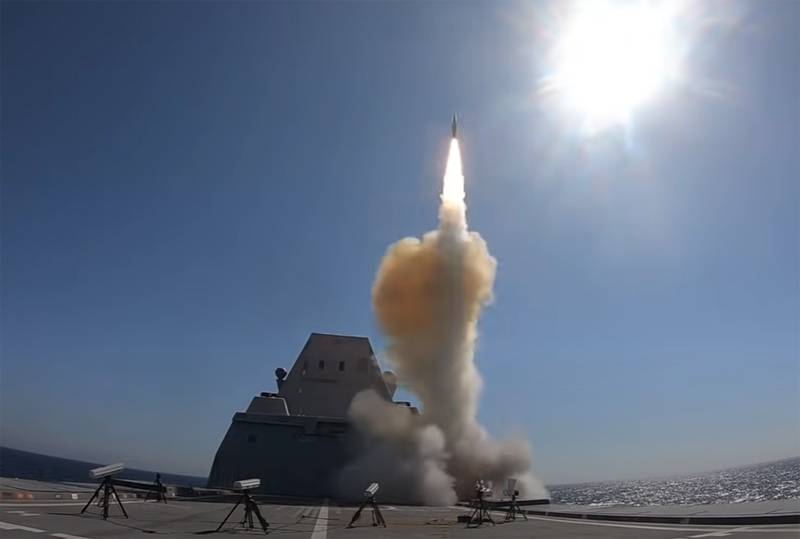 In the American press, materials appeared that "the issue of arming the latest stealth destroyers has been finally resolved." We are talking about the Zumwalt-class warships that replenish the US Navy. At the moment, the US Navy has two such destroyers - the lead Zumwalt (DDG 1000) and the first serial Michael Monsoor (DDG 1001).
With the destroyers, problems immediately began to arise. The command could not decide in any way which
weapon
should become the main one for stealth destroyers. At first, they even talked about the railgun, then about the laser combat weapon. After that, they began to talk about plans to deploy hypersonic missile weapons. However, to date, no unambiguous decision on the armaments of the Zamvolts has been made.
The American press, referring to the command of the US Navy, writes that now "the issue has been resolved." The Zumwalt-class destroyers are said to receive C-HGB (Common Hypersonic Glide Body) hypersonic missile systems. At the same time, it is noted that these systems will be installed on ships after the effectiveness of hypersonic weapons is confirmed. The estimated date is 2025.
At the same time, the question immediately arose concerning the location of installations for hypersonic missiles on board the Zamvolts.
The US Navy announces that 155 mm long-range naval artillery guns will be dismantled to accommodate the C-HGB. These weapons were said to be controversial. They were designed to "reduce the radar signature of ships." They were planned to be used to strike at the enemy's coastal infrastructure when the destroyer approached a suitable distance.
According to some reports, dismantling the guns and installing the C-HGB systems on ships will additionally cost the US Navy's budget about a quarter of a billion dollars per ship. This is despite the fact that each stealth destroyer has already cost the United States more than $ 4 billion.
It is believed that the C-HGB missiles are the very "super-duper weapons" that Donald Trump spoke about at one time. According to American sources, they are capable of speeds up to Mach 17.
Experts, commenting on the plans to deploy hypersonic missiles on Zamvolts, note that American warships will receive missiles of this type at least 3-4 times later than the ships of the Naval
fleet
Russia.