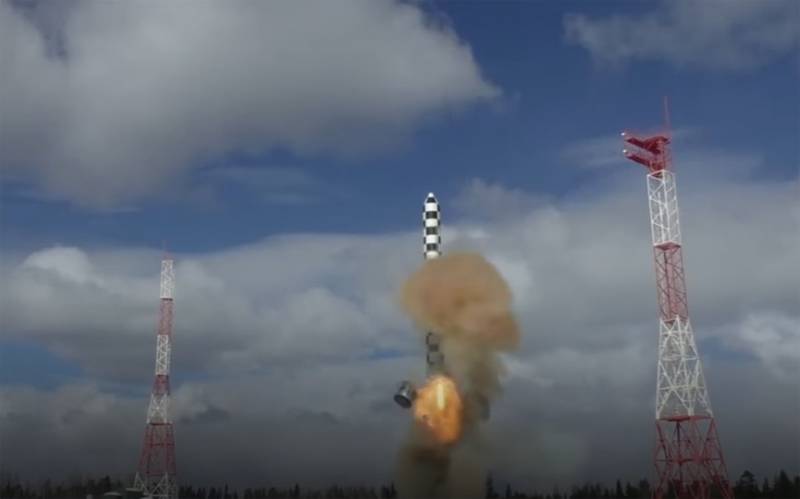 Two years ago, it was reported that in 2021, the latest intercontinental ballistic missile "Sarmat" will be put into service with missile units and formations of the Russian Federation. The RS-28 missiles, as is known from open sources, differ from those in service with ICBMs in a number of their characteristics, including new engines capable of increasing the range of this type of combat use.
weapons
.
The foreign press is paying attention to the early introduction of the "Sarmat" into service. Columnist Ayush Jain of the EurAsian Times, considering the combat capabilities of the RS-28, writes literally the following:
Russia will soon be deploying its most powerful ICBM. This is a Sarmat missile capable of destroying the whole of England.
It is noted that Russian President Vladimir Putin spoke openly about Sarmat in 2018. Then in the foreign press, and in the Russian liberal publications and blogs, the idea was stubbornly promoted that the latest Russian weapons, including the RS-28 "Sarmat", the hypersonic missile systems "Dagger", the combat laser systems "Peresvet", etc. are nothing more than "Kremlin animation". In some publications, this idea is being promoted to this day, but there are clearly more sober assessments. About "cartoons" - less and less.
Eurasian Times:
Warhead "Sarmat" can consist of 10-15 warheads, which are capable of reaching the target at the last stage of the flight independently of each other. It can also be Avangard hypersonic units with an unpredictable trajectory.
A few days ago in the United States, the Russian Federation's hypersonic weapons were called "an existential threat to America."
In the foreign press, the emphasis is on the fact that such warheads are extremely difficult to intercept, as well as on the fact that the Russian nuclear missile shield, after the RS-28 Sarmat is put into service, gains additional power.