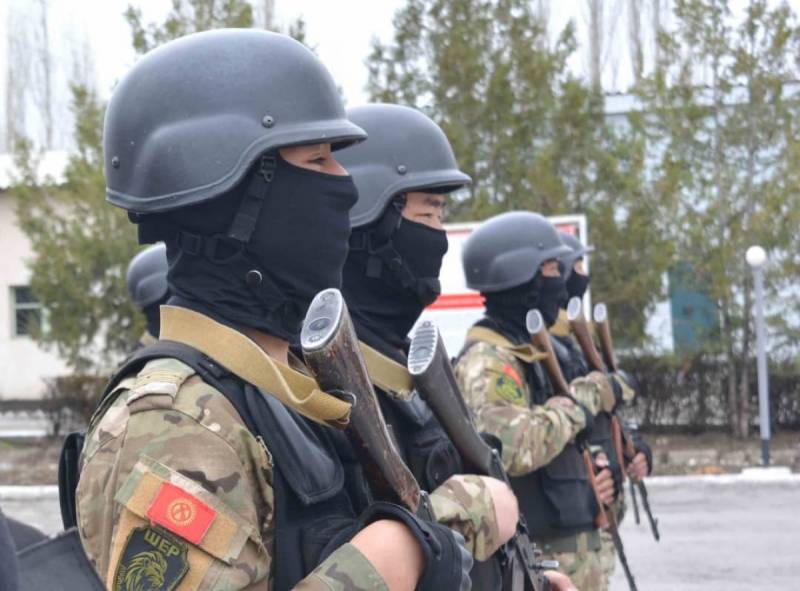 Reports are coming from Tajikistan and Kyrgyzstan on how the process of de-escalation of the conflict that erupted a few days ago in the border area is proceeding.
Earlier, Voennoye Obozreniye reported that Tajik and Kyrgyz security forces used various types of
weapons
including mortars. During the conflict, the parties seized each other's facilities, including border posts. Armored vehicles began to be transferred to the border on April 29. An agreement on a ceasefire and on the withdrawal of forces and assets from the border area was reached between officials from Dushanbe and Bishkek.
Today it became known that the parties began to exchange detainees. These people are not officially called prisoners. Tajikistan handed over 10 people to the Kyrgyz side. According to some reports, among them is the head of the border village Internationale, which, as previously reported, was taken to Tajik territory by the security forces of Tajikistan. At the same time, the Tajik side calls the abduction of the head of the village untrue.
Judging by the video by Jazgul Masalieva, the detained residents of Kyrgyzstan are not young people.
The Internal Troops of the Ministry of Internal Affairs of Kyrgyzstan reported some details of the clashes on the border with Tajikistan. It is noted that the main firefight took place in the area of ​​the Kok-Tash village of the Batken region, where the water distribution facility is located. The conflict began with a skirmish of local residents. Kyrgyz citizens saw on one of the poles a video camera belonging to Tajik border guards. It came to throwing stones at the camera and the Tajik neighbors. Then the first shots rang out. The Internal Troops of the Ministry of Internal Affairs of Kyrgyzstan stated that these shots were fired by citizens of Tajikistan from hunting rifles. Then the security forces of both countries began to join the shootout.
The report says that the special forces detachment of the Internal Troops of the Ministry of Internal Affairs of Kyrgyzstan "SHER" was also involved in the operation. His machine-gun fire was supported by the BMD crew of the 707th military unit of the Internal Troops of the Republic. The Kyrgyz side claims that after that, the Tajik military were forced to retreat.
The Tajik side has its own version of the start of the firefight and the one who eventually retreated. They consider the Kyrgyz side to be guilty, and they call it a retreat.
However, something else is more important. Now both sides are saying that what happened on April 28-29, 2021 on the border between the countries should not be repeated. For this, a joint group has been organized to monitor the implementation of the de-escalation agreement previously reached by the parties.