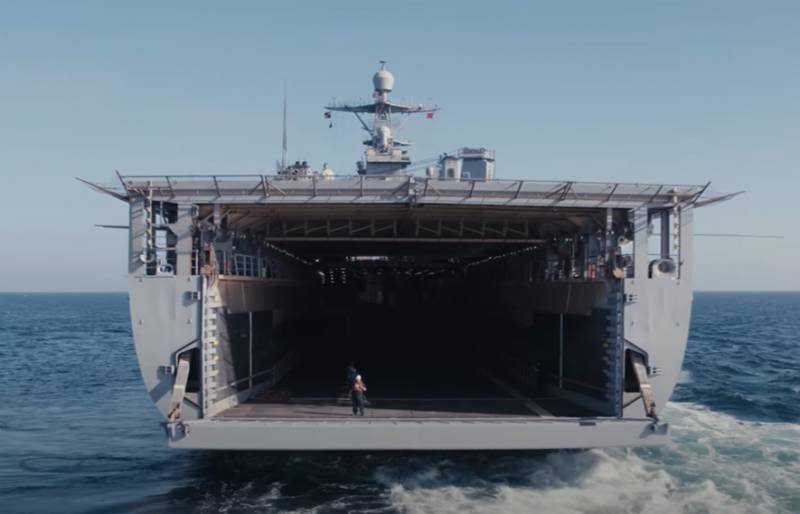 In the Japanese media, materials are published on some details of joint exercises with the US Navy in the area of ​​the disputed Senkaku Islands (Diaoyu). Recall that this tiny archipelago Tokyo considers its own, and Beijing its. Taiwan also claims these islands.
The exercises of the Japanese and American fleets were held in the Senkaku area in February this year. Then the United States announced that it would support its allies in opposing the "aggressive behavior of China in the East China Sea." It is noteworthy that the Pentagon applies exactly the same wording to joint exercises with the Philippines - only the sea is different ...
The Japanese newspaper Nihon Keizai Shimbun has published material that is being discussed by Chinese journalists and military experts. In the material of the Japanese media it is reported that during the exercises, the Americans were going to land their troops directly on the Senkaku Islands, using a universal landing ship. However, already during the exercise, the US Navy had to abandon the implementation of such plans. It is reported that the reason was the appearance near the islands of warships of the Chinese Navy and the Chinese military
aviation
, including the fighter. According to the sounded data, the PLA Air Force used Su-35 and J-20 aircraft to patrol the airspace in the archipelago area during US-Japanese military maneuvers there. PLA aircraft and ships thwarted US plans.
Japanese newspaper:
Chinese warships approached the exercise area and watched what was happening. Chinese fighter aircraft appeared in the air.
As a result, as reported in the Asian media, instead of landing the Marine Corps servicemen from the UDC, the United States decided to drop "imitation cargo" from the aircraft.
In the Japanese press, citing sources in the command, it is reported that the purpose of the exercises in the Senkaku area was "to coordinate efforts to resist a possible landing of Chinese troops on the islands."
Meanwhile, the Chinese media noted that the United States and Japan had never conducted such maneuvers in the area of ​​the Diaoyu (Senkaku) archipelago before. It is stated that Japan is turning the islands into a "US proving ground."