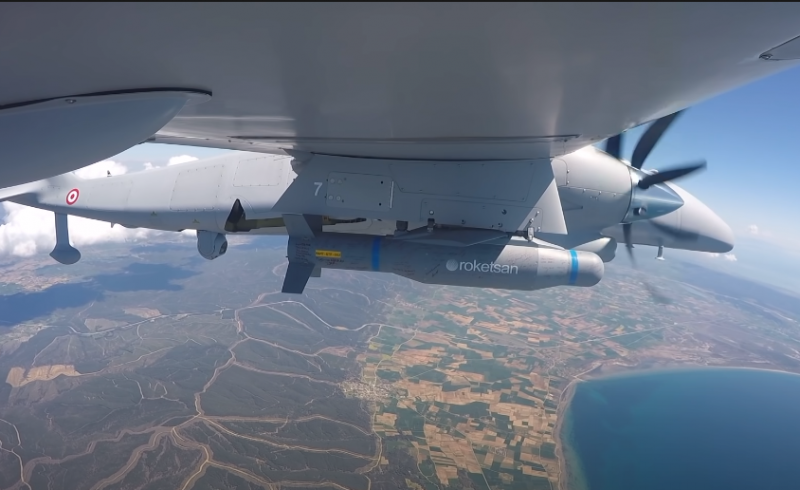 A video created with the help of computer graphics has appeared on the Web, in which a Turkish drone strikes a Russian-made "Pantsir-S". Thus, the Turkish company Roketsan held a "presentation" of its own ammunition for the unmanned
aviation
... It is noted that the ammunition is entirely national development.
The new Turkish UAV Bayraktar Akinci, after the final test, will receive its own line of ammunition, the development of which is already being completed. The Turks have already tested an "intelligent" mini-bomb from a drone, claiming success. It is noted that the MAM family ammunition was developed by the Turkish company Roketsan. As stated in the presentation, the ammunition is designed to destroy objects, sea and ground targets, including armored ones. Performance characteristics are not given.
Noteworthy is the video released by the company, in which the Russian Pantsir-S anti-aircraft missile-gun system (ZRPK) acts as the target for the new ammunition fired from the drone.
In principle, nothing else was to be expected from the Turks. Despite all Erdogan's statements and oaths of "eternal friendship", Ankara, first of all, thinks about its own benefit, and not about the Russian one, which is quite understandable. They still remember last year's confrontation between the Turkish Bayraktar TV2 drones and the Russian Pantsir-S air defense missile systems in Libya, where, according to some sources, Turkish drones destroyed a "bunch" of "Shells", according to others, Russian "Shells" landed many Turkish drones. Therefore, it is hardly appropriate to be surprised that it is the Russian complex as the target in the video.