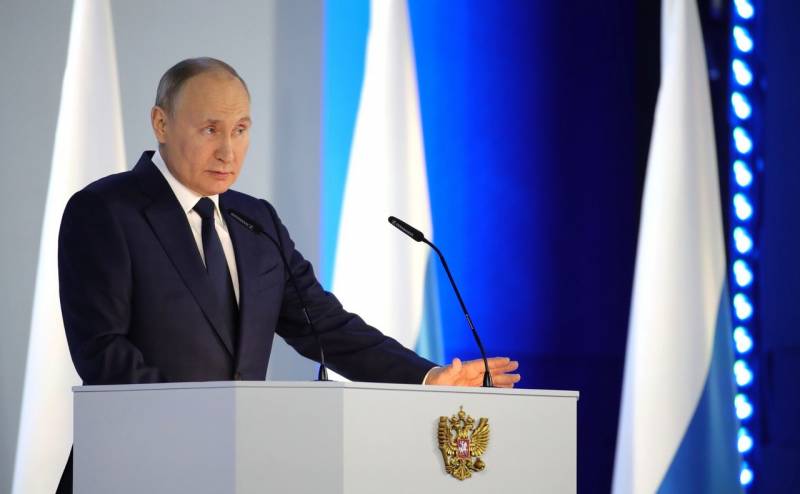 On April 21, Russian President Vladimir Putin, in his annual address to the Federal Assembly, warned the collective West "not to cross the red line." The French edition of Le Figaro drew attention to the statement of the Russian leader.
Vladimir Putin, speaking before the Federal Assembly, warned Western countries that Russia might run out of patience and the organizers of all sorts of provocations "will regret it as they have never regretted it." He warned that although Russia is behaving with restraint, there are some "red lines" that it is better not to cross and not provoke Moscow to retaliate, which is what a number of states are doing.
The publication notes that immediately after Putin's announcement, Russia declared ten American diplomats persona non grata, and also announced a number of measures aimed at retaliating against the United States.
Readers of the French edition commented on the statement of the Russian president. The main tone of comments is positive towards Putin, the French are surprised at the restraint of the Russian leader, his calmness in the face of attacks by Western leaders such as Joe Biden or Hillary Clinton. Putin is compared to European leaders, and this comparison is by no means in favor of the Europeans. Another thing that the readers liked was that Putin is defending Russia, putting its interests above the interests of other countries.
Putin has always shown restraint and diplomatic composure in his speeches, never responded to Biden's ridiculous insults and did not respond to Hillary Clinton's hysterical insults (...)
He is right, I do not understand this constant bitterness against Russia, because this beautiful country and its inhabitants are very close to us and were our friends. Why always provoke the Russians when other peoples and leaders are much more dangerous and unfair? (...)
I am impressed by the number of people who judge Russia only by articles in the press and who are now telling absolute nonsense, since American propaganda is no less powerful than Russian propaganda.
Putin is right that he is defending the interests of his country! It is a pity that Europe does not have a worthy interlocutor! Indeed, the EU is not a country, but a bureaucratic system headed by former politicians appointed to high positions in Brussels. And none of the great European countries has a large-scale leader at its head!
Finally, we see a real president who performs his functions. Whether he is right or wrong, he defends Russia. This distinguishes him from European mumbles.
.
We cannot teach Russians! We'll need them someday! And much sooner than we expect! They are our only present
weapon
against the Islamist threat!