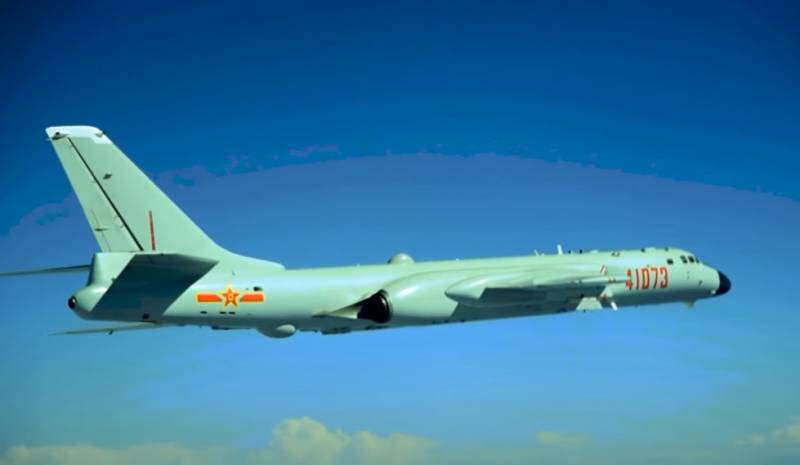 China has raised strategic
Aviation
PLA Air Force. According to recent reports, Chinese strategic bombers H-6K (a modernized copy of the Soviet Tu-16) took off from the Guangzhong airfield, located in central China. It is known that several such combat aircraft of the Chinese Air Force headed towards the East China and South China Seas.
The PLA Air Force command declares that flights of strategic bombers are included in the program of the launched summer period of combat training of the aviation corps of the Central Military Theater of the country's air force.
It is noted that the H-6K aircraft, having covered several thousand kilometers, attacked conditional targets at sea.
It is reported that the pilots practice destroying targets at different times of the day and in different weather conditions. In particular, difficult courses are deliberately selected for pilots in order to develop additional experience related to the operation of strategic bombers and their missile and bomb weapons in conditions of increased complexity.
The Chinese media report that the combat groups take off in a rotational version - several aircraft, having completed their combat training mission, return to the home base, and at that moment another group of strategic missile carriers is already in the air. It is noted that this was done in connection with several goals: the withdrawal of strategic aviation assets from strikes at home airfields, as well as in connection with the development of actions for incessant attacks on targets.
Trainings of this kind will take place within a few days. Experts believe that aircraft carrier strike groups are designated as conditional targets in the PRC Air Force.
For reference: H-6K aircraft are the backbone of the PLA Air Force's strategic aviation. They are powered by WS-18 engines. In fact, this is a Chinese version of the Soviet-developed D-30KP-2 engine. The combat load of the aircraft is about 12 tons, the combat radius is about 3 thousand km. According to some reports, several of these aircraft have recently been armed with aircraft-based DF-21 missiles.