To undertake such a "debriefing of the flight" was forced by the articles of two authors. Although now we are not talking about whether we will build aircraft carriers or not, whether we need them or not. It will be about something completely different.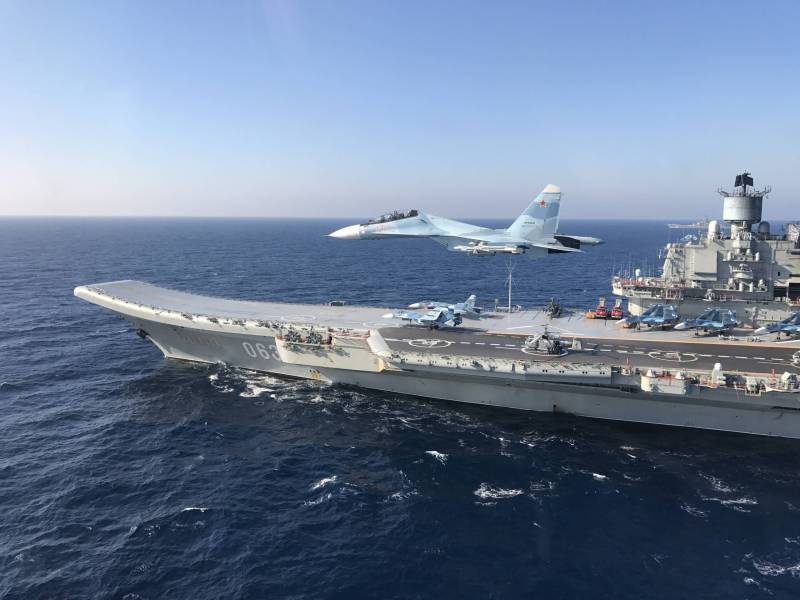 The answer of the supporters of the aircraft carrier lobby to the "inconvenient" questions
It is very unfortunate that such a word as "populism" will have to be said here. Alas, this is exactly the case, and nothing can be done about it. Once again, unfortunately.
Of course, I am very pleased that Andrei only reasonably confirmed my own calculations on the topic that we will not have an aircraft carrier. Never. For several reasons at once, which Andrey just perfectly explained.
There is nowhere to build an aircraft carrier. Yes, theoretically there is a place, but there you need only a few miserable tens of billions and a certain amount of time. And it was emphasized that billions of rubles, not dollars.
Indeed, Putin will go and borrow from another friend, as he did for the Sochi Olympics, right?
And then, in general, it is a trifling matter: we put aside the construction of nuclear submarines and roll up our sleeves ... we will give birth to hundreds of billions more to build an aircraft carrier. One. Because it is impossible to build two in parallel. Why - everything is in Andrey's article.
And now in 15 years we will get the desired aircraft carrier. The powers are terrible. It really will be just a terrible threat to the American
fleet
... The Americans will burst with laughter. Because they definitely do not become, and by that time they will have all the same 11 aircraft carriers stipulated by the law.
And we have one.
And it is clear that immediately after the ship begins to make the Americans fearful, construction of the second one will begin. And if nothing happens, then in another ten years it will go into operation.
Why are such terms unoptimistic? Yes, it's just worth seeing how many people are poking around at USC with any ship over 5 tonnes of displacement. And then 000 ...
Moreover, Andrei admits that there is nowhere to base this ship. That is, we automatically add a dock, berths and other infrastructure for a ship of this size to the reconstruction of the plant. Because we have none of this.
Hundreds more billions went ...
What to fight and with whom is also clear.
I fully agree with Voskresensky's opinion that the MiG-29K, like the Su-27K / Su-33, originally from the 80s of the last century, is not a weapon. In 15-20 years, when it is possible that this nuclear-powered Russian aircraft carrier will be built, they will finally and irrevocably become obsolete. Although they are still not very modern in comparison with world analogues.
For the new ship of the future, new aircraft? And at the base, excuse me, what? Su-57? Well, when they bring it to mind, if they can do the naval version, then we'll talk.
By the way, the same can be said in the direction of the escort ships. When the Super-Gorshkov is designed and built, then we'll talk. With pleasure.
And one more nuance, which Andrey modestly fell silent. We, unlike potential adversaries, do not have such a necessary component as a deck-based AWACS aircraft. And even in the future it is not planned, since we cannot figure out the A-100 yet.
And without such an airplane
aviation
the group will be doomed to guard itself in the air above the aircraft carrier.
More billions went ... Not Oka, already Ruble Yenisei.
We finish the discussion and move on to the main topic. It is already clear what Andrey from Chelyabinsk wants to say. The leitmotif is very clear: you only need 30 years and several tens of trillions of rubles. And everything will be.
It's very easy to write that. Such articles are applauded with great pleasure by jingoistic patriots. As a result, we will bend the whole world again, won't we?
Tomorrow we will build everything and bend over. In the meantime, we will order tankers in Korea. Because our USC, the United Shipbuilding Company, is jointly unable to build a ship larger than a missile boat without adventure.
In general, I would like to talk about the problem of specialists separately. I understand that from Chelyabinsk it is much better to see how there are at the shipyards, but after visiting the Crimea, in Kerch, having talked with the workers of the "Zaliv", which is a shipyard named after E.Ye. Butoma. If I can find the words to talk about how the "Russian Mistrals" will be built, I'll tell you. No - do not exact. Aksenov, of course, said that Zaliv is capable of building aircraft carriers and ships of any size, but Aksenov will definitely not build.
In general, Andrei refuted something of this according to Voskresensky's article, but I still did not understand what. Rather, he confirmed that we have nothing. No production capacity, no personnel, no money. The latter is especially important. Andrei did not say from which pipe these trillions will flow, but this is not necessary.
Here is why.
Now one very ugly word will sound again. This word is populism.
Populism (from Lat. Populus - people) is a policy that appeals to the broad masses and promises them a quick and easy solution to acute social problems.
This is a very dangerous hobby - populism. It can take you far. To the unpleasant far away.
The temptation is great: make a promise, explain how simple and easy everything is, that you just have to wait a little, raise money, tighten your belts, and so on.
That is, what Andrey is doing.
Indeed, in his huge article, he did not answer any of the most important questions, the main one of which is where the money will come from for the construction of new factories, ships, aircraft, and so on. And most importantly, how much of this money will be needed to build a great aircraft carrier fleet capable of bending America.
Does it remind you of anyone? Personally, it reminds me. We have a great phrasebook that promises a lot and in many ways. The lunar program, a flight to Mars, Venus, Saturn, reusable ships that will take tourists to lunar bases ...
Yes, Dmitry Rogozin.
And here's a coincidence. Dmitry Rogozin promises, knowing full well that nothing will be done. We have no opportunities, no technology, no money. Everything that was conquered by the Soviet Union in the space race is hopelessly lost today.
And we understand this very well. "We were the first" - yes, this is the slogan. But the key word in it is "were". Today completely different countries are the first in space. Unfortunately.
And we righteously express our anger when Rogozin bursts out with another populist package of promises. We criticize and laugh through tears, because we understand that all these are just words.
What is the difference between Andrey's deal with aircraft carriers? Yes, nothing.
Absolutely the same populist statements aimed at gaining momentary benefits. Completely unsupported.
But it's easier to live this way. Today you can promise mountains of gold, but who will check there? Especially after 10 years? Where are we for 10 years, and where is everything else?
Slippery path. Very slippery.
In general, even in our country, such a practice has been adopted as to confirm words with at least something. Otherwise, it is just air shaking or paper stains. This is especially true with regards to any such forecasts.
If Andrey had the surname Rakhmanov or Poltavchenko, yes, there is no dispute, at this level one could talk about the allocation of such huge sums for the construction of infrastructure for the construction of aircraft carriers, the construction of aircraft carriers and, in parallel, the construction of infrastructure for servicing aircraft carriers. Yes, aircraft for aircraft carriers, supply vessels, tankers and escort ships.
But without a meaningful understanding of how long it will take and how much money, all this reasoning that we can build something there is just idle chatter and populism.
As well as reasoning without justification on the topic of where these amounts will come from.
In our life, unfortunately, there are more and more empty shaking of air and attempts to play with decrepit naval muscles inherited from the USSR. However, the understanding should come that "the promised tomorrow will be bitter and intoxicated." Easy to say. It is more difficult to answer for your words.
I perfectly understand that what has been said today, no one will check it in a month, and in a year they will not remember it. Therefore, you can write whatever comes to mind. His Majesty His Opinion rules the ball.
I am ready to argue for anything, neither in 10, nor in 15 years, Russia will not have any aircraft carriers. And not because they are simply not needed by anyone other than couch strategists. Not because we don't have technology. Not because we have nowhere to build them and there is no one especially. Because no one will allocate these huge sums. There is none of them.
The fact that the GPV will continue to decline is evident from the dynamics of recent years. Anything that can be cut is reduced. The newest samples are replaced with the old modernized ones. Everything is logical in a crisis.
There will be no aircraft carriers. We disperse. We respect ourselves and do not allow ourselves to be fooled by openly populist rantings.
However, if someone wants to indulge in empty hopes about the Russian ocean-going fleet, which will somehow oppose the US Navy off the distant shores - no question. This will of course happen. Around the time when tomatoes bloom on the moon in the greenhouses of Russian lunar bases, and the ruble will become the second currency in the world after the yuan.
A hundred years from now - it is quite possible. But there is no way to prove or see this.
And today's reality is the modernization of cruisers, destroyers, submarines, bombers and
tanks
originally from the USSR. Under the bravura marches and beautiful fairy tales. And this, unfortunately, is reality.