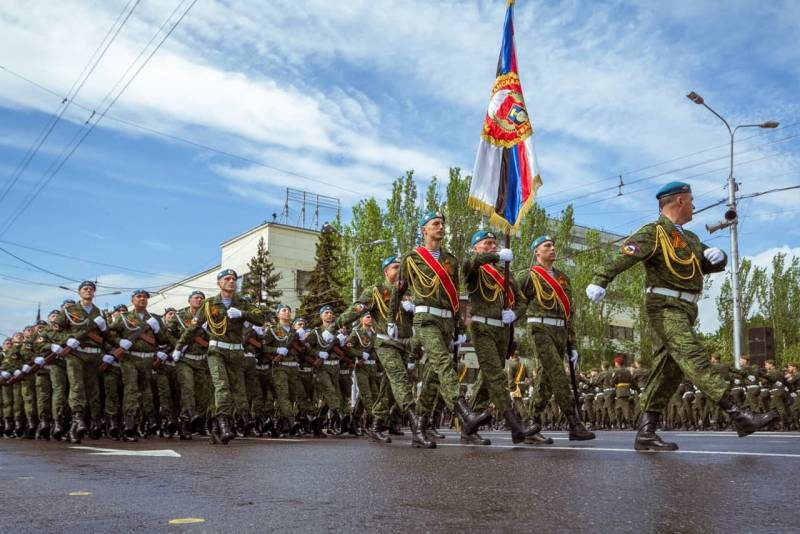 Modest and tasteful
So, the call has finally been announced in the LDNR. However, in spite of hundreds of "insiders" from Ukrainian and local "fake shooters" predicting total mobilization, closed borders and detachments of recruiters with service dogs, everything is going on smoothly, practically in test mode. Today we are talking about 200 young men in the LPR and 200 in the DPR, who will go for six months to comfortable barracks, as far as possible from the front line, where they will be taught the intricacies of military affairs, and then they will be sent home, provided with a farewell military card that ensures preferential admission to local universities, including customs, military, Ministry of Internal Affairs, etc.
Of course, these first 400 young people are the real lucky ones: most likely, those who follow them will have a much more difficult time; at least the service life will be longer. In the meantime, the republican and military authorities have made an unexpectedly sensible decision - without creating excessive social tension and without stuffing unnecessary bumps, to test the procedure on a relatively small number of recruits.
Meanwhile, in social networks, hell and Israel have predictably opened up - network patriots habitually shout that these measures are insufficient, while their opponents (most of them, most likely, live in Ukraine) argue that "everything should to be voluntary "and" there is no need to defend Pushilin and Pasechnik ". Of course, all this network hype will soon calm down. As for the population, the overwhelming majority of local residents are quite loyal to the idea of ​​conscription. Yes, for some it will be a reason to leave the republics, but the loss is so great and does the LPR really need people who are not ready not only to fight for their home, but even to serve their military service?
Loyalty question
You can spread demagoguery about the sufficiency of the draft and the nuances of its implementation as much as you like, but now something else is important - this is a serious and significant step for the republics. In fact, it was high time to move away from the exclusively contractual form of service, thereby increasing the number of personnel, freeing up a certain number of servicemen who are now performing "civilian" duties instead of war, giving the chance to enter military and customs schools for those who cannot enroll on their own. and solving many other issues. However, all these are so obvious points that there is no particular reason to talk about them.
Another thing is more important - military conscription, it is a question of loyalty for the population of the republics. In recent years, too many opportunistic residents have appeared in the LPNR, who, permanently or periodically living in the republics, treat them with disdain, to say the least. It is probably high time to include a zero-tolerance regime for those who do not share the values ​​for which the defenders of Donbass died and are dying. As well as introducing certain filters, institutions and rules, which can only be overcome by remaining loyal to the LPR and Russia. And the call is just such a filter (in any case, the way for those who have served in Ukraine will be closed). Yes, today the republics do not have enough people, but a shortage of workers and specialists is better than the constant presence of a potential fifth column.
The bullet is a fool!
In the end, the recruits will serve in the rear, reliably removed from the risk to which the defenders of the LPR are exposed on a daily basis. And nothing will save from the risk to which everyone and everyone in the republics is exposed on a daily basis. Everyone who lives in Lugansk and Donetsk walks under the sword of Damocles; everyone is in danger. And let the author seem naive to someone - if a large-scale bloodshed begins again and bombs start falling on cities again, it is better for these young men to meet a difficult hour in uniform, with
weapons
in the hands and next to experienced fighters than somewhere in the alley with a beer and a cigarette.
Frankly speaking, the appeal could also serve as a measure of enlightenment - too many loafers began to appear on social networks, performing some kind of antrash on the verge of a foul. KMB is an excellent replacement for Tik-tok, the army is a wonderful start in life and a reason to revise the values ​​gleaned from the Internet. After all, we live in a difficult time, and the ability to handle weapons is more important than network wisdom.