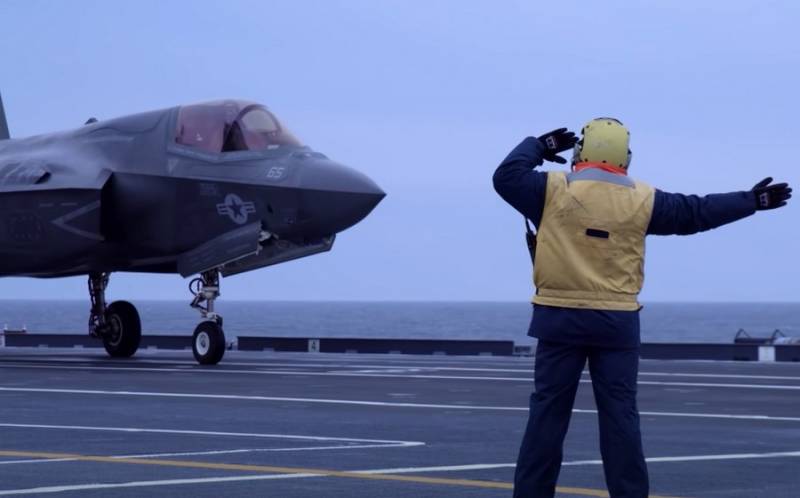 The Italian aircraft carrier ITS Cavour ("Cavour") has completed a test program with F-35B fighters and received a certificate of readiness to work with American aircraft. It is reported by defense-blog.com.
According to the portal, the aircraft carrier, which has been at the US naval base in Norfolk since February this year, completed test flights of F-35B fighters, thereby confirming the readiness to use the new wing. In total, 120 vertical landings, 115 takeoffs from a springboard and two vertical takeoffs were performed on the aircraft carrier's flight deck.
Now the aircraft carrier is ready to receive fifth-generation F-35B fighters with short takeoff and vertical landing and completely changes its air wing. In order to replace the deck
aviation
The Kavura Italian Defense Ministry previously ordered 30 additional F-35B fighters in the US for the Navy and Air Force, which will join the F-35A version already ordered. The first F-35B for the Navy was received in January 2018.
The new F-35B fighters will replace the outdated AV-8B Harrier attack aircraft that were part of the ship's wing. Before the modernization, the ship carried eight attack aircraft and 12 helicopters.
The aircraft carrier ITS Cavour is the flagship of the Italian Navy. Laid down on July 17, 2001, launched on July 20, 2004. Officially transferred to the Navy on March 27, 2007, but entered service on June 10, 2009. For modernization under the F-35 was sent to the dock at the shipyard
fleet
in Taranto in the summer of 2019.
Key Features: Displacement standard 27910 tons, full over 35000 tons. 244 meter length, 39 meter width, 8,7 meter draft. The speed of 30 knots. 7000 nautical range on 16 nodes. Equipped with four gas turbine engines. The crew is a 486 man, as well as a 211 man of air personnel and 360 marines.
It is capable of transporting up to 100 units of wheeled vehicles, or 24 main combat vehicles.
tank
, or 50 heavy combat armored vehicles.