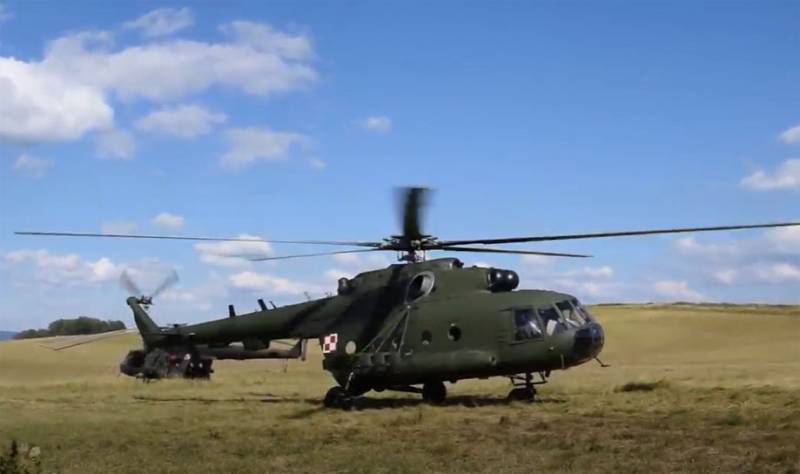 An enterprise in the Polish city of Lodz received an order from a regional logistics base for the repair of helicopters. As it turns out, the military plant No. 1 in the aforementioned city will overhaul the Mi-17 helicopters in service with the Polish army.
The total cost of the contract has also been named. Overhaul with the replacement of a number of onboard systems will cost approximately PLN 121 million (about 2,35 billion rubles). It is planned that the enterprise in the city of Lodz will start fulfilling the departmental order in 2021, and will finally complete it in 2023.
At the same time, there is still no exact data on how many helicopters are going to undergo overhaul for such an amount.
Initially, it was reported that the contract would be implemented for about 105 million zlotys, but then its price, for unnamed reasons, increased significantly.
Today the plant in Lodz is the only owner of the documentation for the repair of this kind of equipment in Poland. At the same time, it is argued that the presence of such documentation gives the exclusive right to carry out work on the overhaul of Soviet-designed helicopters.
The representative of the plant says that in fact the order implies a complete disassembly of the helicopters, an assessment of the degree of wear of its parts and assemblies, the reinstallation of all systems that have been used up, painting and assembly of rotorcraft.
The Polish press notes that the Polish Air Force has been considering options for modernizing its fleet for several years, but in terms of the army
aviation
The Mi-17 and earlier modifications of the Mi-8 are the backbone of the helicopter fleet.
Polish readers are ambivalent about the initiative. A few comments from readers of Defense24:
For such a sum, new versions of these helicopters could be bought in Russia.
Well, how many new helicopters do you think could be bought for this amount?
And where are the new helicopters announced by Macerevich (the then Minister of Defense of Poland - approx. "VO") back in 2016?