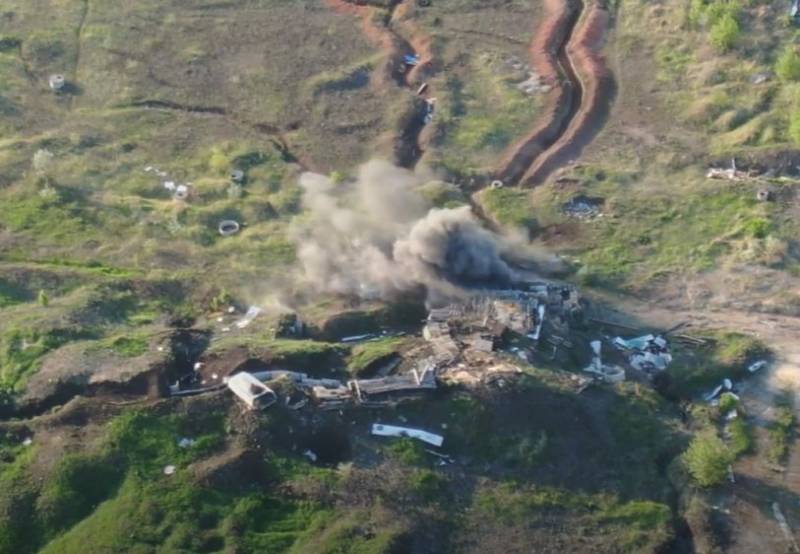 Today on the Facebook page of the 54th Brigade of the Armed Forces of Ukraine named after Ivan Mazepa (the speaking name ...), more precisely, of its K-2 reconnaissance group, a video appeared showing artillery (mortar) shelling of the positions of the People's Militia (NM) of the DPR. According to the authors of the publication, the Ukrainian Armed Forces have published a video of a "retaliatory" strike against the object of the Donbass defenders from the Vostok brigade.
That is, the Ukrainian military allegedly fired in response to the shooting from the Vostok fighters, although the video did not record the fire of the DPR servicemen. Moreover, it is clear that the NM DNR trenches are empty. Therefore, the statement about "fire in response" on empty positions demonstrates another lie of the Armed Forces of Ukraine that the Republican troops fired and are firing first.
It is also alleged that the Ukrainian Armed Forces fired from
weapons
"Permitted caliber", that is, not exceeding 73 mm.
The filming was carried out from a drone, which was at an altitude of several tens of meters above the firing site.
According to Ukrainian security officials, reconnaissance of the enemy's fortifications was conducted for several days. And as a result of the shelling, according to them, several DPR soldiers were killed.
As noted by the Ukrainian side, they publish footage "from the Russian-Ukrainian war."
From the publication:
The scouts for some time monitored this position in various ways, and one day a fire strike was delivered from an unauthorized type of weapon.
The latest summaries do not report anything similar to the events described in the video. Ukrainian blogger Necro Mancer suggested that the shelling took place on the outskirts of Donetsk in May last year (it is quite suitable for vegetation). Actually, at that time the Ukrainian military was also filming Vostok positions during the shelling with a drone, and the location of the shooting was very similar to that shown in the last video. Presumably, this happened on May 9, 2020, when the Vostok brigade celebrated six years from the date of its foundation.
Today, News Front journalist Georgy Medvedev published an interview with the founder and first commander of the unit, Alexander Khodakovsky. The ex-commander said that now, when an exacerbation begins on the line of contact, many former militias are returning to the ranks of the defenders of Donbass, who had previously gone to "civilian life" after the end of the "hot phase" of hostilities in 2014-2015.