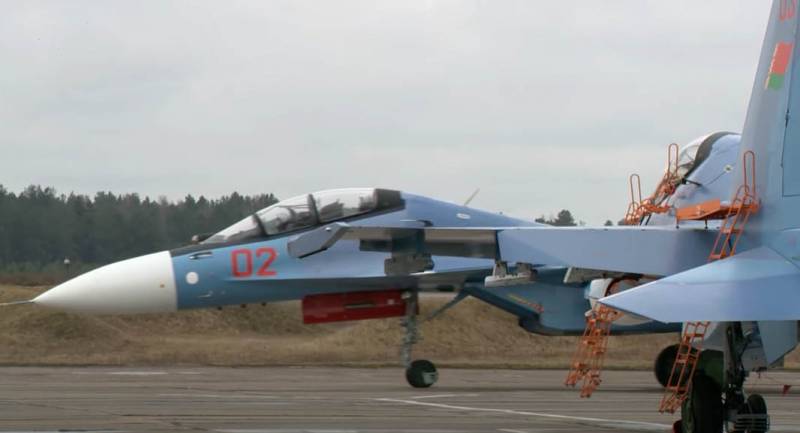 Moscow and Minsk intend to organize a combat training center for joint training of the Air Force and Air Defense Forces. It is possible that behind this discreet statement of the Russian Ministry of Defense, there are agreements with the Belarusian leadership on the deployment of a Russian fighter jet.
aviation
in the territory of a neighboring country.
On the basis of the center, joint training of Su-30SM aircraft crews will be organized, Belarusian specialists will be trained to work on modern air defense systems in service with the RF Armed Forces, as well as joint training and combat missions.
- indicates the military department of the Russian Federation.
If the crews of the two countries jointly participate in maneuvers, then, according to the logic, Russian pilots will use Russian aircraft. This, in turn, suggests that fighters from the Russian Federation, after years of delays, are finally allowed into Belarus on a permanent basis. Considering that all four Su-30SMs purchased by Minsk are located in Baranovichi, then one should expect the possible basing of their "brothers" from Russia there.
At the same time, a combat training center for joint training of ground forces is being created on the territory of the Russian Federation, within which, as explained, Belarusian motorized riflemen and tank crews will get acquainted with the combat experience of their Russian colleagues. Considering that the armament of the allied country consists of the same type of military equipment and it is possible to master it on the spot, without a business trip to the Russian Federation, training activities, most likely, will be aimed at improving the combat skills of personnel. It is possible that we are talking about tactical retraining of the commanders of the ground forces of the Republic of Belarus.
As indicated in the RF Ministry of Defense, the organization of the two centers is designed to strengthen the joint defense of the two countries. In the context of the policy of isolating Minsk, which is being pursued by the West, the possibilities for the development of events according to a military scenario are increasing. Against this background, it becomes vital to strengthen bilateral relations between the Russian Federation and Belarus in the military sphere. At the same time, earlier Minsk diligently avoided rapprochement in this area, in particular, not giving Russia the opportunity to deploy its military aircraft on its territory.
There is no official confirmation that the Russian Aerospace Forces (Air Force and Air Defense) fighters will be deployed in Belarus at the moment.
Let us remind you that a couple of days ago, President of the Republic of Belarus Alexander Lukashenko said that Belarus had no friends. Moscow responded with a remark that "in this case, he probably did not mean Russia."