Solid rear
With a feeling of deep satisfaction (without humor) I read the comments to my first letter.
Firstly, because the stated thoughts really crossed my mind in the 9th ward of the 10th infectious diseases hospital in Moscow. And I was in a hurry, while I was alive, to pass them on to people.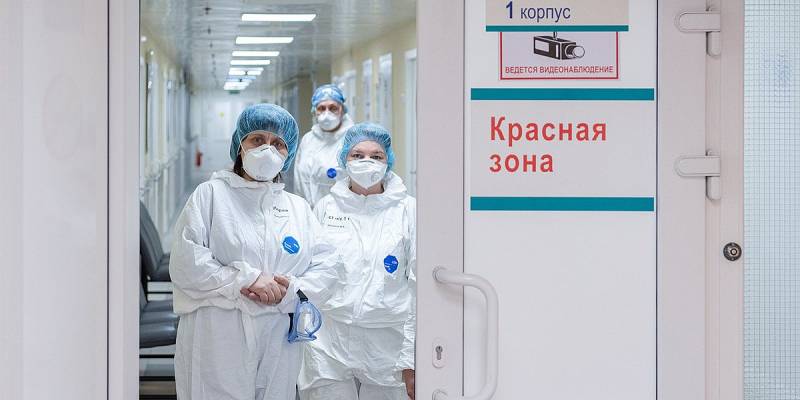 The entrance to the red zone in the city clinical hospital № 15 named. Olga Filatova in Moscow during the COVID-19 pandemic. (Press service of the Mayor and the Moscow Government, Denis Grishkin)
Secondly, I am convinced that the opinion of our great scientist V.I. Vernadsky. In his Philosophical Thoughts of a Naturalist, he writes:
"There is one fundamental phenomenon that defines scientific thought and distinguishes scientific results and scientific conclusions clearly and simply from the statements of philosophy and religion, - this is the general validity of scientific conclusions, scientific statements, concepts, conclusions ...

Such facts and such generalizations, if created at times by philosophy, religion, life experience or social common sense and tradition, cannot be proved by them as such.

Neither philosophy, nor religion, nor common sense can establish them with the degree of certainty that science gives.

Their facts, their conclusions and conclusions must be tested on the touchstone of scientific knowledge. "
Therefore, as soon as I got rid of the obligatory scientific and pedagogical load and was able to use my time, I immediately started working on the Internet in order to convey to people my many years of experience and understand what others think.
After all, people have an interesting property: to invent fairy tales and believe in them. Especially nowadays.
For example, what does Potanin own? They will tell me that it is Norilsk. And I will answer that it's just a bunch of pieces of paper that Norilsk is his.
But if private property is sacred and inviolable, then where did the property of 40 million depositors of vouchers in CHIFs go, about which Gaidar and Chubais almost mockingly write (see their book "Forks
stories
")?
After all, you can simply abolish the legislation that is alien to our people on shares as "securities" and deprive their owners of the right to property, receive income and appoint managers.
In the next letter I will try to tell about the experience of overcoming the crisis in the last century on the basis of American democracy, which is making good use of the current American fascism at the expense of representatives of the Russian so-called "oligarchy", persons with reduced national responsibility.
But what about people's thoughts is another matter.
Again, in my opinion, Vernadsky said it best of all:
"I think that popular, mass life is something special, strong, powerful.

The mass of the people has a certain ability to develop certain knowledge, to understand phenomena - it, as a whole and living thing, has its own wonderful and powerful poetry, its own laws, customs and its own knowledge;

I think she has another quality - that she gives happiness to individuals who live inseparably with her.

I cannot precisely define and even explain well to myself why happiness is achieved by this, why there is undoubtedly a feeling of connection and some kind of sense of purpose among people who are more or less imbued with popular, mass life. "
(Ibid, p. 398).
I confess, that is why I tried to collect and generalize the experience and knowledge that I have accumulated over 90 years of my difficult life.
Before my illness, I even managed to formulate a plan and the approximate title of the work: "Treachery. The money is power and the power of money. "
The word treachery in modern dictionaries is identified with cunning, deceit and other types of bad behavior. But maybe this word should be understood literally: a breakdown of faith?
Indeed, a person cannot exist without faith. It is not necessarily a religion like belief in God. It can be faith in fate, in people, in one's own or in a common bright future.
Faith is always combined with trust. And if trust is lost, then faith also breaks down, and with it the individual, family, society, state.
Glorious man. It was not for nothing that Maxim Gorky proclaimed that a person sounds proudly. But, to our deep regret, not all people value their dignity, the honor of being
man
.
And it's scary when on the way of a human being vile people make honest people scoundrels. And honest ones honestly believe that scoundrels can be honest. Having lied once - who will believe you?
Having already reached the section on the inadmissibility of giving power to the so-called "political parties", which the British invented to cover up corruption and nepotism, he fell ill. And already in the "red zone" I began to think that life in fact could be different from what a person thinks.
I am not a big supporter of the current government. And in many ways I agree with her critics.
But then I remembered how last year, when no one knew about the risks of a new threat, the president entered the "red zone". And then he stopped the collapse of the healthcare system. It became clear to me that then, at the risk of his life, he acted as an officer and a citizen.
And, whatever you want, a person who has saved the country and is fighting for the health of the people needs our trust and our help.
In the ward, I decided to write letters stating that apart from the army,
fleet
,
weapons
and the military-industrial complex, the country needs solid rears.
Education and upbringing
The main thing (about this was in the first letter) is that a strong system of education and upbringing of future generations is needed. The Western "Bologna" system must be abandoned immediately: it educates slaves inside the country and creates conveniences for future fugitives from the country. We need future generations of comprehensively developed people who own the assets of Russian and world culture to such an extent that it will be impossible to deceive and buy them for thirty pieces of silver.
The last head of the USSR government before the coup d'etat of 1954-1957 warned us:
"Today, under the guise of innovation in musical art, a formalistic direction is trying to break through in Soviet music, and abstract painting in artistic creation ...

This is ... a misunderstanding of the role in ideological sabotage against our country and especially the young people played by these phenomena ... How many people came during the war to be inspired for heroic deeds at the monument to Minin and Pozharsky on Red Square! And what can be inspired by a pile of rusty iron, presented by "innovators" from sculpture as a work of art? What can abstract paintings by artists inspire?

This is the reason why modern American financial magnates, promoting modernism, pay fabulous fees for such "works", which the great masters of realistic art never dreamed of.

There is also a class background to the so-called Western popular music, the so-called formalistic direction. This kind of music, if I may say so, is created on the rhythms borrowed from the sects of the "shakers", whose "dances", driving people to ecstasy, turn them into uncontrollable animals capable of the most wild actions.

This kind of rhythms are created with the participation of psychiatrists, are built in such a way as to affect the subcortex of the brain, on the human psyche. This is a kind of musical addiction, falling under the influence of which a person can no longer think about any bright ideals, turns into cattle ...

Music is at war too.

In 1944, I happened to read a manual written by an English intelligence officer, which was entitled:

"How to use formalistic music to decompose enemy troops."

Speaking about the further development of Soviet literature and art, one cannot but take into account that they are developing under conditions of a secret war unprecedented in history, which today the world imperialist circles have unleashed against our country, including in the field of literature and art. Foreign agents in our country have been tasked with infiltrating the Soviet cultural authorities, seizing the editorial offices of newspapers and magazines, exerting a decisive influence on the repertoire policy of theater and cinema, on the publication of fiction ...

Foreign agents have been tasked with promoting pessimism, all kinds of decadence and moral decay in works of literature and art.

One zealous American senator said:

"If we could show our horror films in Bolshevik Russia, we would surely disrupt communist construction for them."

No wonder Leo Tolstoy said that literature and art are the most powerful forms of suggestion. "
(Stalin. Works. Vol. 16).
Health care system
The second problem of creating a solid rear is the healthcare system.
I confess that I had episodic encounters with this important area of ​​human life, but quite serious - and not as a patient.
In my youth, I happened to live in the courtyard of a Moscow school, turned into a hospital.
Then the older brother, after being wounded at Stalingrad, was overtaken by a fragment of a German mine on the Kursk Bulge, which passed next to the spinal cord. When he was taken to the Burdenko hospital, the boy met the great surgeons Arendt and Konovalov.
When Arendt examined his brother, he said:
"It is necessary to operate, although it may die.

If this is not done, then he will die for sure. "
After a successful operation, he was crucified and tied in a cast to an upright metal bed. But his life was saved for many years.
After graduating from the institute, he went to work in a remote area as the chairman of the city (regional subordination) planning commission. After being elected as a deputy and a member of the executive committee, he became a member of the five, which was called SZ (narrowed meeting of the executive committee). The tasks of this five included the development of a civil defense plan, and in the event of an emergency, all power was transferred to it. It was then that two plans for the development of the health care system had to be developed annually.
There were other cases, during which I had to delve into the issues of medicine.
I still have a service passport issued by the USSR Ministry of Health.
But the wildest situation that we had to face is the collapse of our health care system in three directions, which have long been known and failed in other countries of the world.
This is, firstly, paid medicine, which was very well shown by A.P. Chekhov in Ionych. You have to be a completely brainless leader in order not to understand that there are areas of human activity that are not determined by money.
Secondly, the so-called insurance medicine was introduced, which showed its futility from the very beginning, from the ⅩⅦI century. After all, all human diseases cannot be the results of "insured events". There are also chronic diseases. There is also such an important area as the prevention of public health.
Thirdly, it is difficult to understand why Medvedev in 2011 agreed with the WTO (great medical organization?) Requirement to lift restrictions on foreign capital participation in our insurance companies. After that, the well-known "optimization" of Russian healthcare began in favor of foreign and "our" insurers.
I don't know if those who did all this will ever be punished?
But I must say that when I turned out to be a patient, I saw the same noble doctors risking their health (and sometimes their lives) in the name of fulfilling their high destiny. Doctors, nurses, nurses - honor and praise to them.
But it is not by chance that I write about this in Voennoye Obozreniye. All medical personnel in the country (except for "paid") must have military training. Ranks equated to the military. And wages from the federal budget. No mocking "regional averages" or taking into account "inflation".
In order to do this, the government has the necessary funds.
About this and the main opportunities for exiting
"Red zone of the economic crisis"
- in the next article.