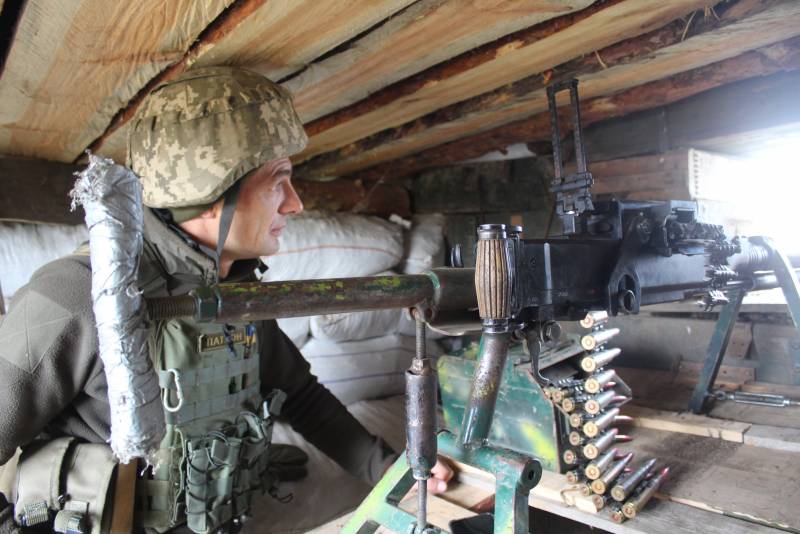 Information resources that monitor the situation in Donbass come out with publications informing about the resumption of active hostilities in the Luhansk direction. For a fairly long period of time, the ceasefire on the line of demarcation between the territory of Ukraine and the LPR was generally observed. It was much quieter and calmer than on separate sections of the demarcation line in the Donetsk and Gorlovka directions (DPR).
If you believe the reports, the Ukrainian army is shelling adjacent territories in the area of ​​the village of Zolote. This is the same village that became the first in the implementation of the "new" agreements on the withdrawal of troops. The intensity of the fighting in this area is changing, there is a risk to the civilian population.
The People's Militia Department of the Lugansk NR reports that Ukrainian troops are firing on the territory of the republic. According to the press officer of the republican UNM Ivan Filiponenko, one of the Luhansk servicemen was wounded as a result of the shelling. He was sent to the hospital. According to the latest information, the Ukrainian troops used 120 mm mortars.
Servicemen of the Armed Forces of Ukraine from the 59th brigade (motorized infantry brigade named after Y. Gandzyuk) carry out shelling in the direction of Popasna, located not far from the contact line. Mortars, AGS, small arms are used
weapon
... The 92nd Brigade of the Armed Forces of Ukraine used similar weapons in the shelling of the village of Molodezhnoe, trying to advance.
Reports from the LPR say that residents of villages near the contact line for the first time in several months had to go down to the basements and wait out the shelling carried out by the armed forces of Ukraine. The defenders of the LPR at this stage restrain the activity of the Armed Forces of Ukraine with the available forces.