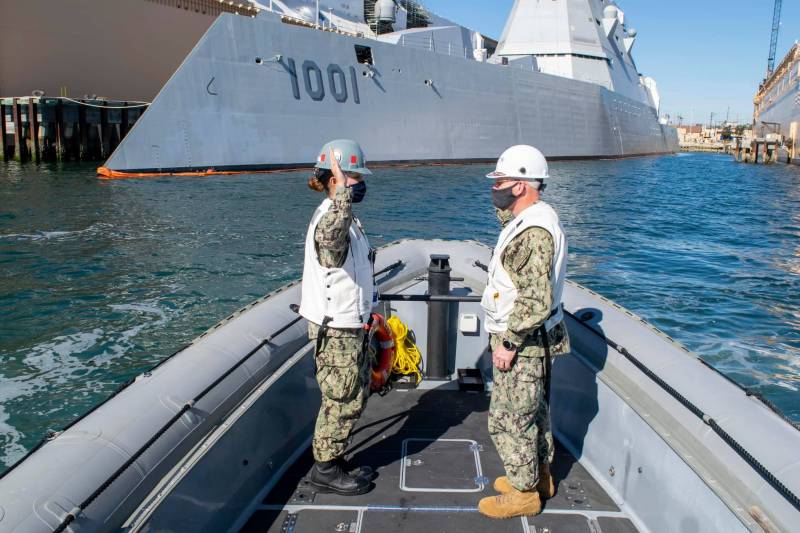 In the United States, they continue to look for options for the use of ultra-expensive stealth destroyers of the Zumwalt class. Recall that initially the US Navy announced its readiness to order 32 such warships, but when it turned out that only one cost about $ 4 billion, the program was cut sharply. At the moment in the line-up
fleet
2 destroyers of this class - USS Zumwalt itself (DDG-1000) and USS Michael Monsoor (DDG-1001). Two more are expected.
The commander of the US Navy's naval operations, Admiral Mike Gilday, meanwhile, made a new proposal on how stealth destroyers could be used. According to him, it is necessary
weapon
, which will cause damage to warships and critical coastal infrastructure of the enemy. For this, according to Guilday, a combat laser weapon - a laser cannon - should be installed on board the Zumwalt-class destroyers.
According to the American admiral, if a laser cannon is installed on the Zamvolts, "their combat power will significantly increase." The admiral also proposes to turn destroyers of this class into "test sea platforms for promising hypersonic weapons, which can subsequently be equipped with warships."
Recall that earlier in the United States planned to equip the Zumwalt with an electromagnetic gun. About these plans with a pile of all kinds of weapons in the United States, users joke:
The admiral offered to install a laser cannon. And where is the electromagnetic gun?
We can offer to install on our newest destroyers whatever the admirals can think of. From hypersonic missiles to combat lasers. But then where are these combat lasers and where are the hypersonic missiles? So far only uses a regular ship cannon.
Recall that not so long ago, the stealth destroyer was indeed taken out to sea, where, during maneuvers, using all of its weapons, it used a conventional ship's cannon to shoot at targets on the water. Then it caused surprise, because the tasks of Zamvolta were originally defined as striking enemy targets (including ships) from outside the affected area.