We start with a document that was recently literally thrown onto the Internet and at this moment its authenticity is beyond doubt.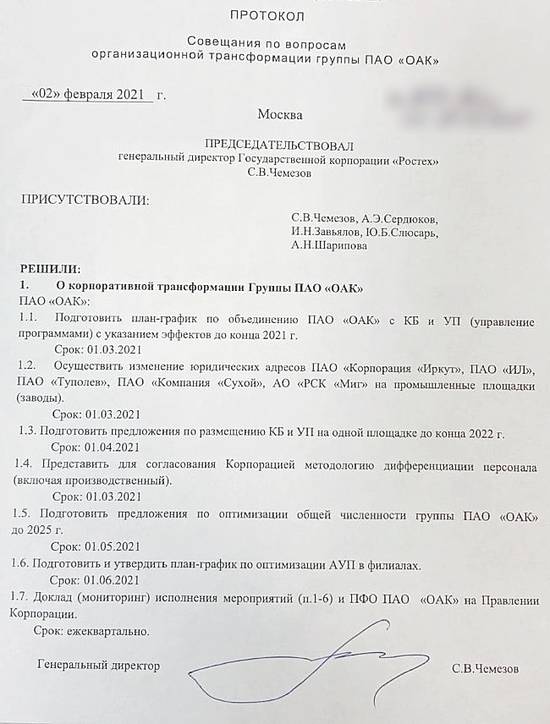 According to data obtained from various sources, on February 2, a secret meeting of the five chief aviation industry chiefs took place in Moscow. But in our country, nothing secret can be such for a long time, so someone dumped the protocol on the Internet. For which many thanks to this person, we are at least now aware of what will begin this year.
And, as you already understood, nothing good will happen. Well, not that country, in fact, to break through, break free, catch up and overtake.
As you can see from the document, it follows that on March 1 of this year, the process of expelling the leading
aviation
firms. "Sukhoi", "Irkut", "MiG", "Tupolev", "Ilyushin" - all will be evicted from the capital, and the areas they occupy will be sold for construction.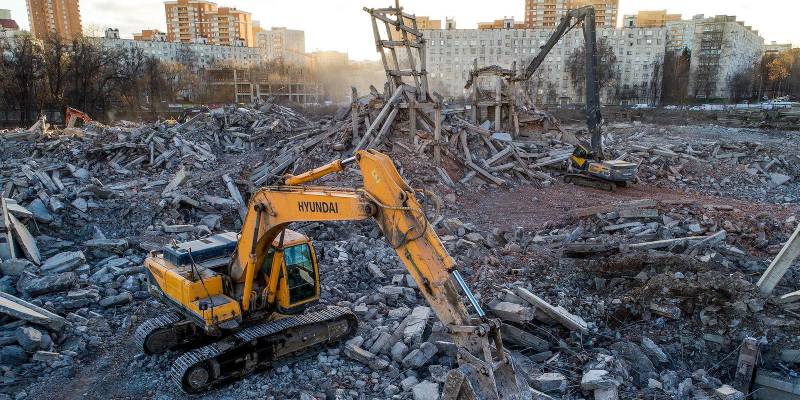 And the money received from the proceeds of the land will be used to pay off the multibillion-dollar debts of our wonderful United Aircraft Corporation, which it has made during its super-efficient existence.
So what? Just think, what sissies, constructors ... Will not fall apart. But they will be, like this, closer to production. As what is invented, it will go straight to production.
In general, it is clear that all this will lead to the fact that aviation design bureaus, which somehow managed to survive and develop something, will soon order us all to live happily ever after.
And the design bureau and the entire Soviet aviation industry, which somehow still held on for these 30 years under the blows of reforms, optimizations and other democratic tricks, will now be tormented once and for all.
I don't know who was the initiator of this venture, this is still unknown to society, although, in theory, the country should know its heroes. But it is known who will be the performer. This is the chairman of the board of directors of the UAC, Mr. Anatoly Serdyukov. And unfortunately, this is not a namesake, but the same former defense minister.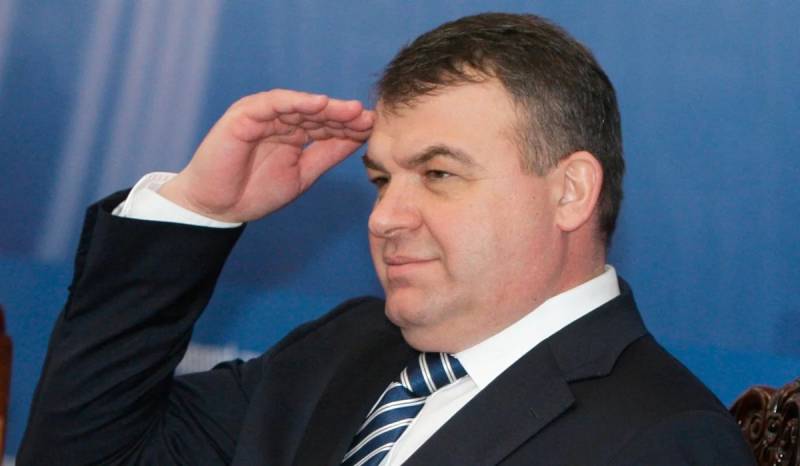 Perhaps, the funeral eulogy of the aviation industry can not continue? After the name of Serdyukov, everything became clear and understandable?
I will risk. Let's just say, in expanded form.
It is necessary to unfold, because it is necessary to understand the corporate style of Serdyukov, without this in any way. And his style is simple and is determined by only two parameters - profitable or not profitable. And he doesn't care how others look at it. Therefore, all decisions of Serdyukov, they are so ... quiet and without unnecessary publicity.
For example, during his time as a minister, a brilliant idea gasped in the ministerial head: to enlarge airfields. There is nothing, for example, to maintain regimental airfields. It is necessary to dazzle the huge airfields on which the mixed divisions will be stationed. Specifically, the planes of the Kursk Khalin, the Voronezh bomber regiment and training aircraft from Borisoglebsk were to be brought down to the Voronezh "Baltimore".
Nice, huh? Minus two airfields, the beauty is simple! And the fact that one airfield would accommodate about a hundred aircraft ... on top of each other. One rocket - and hello, hometown, for "Baltimore" is located within the city limits.
And in the Far North they generally wanted to leave one airfield out of five ... It is expensive to maintain airfields there.
And Serdyukov and the gentlemen wanted to spit on the fact that it was dangerous or harmful. The main thing is profitable!
And now, when Serdyukov was removed from the airfields, aviation design bureaus will go under his saw. As I understand it (and there will be more intelligent ones behind me), effective managers of Serdyukov and the company do not care what to destroy and cut, combat aircraft or drawing boards in the aviation design bureau.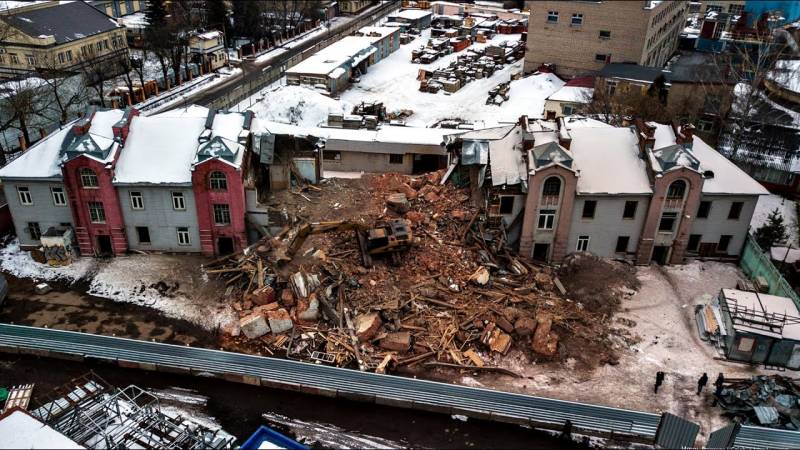 And people, developments, new ideas, traditions, finally - all this is dust and dust before the altar of Financial Profit.
And now the guilty design bureaus will go under the financial knife. Moreover, now I will literally explain on my fingers. Why this will happen if the areas in Moscow will be used for construction.
And as an example I will take PJSC "Il". Where are these "production facilities" "Ila" located? Yes, after the next renaming (nobody knows why) the public joint-stock company "Aviation Complex named after S. V. Ilyushin" has a production site in Voronezh, at PJSC "VASO". And in Ulyanovsk. In short, very close to Moscow.
Attention, the question: how many designers living in Moscow will rush headlong to work in Voronezh, at an aircraft plant? Or to Ulyanovsk?
You don't have to go far for an example. He is here in Voronezh.
There was in Russia, inherited from the USSR, such an Air Force Engineering of the Orders of Lenin and the October Revolution, the Red Banner Academy named after Professor N. Ye. Zhukovsky - a higher military educational institution that trained and retrained engineers for the Air Force until August 2011 ... Since 1920.
Then this academy was gone. Optimized as unnecessary.
And in the same 2011, all with the same optimizer Serdyukov, the Yuri Gagarin Air Force Academy was destroyed and abolished. In general, it was defeated back in 2008, but merged with the Zhukovsky Academy.
And in 2011, the names and part of the equipment were transferred to Voronezh, to the Military Aviation Engineering University.
And they had to transfer the teaching staff. How many people do you think, being of sound mind and clear consciousness, went to Voronezh? That's right, about 5%. Naturally, not professors and academics. Simpler people went. To them were added teachers from the destroyed Tambov and Voronezh schools of radio electronics (on the basis of the latter now the "academy" is located), and the teachers of the former VATU, the Voronezh Aviation Technical School. And the remains from Stavropol and Irkutsk.
In general - "I blinded her out of what was." We ask you to love and favor, "Zhu Garin Academy", as it was called in the flying environment.
But they vacated the premises in the Dynamo metro area. What the Monin premises have become is also easy to see if you visit the still living Air Force Museum.
And in the end, only a beautiful sign remained of the academy. Cadets are taught in Voronezh, however, what and how everyone can read on the site himself.
Nothing remains of the two former splendid educational institutions of the highest academic class but memory.
And Moscow teachers have joined the ranks of Moscow universities, fortunately, there are still ranks there that can be replenished.
Exactly the same will happen with constructors. No amount of force will force a person in our time to break away from his home in the capital to continue working in the premises of the Voronezh aircraft plant. Not very well adapted to this, frankly.
But the designers are unlikely to be asked for their opinions. Not that level, Anatoly Eduardovich will hardly ask anyone. He does not need anyone's advice, as practice shows.
I wonder (and not only me), and who will correct everything that was done afterwards, after Serdyukov, following the model and likeness of the army? Where to get anti-effective managers?
And after all, everything is going under the auspices of "reforming" ... And what is the essence of these, if I may say so, "reforms"?
If you read what falls on the heads of ordinary people, everything is replete with such beautiful themes as "further development of design schools", "elimination of duplicate functions", "centralization of management" and so on. They know how to write effective, they know how.
But loud slogans for some reason did not help to fashion domestic wings for the MS-21. For three years, representatives of the Yakovlev Design Bureau have been sitting at the same Voronezh aircraft plant and trying to make a resin that would be even remotely similar to the American one. But for some reason import substitution does not work out. The stone flower does not come out.
And is it not because of the mass production of this "domestic and import-substituted" aircraft from 2017 to 2025 because of ... right, because of the sanctions!
So much for the reforms ...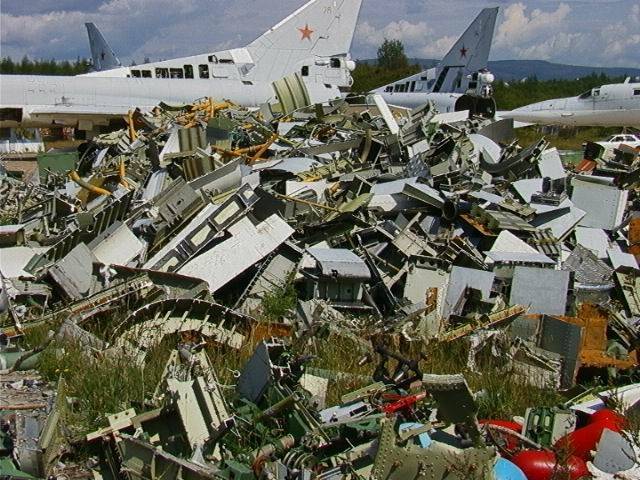 One clever person on the Internet gave these reforms a great slogan: "Let's do it worse than it was before us!" I agree, it will be so. And that's why.
The idea itself evokes thoughts exclusively of sabotage.
Judge for yourself: take and throw away all KB from the occupied premises. With a subtle "replacement of legal addresses with the addresses of industrial sites." What's next? Further - "to industrial sites"?
I applaud. Standing. Imagining how the great migration of peoples will begin. Okay, the MiGs have a tiny experimental plant in Lukhovitsy, we can say they are lucky. And the rest?
"Silts" go to Ulyanovsk or Voronezh.
"Tu" to Kazan.
"Su" ... Novosibirsk or Komsomolsk-on-Amur.
That's all, you can say goodbye to the Sukhoi Design Bureau. I don't know who will go from Moscow to the Far East. If nobody rushed to Voronezh for 500 km, then what to say about Novosibirsk or Komsomolsk?
Of course, there is also a project, as I was told. He is even more cynical and does not look sabotage, but mocking.
All design bureaus are collected, expelled from their places and evacuated somewhere to one common site. In one of the cities, of course, excluding Moscow. The list is there, above, plus Nizhny Novgorod, where the MiG base is.
And there is a huge center of aviation design and development under the auspices of the UAC, of ​​course.
In narrow circles, this project has already been called a "mass grave".
But Anatoly Eduardovich does not care. The main thing is that today it will be possible to sell the buildings of the former design bureaus and pay off part of the UAC's debts. Well, don't offend yourself, of course.
The most disgusting thing - where will the KB base for testing combat and civilian systems go? There are dozens, if not hundreds, of stands that have been accumulating over the years! They cannot be disassembled and transported, say, from Polezhaevskaya to Komsomolsk-on-Amur without complete destruction. So the stands of the Sukhoi Design Bureau will simply be destroyed.
However, they say that similar stands of the Ilyushin and Tupolev Design Bureau can already be forgotten.
By the way, an interesting question: where, in fact, does the UAC have 500 billion rubles in debt? How did it happen? Where did the effective manager Slyusar look? Where is the equally effective Serdyukov looking?
Well, Serdyukov is looking at how PJSC Sukhoi is being re-registered from Moscow to Novosibirsk. Then, apparently, the employees will be asked to go there. No one will go, they will quit (as the Sukhoi employees themselves say), and the treasury will have a positive effect: there will be no need to lay off anyone.
By the way, here it is worth remembering how well Serdyukov did the job, commanding Russian Helicopters. There, 50 million for Allochka Pugacheva on concerts as sponsorship hiccuped well. And the reforms too. They led to a drop in both production and demand for our helicopters.
Come on, what is there, the main thing - Anatoly Eduardovich is loyal and devoted to Vladimir Vladimirovich. Everything will be fine. We will fly, as before, in Boeings and Airbuses, and we will buy combat aircraft from the Chinese.
The main thing is that Mr. Serdyukov should have somewhere else to frolic. The helicopters have landed, the planes will now land. What else needs to be reformed?
... I got scared for the air defense ...