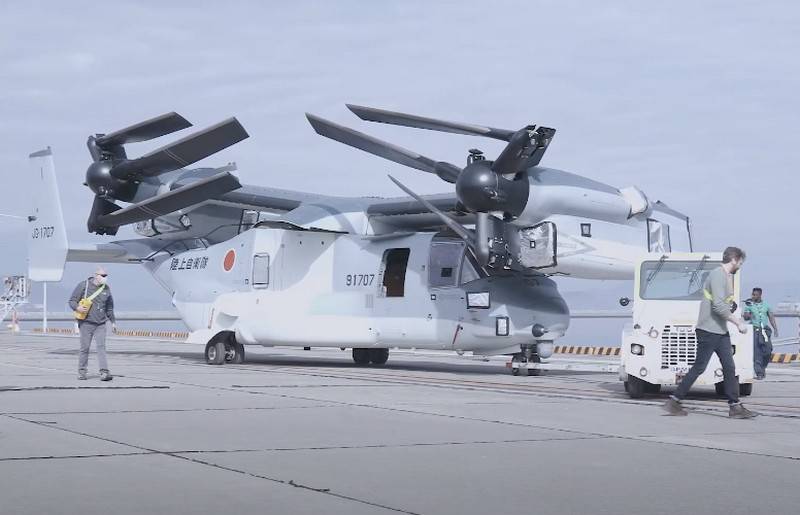 Japan received the second batch of American Bell Boeing V-22В Osprey tiltrotors. The equipment arrived by sea at the Iwakuni naval base in Yamaguchi prefecture.
According to "Warspot" with reference to Defense Flash News, five tiltroplanes arrived in Japan in the second batch. The first batch of the first two V-22B Osprey arrived by sea in May last year, also at the Iwakuni naval base. Japan-supplied tiltrotors, designated V-22B Block C, are export equivalents of the MV-22B assault vehicles for the US Marine Corps.
In May 2015, the United States approved the sale of 17 convertiplanes to Japan through Foreign Military Sales (FMS) for a total of $ 3 billion, but the Japanese government has so far paid for the delivery of only 13 vehicles, transferring funds in 2015 for five convertiplanes, and 2016 and 2017 for eight more.
As part of the Japanese army
aviation
V-22B Osprey tiltrotors will be part of a new aviation unit based at Saga airfield in Kyushu. The tiltroplanes are planned to be used primarily for interaction with the amphibious rapid deployment brigade (marines) stationed in Sasebo.
The task of the new unit is to protect the outlying islands in the East China Sea, including the Senkaku Islands (Chinese name for Diaoyu), which are the subject of a territorial dispute between Japan and China.