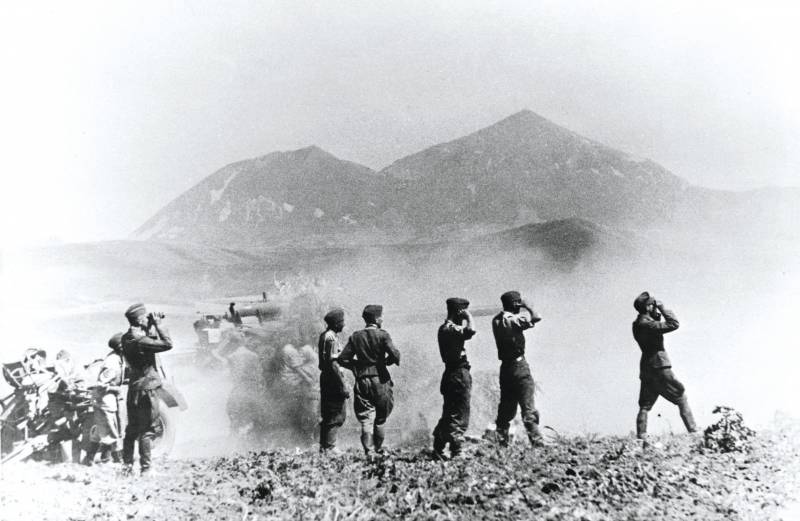 The battle for the Caucasus is one of the longest (442 days) and important battles of the Great Patriotic War, which contributed to the completion of a radical turning point in the course of the war.
In a number of works, we have already touched upon the events that took place in the south of our country in the summer-autumn of 1942, when the enemy who seized the strategic initiative with the forces of Army Group B tried to capture Stalingrad, while the units of Army Group A during the offensive in the North Caucasus reached the Caucasian ridge.
"The death of the medical personnel of the 414th rifle regiment near the farm of Bolshoi Nabatov near Stalingrad"
"Soviet
aviation
in the sky of Stavropol in August 1942 "
"General Timofeev's group in the battles for the Caucasian Mineral Waters"
"Defense of Mozdok in August 1942"
"Defensive actions of Soviet troops in the Battle of the Caucasus: Stavropol direction"
"The work of evacuation hospitals in Stavropol during the Great Patriotic War"
"The Fifth Guards Don Cavalry Corps in the battles for the liberation of Stavropol at the end of November - December 1942"
One of the most significant episodes of the Battle of the Caucasus, which was a complex of defensive and offensive military operations, was the battles in the Stavropol Territory.
This material differs from our previous works on this subject, published in the form of articles in scientific journals, as well as in the form of documentaries.
It represents fragments of the speeches of the staff of our center during the round table "Stavropol in the war: defense, occupation, liberation", dedicated to the day of the liberation of Stavropol from the Nazi invaders:
The initial and final parts are largely devoted to the course of hostilities in the Stavropol (Ordzhonikidze) Territory during the Battle of the Caucasus.
In the central part, the events of the period of the occupation of the region are covered, fragments of the documentary film "The Semester That Wasn't. Occupation ", created by the staff of the center: