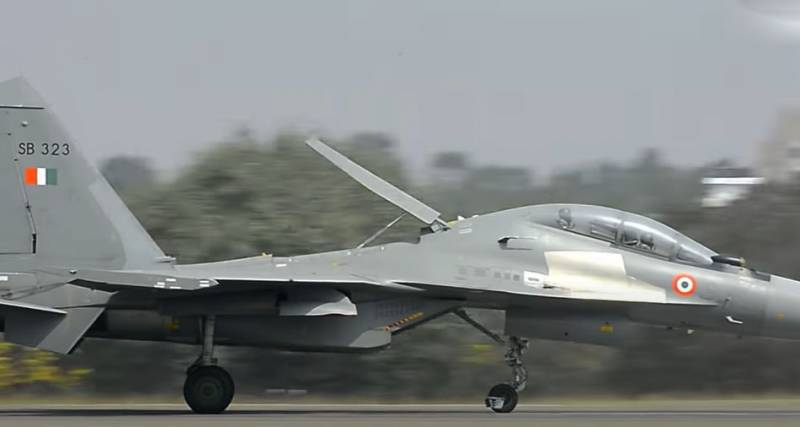 India confirmed the information that negotiations are underway with Russia on the modernization of the aircraft fleet of fighters. We are talking about discussing the modernization program for the Su-30MKI fighters.
It should be recalled that just a few days ago, the last two Su-30MKI fighters were assembled in India within the framework of a previously concluded large contract with the Russian Federation. Now Russia is proposing to New Delhi to modernize the fighters in the Indian Air Force.
V. Seshagiri Rao, General Director of the Indian company that assembled Russian Su-30MKI aircraft at the plant in Nashik:
Several Su-30 fighters will be modernized jointly with Russia. Subsequently, we will carry out modernization at our factories ourselves. We also plan to expand our ability to repair and maintain these aircraft. All this will ensure the rhythmic work of our enterprises.
In India, Su-30 fighters are equipped with air-to-air missiles of their own production - Astra. Certain aircraft are already receiving the BrahMos missiles, which were created within the framework of a joint project with the Russian Federation.
Some performance characteristics of "Astra": warhead weight - 15 kg, maximum range - 110 km, maximum speed - about 4,5 M.
Indian users commented on the news of the modernization of the Su-30MKI. At the same time, many believe that it would be worthwhile to better negotiate the supply of the Su-35 or Su-57.
Then you need to sign a contract for Su-35 or Su-57 fighters. And factories will be loaded with work even more
It's time to move on to orders for fifth generation fighters. We are far behind. We must catch up with China, which has gone ahead into
aviation
.