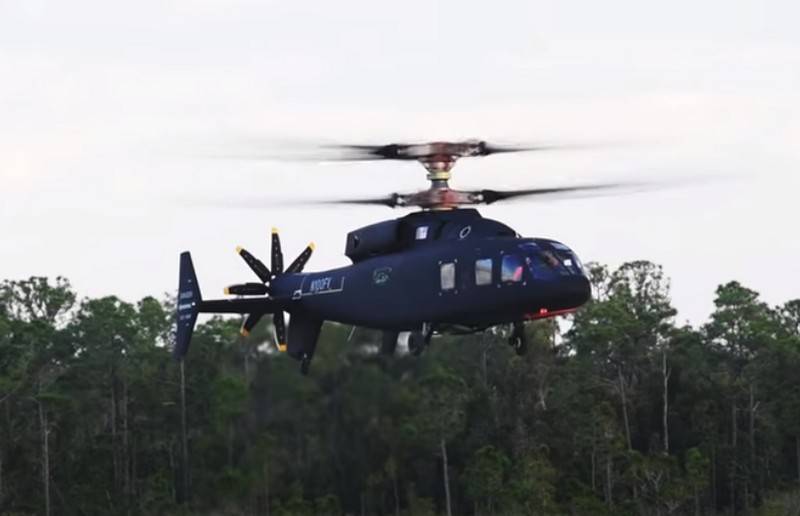 The multipurpose high-speed helicopter SB> 1 Defiant has received an updated version, which will be offered to the US Army tender. According to Breaking Defense, the new version was named Defiant-X.
A consortium of Sikorsky and Boeing has made significant changes to the design of the promising helicopter. The updated version is called Defiant-X (X stands for high readiness) and will participate in the US Army tender.
As the developers explained, the redesigned helicopter received a new chassis. The previous scheme with a tricycle landing gear with the placement of two struts in the front and a steering rack in the tail was replaced by two struts in the aft and the steering rack in the bow. The nose section has become more pointed, a fairing has appeared in the tail section. In addition, the helicopter received an electro-remote control system with the ability to switch the machine to unmanned mode.
Changes have been made to the exhaust system, which exactly is not disclosed, visually the system has lost the exhaust nozzles of the exhaust device, which were previously located under the rotors in the tail section.
All the changes made should significantly improve the controllability and stability of the helicopter.
The multipurpose high-speed helicopter Defiant-X (SB> 1 Defiant) is created on a competitive basis as part of the US Army program to create a family of promising army helicopters.
aviation
... Development has been underway since 2015. It uses the developments obtained during the development and testing of demonstrators of high-speed X-2 and S-97 Raider helicopters. The helicopter weighs 13,6 tons. It will be able to reach speeds of up to 250 knots (463 km / h) and carry 12 troops. The machine is built on a coaxial scheme with a tail pusher rotor.