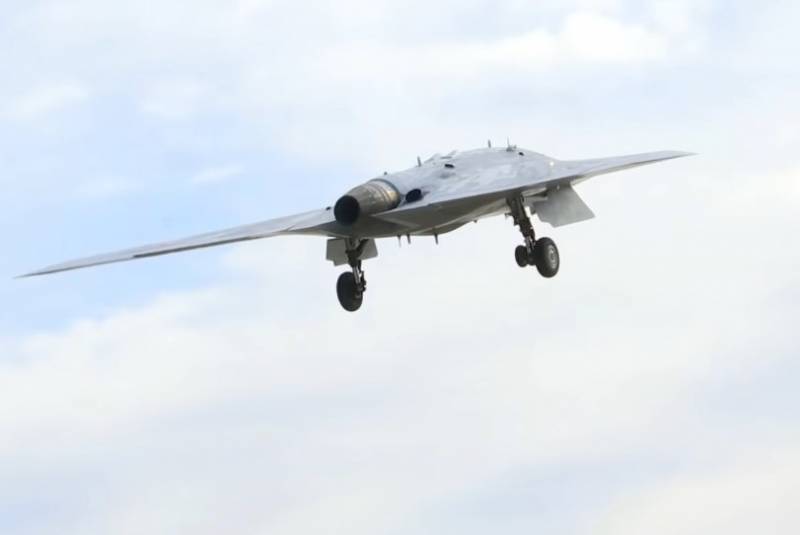 Work on the creation of a Russian-made strike unmanned aerial vehicle "Okhotnik-B" (apparently referring to the bomber version, worked out during flight tests) may be completed ahead of schedule. Recently, its regular tests took place, during which the UAV for the first time dropped a bomb weighing 500 kilograms from the inner fuselage compartment.
American expert David Ax writes about this in his article published by Forbes magazine.
The new equipment was tested at the Ashuluk test site, located in the Astrakhan region.
In the United States, they reacted rather nervously to the tests of the Russian UAV Okhotnik-B. They note that work on this technique is proceeding at a rapid pace - and this is "a matter of concern."
It was reported that the drone is equipped with the latest sighting and navigation equipment, which allows bombing with an accuracy approaching high-precision
arms
... It is not known exactly how the UAV was controlled during the bomb drop. Ex suggested they were using radio remote control.
American military expert Samuel Bendett believes that an artificial intelligence system will be installed on the drone, which will allow the device to operate autonomously, with minimal operator intervention in control. Thus, he will be able to independently search and identify targets, eventually hitting stationary or moving objects related to such targets. The US press notes that the Russian strike drone has a higher potential with artificial intelligence, which can allow it to integrate during a combat operation with the fifth generation Su-57 fighter of the Russian Aerospace Forces.
The unmanned aerial vehicle "Okhotnik" is being developed by the Sukhoi Design Bureau. Its design is a "flying wing". The drone, which is 14 meters long, is equipped with a turbojet engine. Earlier it was reported that the drone could end up with a flat nozzle to reduce signature.