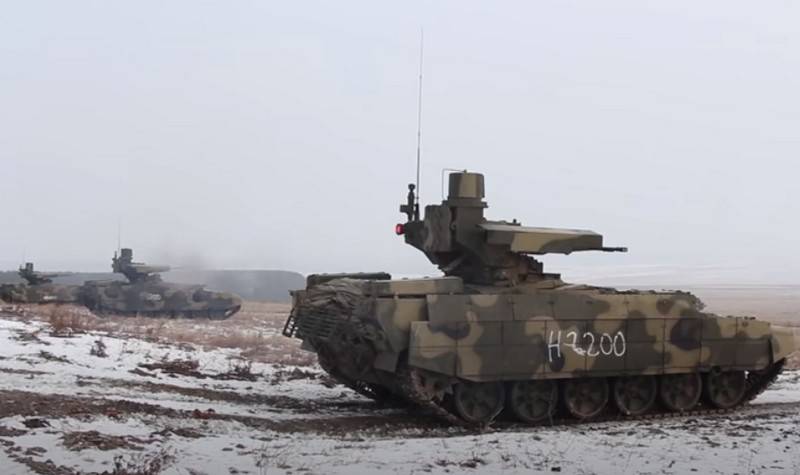 The Russian army began to receive armored vehicles called the Terminator, specially designed for combat in the city. These machines owe their name to the generously equipped
weapons
tower, writes Gernot Cramper in an article for the German magazine Stern.
The author notes that the Terminator is a purely Russian design and has no analogues in the world. Official name - Support Fighting Vehicle
tanks
(BMPT). Structurally, the vehicle is a chassis from a T-90 tank, on which a turret with a whole range of weapons is installed.
The BMPT has tremendous firepower. Two 30-mm automatic cannons, 4 anti-tank missiles, a 7,62-mm machine gun help the vehicle to fight with both heavy and light armored vehicles, and to hit enemy personnel. The use of the T-90 chassis allows the BMPT to have good maneuverability, cross-country ability and high travel speed.
The main purpose of the BMPT is to escort tanks and infantry in urban environments. The Terminator was developed based on the combat experience gained by Soviet and Russian troops in the wars in Afghanistan, Chechnya and Syria.
The first batch of new combat vehicles was delivered to the 1st Guards Tank Army of the Western Military District. The re-equipment of this army, aimed at the western direction, is causing concern in Europe, the author writes. The delivery of the Terminator BMPT to the troops means that the Russian military does not exclude the conduct of battles in urban areas. Putin's tank is well suited for street fighting thanks to its weaponry.
Summing up, the author emphasizes that the Russian military is not going to stop at the creation of the Terminator BMPT. Some media outlets have already reported on plans to install a BMPT turret on a wheeled chassis, which will significantly increase the vehicle's maneuverability and combat capability on city streets.