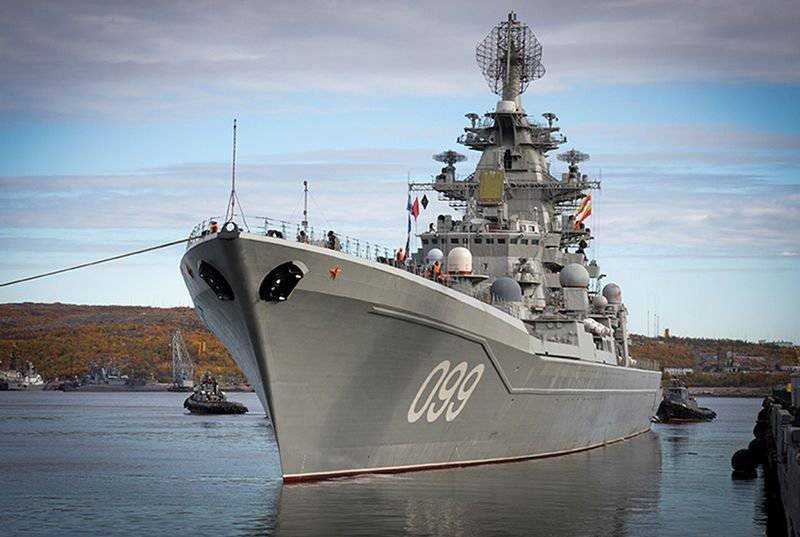 In the United States, they wondered who would win in a possible battle between the Zumwalt destroyer and the Kirov-class cruiser. The corresponding article was published in the American magazine The National Interest.
NI, a fan of comparing Russian and American military equipment, has released another article where he conducted a hypothetical battle between the American missile destroyer Zumwalt and the Russian Kirov-class cruiser, apparently implying Peter the Great - the only heavy nuclear cruiser of Project 1144.2 Orlan in service. ...
At the very beginning of the article, the author emphasizes that the Zumwalt-class ship is the most modern destroyer of the US Navy, created using stealth technology, the signature of which on the radar is equivalent to a small fishing vessel. It is equipped with 80 launchers for various missiles, including anti-aircraft and cruise missiles, as well as two 155-mm artillery mounts. At the same time, the Kirov-class aircraft carrier is a relic from another era, which has good air defense and is equipped with the "giant" anti-ship missiles "Granit".
According to the publication, the American destroyer and the Russian cruiser will fight on the high seas. At the same time, the ships do not know the location of each other and are intensely looking for the enemy. In such a situation, the author argues, Zumwalt has an advantage, as it has stealth technology and is difficult to spot. Therefore, he will be the first to discover the Russian Kirov.
Also, stealth technology will theoretically help the American destroyer approach the firing range of its guns. If a destroyer is found, the cruiser can strike with her anti-ship missiles, but the Zumwalt air defense system will cope by shooting down the bulk of the missiles. However, according to the author, the Kirov will not be able to strike the anti-ship missile, because the missile guidance system "will not see the American destroyer."
At the same time, the author admits that the destroyer does not have anti-ship missiles, and the damage inflicted on the cruiser with the help of guns "depends on the situation."
The author is convinced that the result of this confrontation will be a draw, because none of the ships will be able to inflict damage on the other, but with the appearance of new anti-ship missiles in service with Zumwalt, it will have a significant advantage.
Neither the Zumwalt, unable to get close enough to the enemy to strike at him with his guns, nor the Kirov, unable to use his
weapons
with radar guidance, will not be able to defeat each other, and they will have to continue the fight another time
- he concludes.