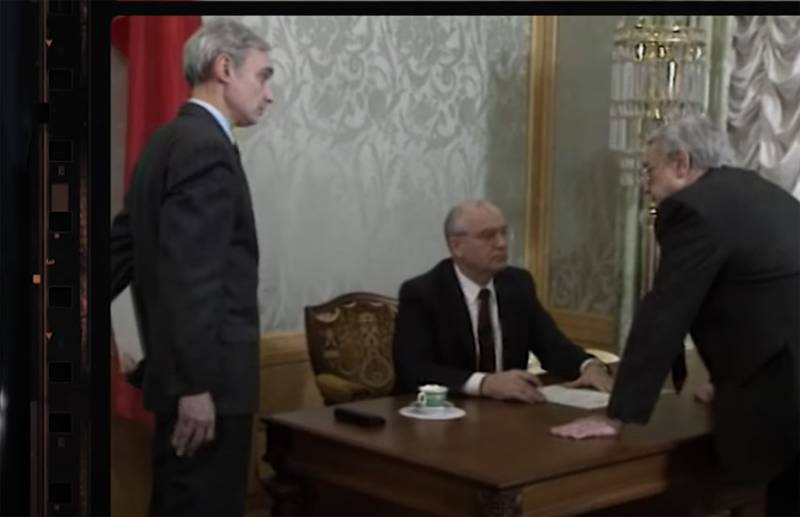 On December 25, 1991 at 19:00 Moscow time, a great power - the Union of Soviet Socialist Republics - ceased to exist. The year 2021, which mankind is entering, is the year of the 30th anniversary of the collapse of the USSR. For all those who were born in the Soviet Union and at least somewhat distinctly remember the events of the late 1980s - early 1990s, a lump rises to their throats at the sight of footage of how the Land of the Soviets, a mighty nuclear power
weapons
, incredible military potential, a developed system of special services, intelligence agencies, a huge industrial sector.
Mikhail Gorbachev enters the hall where the last official speech in the Soviet Union will be delivered. By that time, most citizens already understood that the great state had actually ceased to exist, but still people cherished the hope that it was still possible to solve, return, restore.
But only those who were then at the helm of the country, or were eager to this helm, had completely different interests. For the sake of personal ambitions and the desire to get approval from "partners" from abroad, they went for what can be called high treason without any exaggeration. Parades of sovereignty, surrender of national interests, bringing the people to total impoverishment and virtually starvation with full food warehouses.
Even foreign experts, today assessing those personnel, are perplexed: how could the country be brought to such a position, how it was possible to act so irresponsibly.
Today the post-Soviet space continues to clean up the porridge that was brewed a third of a century ago. Those who have swallowed as much sovereignty as they could, today in many ways themselves do not understand how to dispose of this sovereignty. Someone just sells it, someone uses belligerent rhetoric against a neighbor, someone implements scenarios, throwing foreign advisers.
On the aftermath of the parades of sovereignty 30 years later: