John Trevithick, an American expert on naval issues, published a rather big work on the pages of The Drive entitled "A New Strategy: US Naval Forces Will React More Resolutely to Chinese and Russian Aggression."
New Strategy Says US Naval Forces Will Respond More Assertively To Chinese, Russian Aggression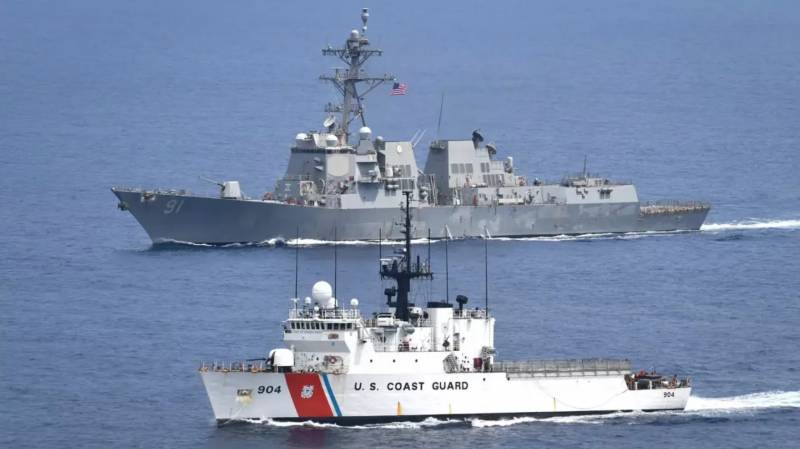 The word "aggression" in the headline cannot be interpreted in any other way. And so everything becomes very interesting.
So what did John Trevithick want to convey to the American reader, and how do we look at it?
The United States Navy, Marine Corps, and Coast Guard have released a new strategy paper on how they plan to jointly design naval power in the future.

The document focuses on how these three services plan to fight on the high seas and offshore areas adjacent to the coastline. However, there is also very important discussion about adopting a more assertive approach to responding to day-to-day challenges, especially from China and, to a lesser extent, Russia, among other potential adversaries who lack shooting.

It looks especially great that we and China "lack shooting". I don't know if Trevithick himself invented the phrase, or so in the source, but it sounds just magical.
On December 17, 2020, the three services unveiled their new "integrated" strategy called "Advantage at Sea: Dominated by Integrated Naval Power".

The document includes a discussion of a number of operational concepts that the trio openly discussed, such as a greater emphasis on operations using the reorganized Marine Corps using amphibious warships, increased use of drones and offshore platforms, and distributed sensor and communication networks. ...

There is also a "renewed emphasis on the struggle for control and conquest of the sea" in light of growing concerns about a potential future naval struggle against a major adversary such as China or Russia.

A potential future naval struggle with a major enemy - it sounds like it. Moreover, with a big opponent. Which will require the efforts of all three shock components of the US Navy, that is,
Fleet
, Marine Corps and Coastal Defense. The presence of the latter in the triad suggests that the American ships are going to reflect the Russian and Chinese ships at least in the Gulf of Mexico or near the beaches of Miami. Although, BO can operate anywhere.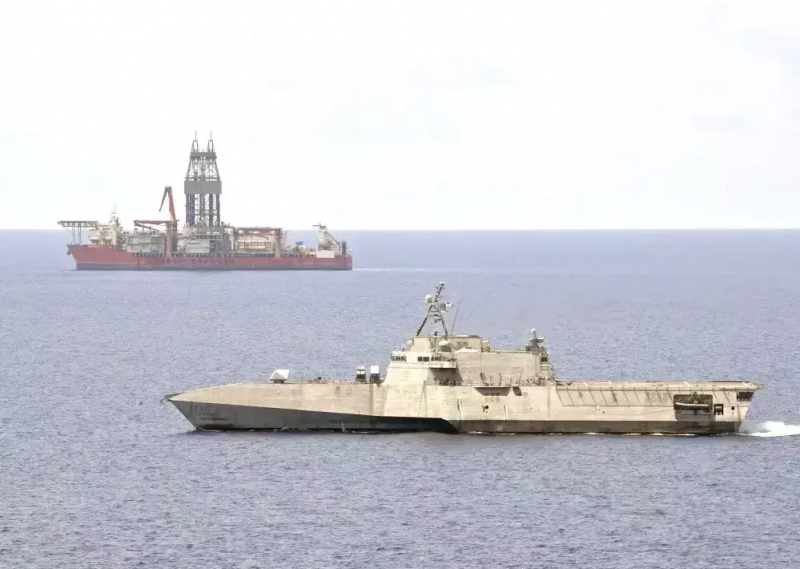 "Significant technological advances and aggressive military modernization of our rivals undermine our military advantages. The proliferation of long-range precision missiles means the United States can no longer claim unhindered access to the world's oceans in times of conflict, "- quoted from a joint document signed by Chief of Naval Operations Admiral Michael Gildey, Marine Corps spokesman General David Berger and Admiral Karl Schultz from the Coast Guard.

"Our combined navy, Marine Corps and Coast Guard must maintain a clear resolve to compete with, contain and defeat our adversaries, if necessary, as we accelerate the development of modernized, integrated navies across all areas in the future ".The triumvirate, which will henceforth be called the "naval service", should be expectedly equipped so as to be able to deter and defeat a high-class enemy.
It's nice to know that in the US we are considered a "high-class enemy"
Since the beginning of the XNUMXst century, our three maritime services have watched with alarm the growing naval power of the People's Republic of China and the increasingly aggressive behavior of the Russian Federation. Our global naval forces interact daily with Chinese and Russian warships and aircraft. We witness their growing sophistication and growing aggressiveness with our own eyes. Optimism that China and Russia can become leaders contributing to global security has given way to recognition that they are strong rivals. The People's Republic of China poses the most serious long-term strategic threat.

In the past few years alone, there has been a noticeable spike in reports of clashes near borders during aggressive clashes between US Navy warships and their Chinese and Russian counterparts. China is also accused of striking American military aircraft, as well as the aircraft of its allies and partners in the Pacific region, using lasers and electronic means of suppression, non-lethal attacks, which nevertheless pose a very real danger.
Non-lethal, but nevertheless, very dangerous attacks. The threat is terrible, especially the laser pointers. In general, everything that is today called "everyday competition". This can include blinding by lasers, and "pushing" ships into the sea, and interception of aircraft. Everything is in the order of things.
It is not entirely clear how this policy will translate into practice, but it is clear that the Navy, as well as the Marines and Coast Guard are preparing to take a more active and aggressive stance when another ship tries to "lead them astray," so to speak. or the enemy forces are otherwise attacking them with some action, such as laser blinding, which is simply not a direct threat.
Yes, it is easier to deal with laser attacks on Instagram. Let's now just look at what was given above.
In principle, nothing new. And if we start looking at all this using the good old Latin principle "Who benefits?", Then we will not see anything new. Almost nothing. But this word "almost" also contains quite a lot.
Enemies of the United States have always been needed. The enemy is a great excuse to distribute budget funds. It was precisely the presence of a terrible enemy - the USSR - that was given an excellent reason to spend billions on the arms race. Remember, when the Soviet Union was all, the question was about the dissolution of NATO, there was no one to fight with. Well, Iran and Iraq helped, but China began to develop by leaps and bounds ...
But here we have not only the Navy plus the ILC, but also the Coast Guard, which also decided to fight with someone. Which is surprising on the whole, since the role of the BO is precisely this - the protection of the near borders, to which someone else must approach. You know, it is very doubtful that the Russian fleet, that the Chinese, near the US maritime borders ...
We remember during the Trump presidency there was an incident with North Korea (inglorious) and claims to Iran, whose small floating craft accompanied the US Navy ships in the Gulf.
The main thing, indeed, is to find the enemy. So here's another quote from the doc:
"Ships of the Navy and Coast Guard are conducting operations to ensure freedom of navigation around the world, challenging excessive and illegal maritime claims. Coast Guard boats and law enforcement units aboard Navy and Allied ships exercise unique powers to combat terrorism, proliferation weapons, transnational crime and piracy. All three services enforce sanctions through maritime interdiction operations, often as part of international task forces. "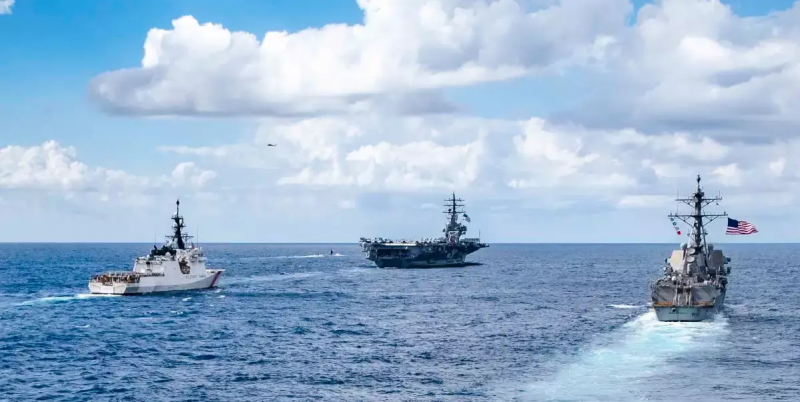 Considering that the Coast Guard (BO) is not (and has never been) part of the Ministry of Defense, being subordinate first to the Ministry of Transport, and then to the Ministry of National Security, the triad looks peculiar, but logical. If we also take into account that BO ships are staggering around the world, protecting, for example, the coast (more precisely, oil rigs) of Iraq, then everything is clear.
In general, BO also wants to fight against everyone. Against smugglers, terrorists and just "bad guys". Why not, if the sums for it shine?
These mentions in the text, which Trevithick emphasized, of some "unique authorities" and "additional law enforcement agencies" in relation to the Coast Guard, only emphasizes the value of this structure and the importance of integrating BO into operations conducted by the Navy and the ILC.
It is logical, by the way, because BO is 250 ships and more than 200 patrol aircraft. And the Charter does not really say which specific shores are protected by the BO. What will be ordered.
In addition, the BO has its own code, its own charter and, in principle, the service is more flexible than the naval and marine structures. It should not be disregarded that BOs have the right to poke their nose not only in safety issues, but also, for example, in fishing. That is, the triad of the Navy + KMP + BO gets the opportunity to act more flexibly in their interests.
In reality, sailors and marines cannot legally do much of what Coast Guards can. The marine environment cannot be protected. Icebreaker support cannot be carried out in the Arctic, for example. And other equally useful things.
So, preparing for the battles of the future, with "aggressive" Russia and China, the ships and personnel of the Coast Guard will not be superfluous. A serious fight is planned ... It is necessary to mobilize all reserves in terms of preparation!
Overall, the document is interesting. In it, one can quite clearly trace both the desire to expand operations, let's say, of a traditional nature, and something new. What, in fact, is the need for a more flexible Coast Guard structure.
"Effective competition maintains a rule-based order, denies our competitors' use of gradual coercion, and creates space for American diplomatic, political, economic, and technological advantages to prevail over the long term. Working together with our allies and partners, our operations, exercises and warfare must create the conditions for a future in which our rivals will be deterred from harmful behavior and aggression — and, if deterrence fails, a future in which they will be defeated. "
In general, it is reasonable. The new naval strategy, coupled with preparations for future major conflicts, if the American side is seriously considering participation in such conflicts, can lead to certain results.
However, how effective the leadership of the triad will be is an open question. It is clear that the BO can be transferred, if necessary, under the command of the Ministry of Defense, but how quickly will new control chains be developed?
And the last thing. Probably the most important thing.
Aggressive China and aggressive Russia towards the United States, starting a new war. Here is the US fleet, which is going to restore order somewhere to the shores of North Korea or China, I can imagine. But the Russian one somewhere ... Yes, anywhere, we will have to collect ships from all fleets for six months only in one pile to get something more or less meaningful and striking. And you get a very conditional shock.
In general, of course, new concepts and tactics are good. But, as it seems to me from Trevithick's words, it is about conditional opponents and unconditional money. Moreover, unconditional money for training, testing, etc. is much more important than the existence of a real threat from China and Russia. Moreover, the real threat is not particularly needed. It is enough to draw beautifully, and then on the knurled one.
In general, presidents change, the essence of American politics remains. Spend money on confronting a virtual enemy. But at least they will work out how the Coast Guard icebreakers will conduct ships in Arctic waters. Why, I don't know, but it will look very, very meaningful.