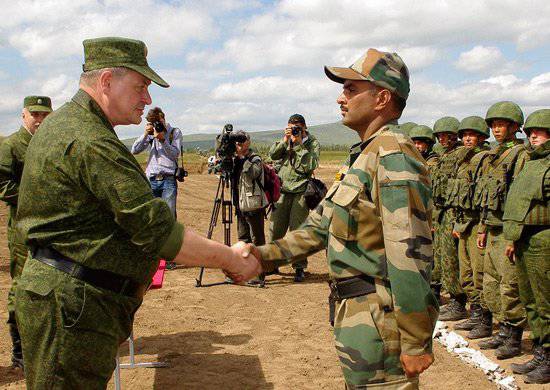 Today, the Indra-2012 international Russian-Indian exercise has been completed at the Burduna test site of the Eastern Military District (VVO).
During the final stage of the exercise, a joint group of Russian and Indian armed forces carried out an operation to destroy conventional illegal armed groups. Artillery fire
tanks
, infantry fighting vehicles managed to crush the resistance of terrorists. Air support was provided to the tactical groups on the battlefield by assault and army
aviation
.
From the Russian side, motorized rifle and tank units, a mortar battery, grenade launchers and flamethrower units were involved in the maneuvers, Gvozdika self-propelled artillery mounts and Grad multiple rocket launchers were involved. In addition, Su-25 attack aircraft, Su-24 bombers, a Mi-24 helicopter unit for firing a conventional enemy and a Mi-8 helicopter unit that provided aviation support to the troops participated in the operation. The crew of the Mi-8 MT helicopter also carried out the evacuation of conditionally wounded soldiers from the battlefield.
Summing up the preliminary results of the Indra-2012 exercise, the Deputy Commander of the Eastern Military District, Major General Vladimir Tsilko, and a representative of the Indian armed forces, Brigadier General G. Kahlon, congratulated all the participants on the successful completion of the exercise, awarded the best servicemen with memorable medals and valuable gifts.
Recall that the "Indra" teaching was held for the first time on the territory of the Eastern Military District and was anti-terrorist in nature. About 250 military personnel from the Russian side and the same number from the Indian armed forces took part in it, about 50 units of combat and special equipment were involved. It is worth noting that at the time of the exercise, the Russian military equipment was transferred to the Indian soldiers - infantry fighting vehicles BMP-2 and T-72 tanks.