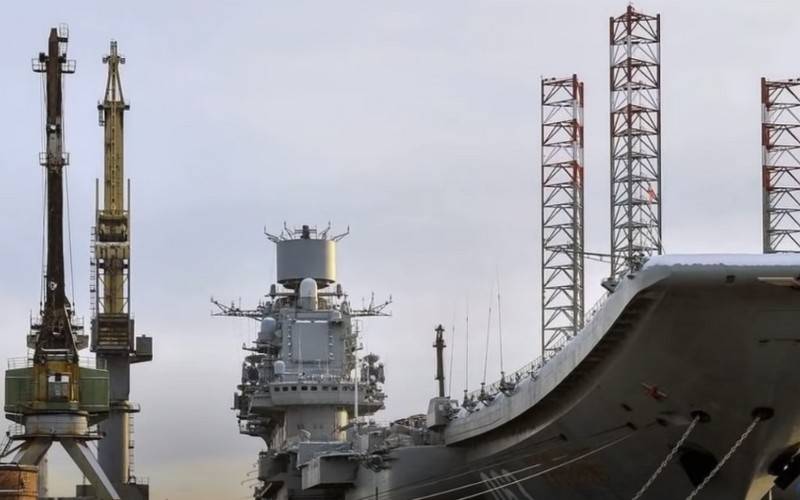 The Russian Defense Ministry intends to speed up work on the only Russian aircraft-carrying cruiser, the Admiral Kuznetsov, for a faster entry into the test phase. This is reported by TASS with reference to a source familiar with the situations.
According to an interlocutor of the news agency, in the General Staff of the Naval
fleet
(Navy) are discussing proposals that can accelerate the exit of "Admiral Kuznetsov" to the test stage after the repair and modernization. Whether any proposals were accepted is not reported. The Zvezdochka Ship Repair Center (CS) does not comment on this information in any way.
On December 11, at a meeting in the Main Command of the Navy, issues of training deck pilots were discussed.
aviation
... Proposals were considered to accelerate the exit from the repair of the aircraft carrier
- said the source.
In early December, TASS, also citing a source in the shipbuilding industry, reported that the start of tests of the Admiral Kuznetsov TAVKR is scheduled for 2022, presumably "at the beginning of summer." To date, repair work on the cruiser is "in the middle of the planned term." The issue of the ship's re-docking, which should take place in 2021, is still unclear. There is only one hope for a new dry dock under construction at the 35th shipyard in Murmansk, since there is no floating dock, and they are not going to raise the sunken PD-50 yet.
Recall that the repair and modernization of the Admiral Kuznetsov Tavkr began in 2017. It was originally planned that the cruiser will be delivered to the customer in 2020, but a series of accidents on the ship led to the fact that the timing of the return of the TAVKR began to shift to the right. Currently, Admiral Kuznetsov is located at the 35th shipyard in Murmansk (Zvyozdochka branch).