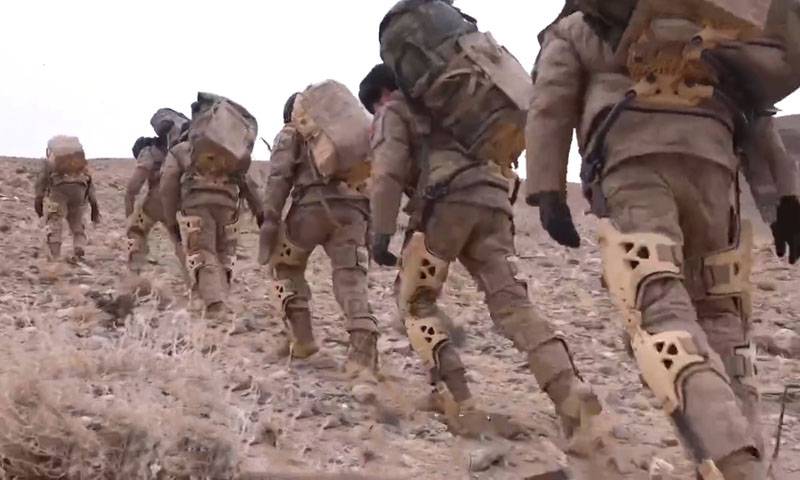 Chinese border guards received new types of equipment. For example, exoskeletons have been delivered to the highlands of the Tibet Autonomous Region.
The Chinese press notes that this kind of special equipment allows border troops to effectively perform tasks in harsh conditions.
In particular, exoskeletons can reduce the burden on military personnel. In China, it is indicated that this is especially true when soldiers have to carry additional cargo in mountainous areas, which is often not limited
weapons
and ammunition.
The first new exoskeletons were received by the border units stationed in the Tibetan district of Ngari. There are really harsh climatic conditions. The district is located at an altitude of more than 5 thousand meters above sea level, which in itself is a test for the person who is serving there. Only specially trained military personnel are sent to such a service in Ngari, and the advantage is the border guards from among the representatives of the local population.
From the release of the Central Heating System of China:
Exoskeletons allow not only to reduce the load on the soldier, but to avoid injuries, including injuries to the legs and lower back when moving on mountain slopes and passes.
A Chinese border guard spoke about the use of an exoskeleton in the mountains and how the border detachment delivered backpacks with water and food to a remote outpost:
The weight of each of these backpacks is at least 20 kg. At the same time, the exoskeleton transfers the weight of the backpack onto itself, and it is much easier to move. Such equipment is what you need high in the mountains. It makes it easier to experience the lack of oxygen, in which every kilogram of weight seems to be a centner. The exoskeleton significantly saves human energy.
In China, they believe that the presence of such exoskeletons will give a significant advantage in border areas.
Previously, these special suits have been tested, including during operation for use when carrying out marches over many kilometers.