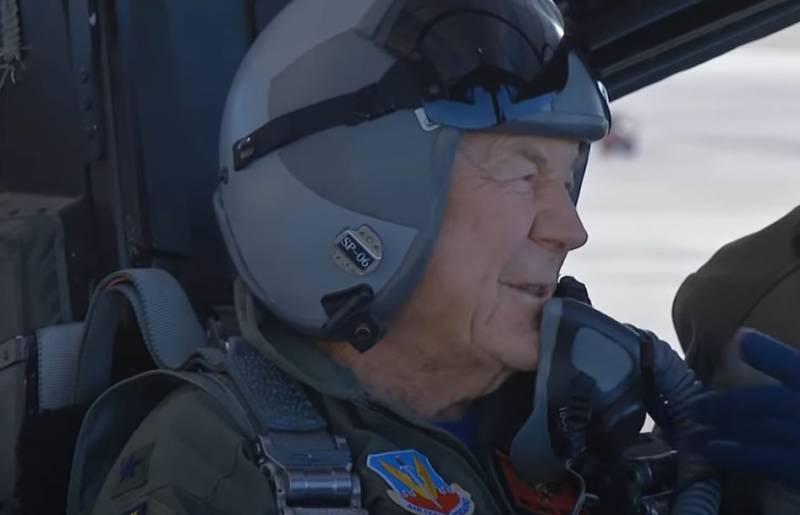 Charles Elwood Yeager was born on February 13, 1923 in West Virginia.
After graduating from high school in June 1941, he was drafted into the United States Air Force with the training of an aircraft mechanic. After the entry of the United States into World War II in December 1941 and the change in the standards of the United States Air Force, thanks to the pilot's natural talent and unusually keen eyesight, he was accepted for flight training.
Charles Yeager is a World War II veteran. In June 1943, he arrived at Leiston, RAF, as a fighter pilot with the 357th Fighter Group of the United States Air Force. During the fighting, he replaced three P-51 Mustang fighters, each of which named Glamorous Glen - in honor of his girlfriend Glennis. (in February 1945 she became his wife). On March 5, 1944, during his eighth sortie, he was shot down over the territory of occupied France, fought in the ranks of the French Resistance, fled to Spain and returned to Great Britain, obtained permission to participate in battles from the commander-in-chief of the Allied forces in Europe, General Dwight Eisenhower. On October 12, 1944, in one combat mission, he shot down five enemy aircraft. He flew 61 combat missions, 11 shot down enemy aircraft and one possibly shot down were officially confirmed; including the Me 262 jet fighter.
In February 1945, he returned to the United States and, as a soldier who had escaped from captivity and returned to duty, chose a duty station near his home, at Wright Field US Air Force Base (now Wright-Patterson US Space Force base), as a pilot - tester of aircraft that have undergone repair. Served in the flight test department
aviation
systems, graduated from the Graduate Flight School of Aviation Support, after which he accepted an offer to participate in the flight test program of experimental aircraft X-1 of the US National Aeronautics Council NACA; now NASA) at Murok Air Force Base (now Edwards Space Force Base, California).
Charles Yeager wrote his name in
history
conquering the sky, performing on October 14, 1947, a flight on an experimental Bell X-1 Glamorous Glennis rocket plane, during which for the first time in history it exceeded the speed of sound (Mach 1,05).
On December 12, 1953, on an experimental Bell X-1A rocket plane, Yeager set a new flight speed record - Mach 2,44.
On May 18, 1953, Yeager flew the Saber 3 escort, piloted by Jacqueline "Jackie" Cochran, who became the world's first woman to break the sound barrier on this flight.
Yeager commanded several squadrons and wings of the United States Air Force in the United States, West Germany, France, Spain, Republic of Korea. Member of the Vietnam War, flew 127 combat missions. In 1962, he became head of the US Air Force Test Pilot School, where future astronauts were trained - civil (for NASA) and the military (for the US Air Force). Yeager himself could not become an astronaut, since he had only a secondary education.
In 1975 he retired with the rank of brigadier general of the US Air Force, from time to time he continued flights to the US Air Force and NASA as a consultant. In the late 1980s and early 1990s, he set several records in the class of light aircraft for speed, range and endurance. Repeated his record flight in the F-15D Eagle Glamorous Glennis III on October 14, 1997. This flight was to be his last for the US Air Force. However, in 2000 he was called back, and he continued to fly until the end of 2012. Yeager made one of his last flights at the age of 89 on October 14, 2012, once again breaking the sound barrier over Nellis Air Force Base as co-pilot of the McDonnell Douglas F-15 Eagle.
In 1986, US President Ronald Reagan appointed Yeager to serve on the Rogers Commission to investigate the January 28, 1986 disaster of the Space Shuttle and the Challenger spacecraft.
Charles Yeager became one of the main characters in Tom Wolfe's book The Right Stuff ("The Right Stuff", 1979), which told about experimental rocket aviation, the creation of NASA and the manned program Mercury. In 1983, based on the book, a film of the same name was staged (in Russian translation "Guys What You Need"), where Samuel Shepard played Charles Yeager, and Yeager himself played Fred, the bartender from Pancho Place.
Charles Yeager was a technical consultant for three flight simulation video games for Electronic Arts. Chuck Yeager's Advanced Flight Trainer, which made extensive use of his character and voice, became Electronic Arts' best-selling game in 1987.
He was awarded many medals and insignia of the United States and other countries, including the Presidential Medal of Freedom, the Silver Star medal with bronze oak leaves (the Aces medal), the Bronze Star medal with the bronze coat of arms of valor (for helping to save a comrade pilot from occupied France), a medal for victory in World War II. His name is inducted into the National Aeronautics Hall of Fame and the International Aeronautics and Astronautics Hall of Fame. Many times he was recognized as one of the greatest pilots of all time.