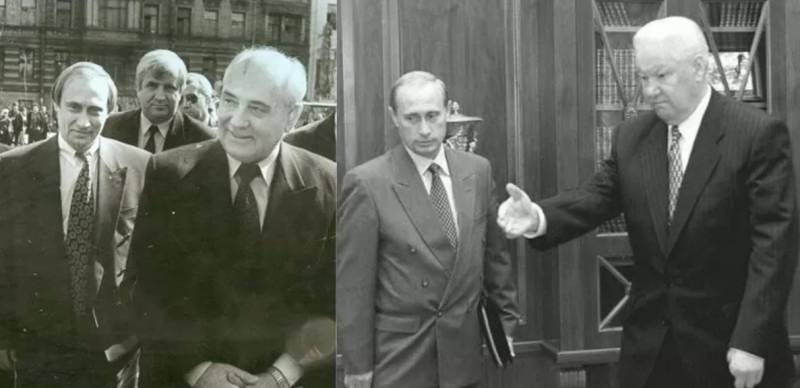 "Only a complete idiot steps on the same rake for the second time in a row."
This is popular wisdom. But in the case of our presidents, we have to make a correction - here's how to call people who step on the same rake three times in a row?
The first time
This is me about Russian foreign policy and, first of all, about our relations with the West in general and with the United States in particular. It started with Gorbachev. As we remember, Gorby was eager to make friends with America. So passionate that, as the then Secretary of State D. Schultz noted in his memoirs, he made concessions to the Americans that they did not even ask for.
Let's remember for example
history
with the liquidation of the Oka complex. According to Schultz, Gorbachev did it simply because he wanted to please the Americans. The Americans were surprised at this stupidity. But, of course, they willingly used it. And, of course, they were not going to give anything in return. And why on earth? A fool - he is a fool, it is a sin not to have one.
Note that since then Mikhail Sergeevich has not grown wiser one iota. He still says with insult that the Americans in words (!) Promised not to expand NATO to the east, and then deceived. The stupidity is amazing. Well, why would anyone keep promises that are unfavorable for themselves, if they can not be fulfilled without any consequences? There is absolutely no need. Yes, even if they were formalized, in the 90s these pieces of paper would fly into the basket.
Twice
Then a new leader began to rule us, overwhelmed by vanity, a thirst for power and a craving for alcohol. His foreign policy was initially determined by Kozyrev and the company, who proclaimed the slogan of strategic partnership with the United States. No more, no less. The fact that a partnership requires at least the consent of the prospective partner clearly did not bother them. Although I will not slander about their mental abilities. Considering their further career, it can be easily assumed that it was not stupidity that moved them, but an ordinary betrayal.
How were these ridiculous claims perceived in the United States? I think it's enough to quote M. McFaul, the then adviser to Clinton, and under Obama, the US ambassador to the Russian Federation:
"Russia was weak and could not be reckoned with."
Comments are superfluous, I suppose. Indeed, who would reckon with a crumbling, impoverished country humbly begging for handouts from the West? That's right, nobody. The only thing that really worried the "partners" was the fate of the Soviet nuclear
weapons
... They were dumbfounded by the prospect of his appearance in the hands of the devil, and, in fact, that is why they refrained from direct attempts to destroy Russia itself. And so, who knows what measures they would have dared to take? But the nuclear shield ultimately saved the country, albeit in a completely different way than its creators intended.
No, of course even the arrogant Clinton understood that it was necessary to sweeten the bitter pill. And he decided to flatter the close-minded but vain Yeltsin by offering him a seat on a side chair in the G-7. And it worked for a while. But after NATO's expansion to the east and the bombing of Yugoslavia, even Boris realized that they were simply wiping their feet on him. And he decided on a symbolic, but powerless and senseless protest. The throw of our paratroopers into Pristina only pleased the stubborn part of the Russian public, but, in fact, did not mean anything.
Three times
And then we had a new president, relatively young and energetic. And although, in my humble opinion, to Bismarck he was as to the Moon, at least he did not look as narrow-minded as his predecessors. And it seemed like I had to draw conclusions from their mistakes. But alas, he immediately began to step on the same rake, diligently imposing himself as friends on the Americans. I dreamed of partnership ... And according to the ridiculous Russian tradition, I staked on good personal relationships. Oh, how he was friends with Bush! We went to visit each other. However, it affected real politics a little less than nothing.
I will quote the then US Ambassador to Russia W. Burns:
"Putin initially misinterpreted America's interests and policies. The Bush administration had no desire or reason to give Russia anything in return for a partnership against al-Qaeda. Bush was not inclined to make concessions to a weak power. "
Of course, it's hard to admit your mistakes. And Putin has swallowed another NATO expansion. Now NATO planes were 10 minutes away from St. Petersburg. Something reached our guarantor much later, when the Americans raised the question of Ukraine and Georgia joining NATO. And the desperate Munich speech followed.
But even after it, the Kremlin behaved like a man falling from a hundred-story skyscraper. And to the speaker, flying through the fiftieth floor:
"Well, so far everything is going fine!"
Helicopter carriers were ordered in France, ship engines in Germany. Our satellites were equipped with American electronics. And nothing was done even for import substitution in the interests of the Armed Forces. The blow in the gut in 2014 was painful.
conclusions
What conclusions can be drawn from the above? Two completely obvious conclusions suggest themselves.
First, in the international arena, only strength matters. And you either have it or you don't. In the first case, your opponents will have to reckon with you, even if you are deeply unpleasant to them. In the second - at best, you will be dismissed as a fly. At worst, they will be declared an outcast and will begin to strangle in every way.
Secondly, for some reason, no one at the top, at least publicly, asks an elementary question:
"Does the West need a strong, rich, developed Russia?"
And the answer to this question is obvious:
"Of course no!"
Why do they need a competitor, and even civilizationally alien? Let me quote Burns again:
"America assumed that Moscow would eventually come to terms with the position of a junior partner and accept the expansion of NATO all the way to the Ukrainian borders."
And if we translate these words from diplomatic to normal, then the vision of the future Russia in Washington is simple - a raw material appendage, dependent, helpless, completely subordinate to the United States.
Does this mean that I am delighted with Putin's current foreign policy? Not at all. I will not guess on the coffee grounds, I do not enter the Kremlin. But a complete feeling is created that we simply do not have any reasonable, long-term policy. There is some kind of purely situational, chaotic response, and quite often in hindsight. And this is hardly an accident. Suffice it to recall how ineptly the fat petrodollars of the XNUMXs were wasted. When Putin ascended the throne, we did not have a single dollar billionaire, but now there are more than a hundred of them. And only a very few of them associate their future with Russia. At the same time, even a few economic successes of the past years are critically dependent on Western technologies. And they can easily turn off this tap "there".
And the last thing. Surely in the comments they will say:
"And where did you get the idea that stupid people are sitting in the Kremlin, and you are very smart on your island?"
No, guys, I am far from thinking that I am an unrecognized prophet, and upstairs we have only fools. Although about people selected on the basis of personal loyalty, I would think about it. But I am sure that there are many in the corridors of power who clearly see the situation. But they are only guided not by the interests of the country, but by personal gain (whether it be a career one) or simply by the dream of "getting over the hill". And this is really sad.
Although hope dies last.