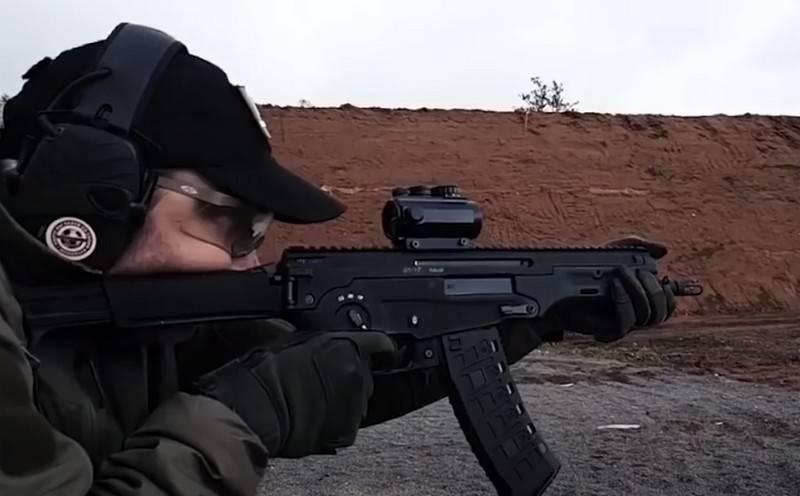 The new small-sized machine gun AM-17, developed as part of the Malysh R&D project, will enter the state testing stage in 2021. About this in an interview with RIA
News
said Bekkhan Ozdoev, industrial director of the weapons complex of the state corporation "Rostec".
According to Ozdoev, preliminary tests of the AM-17 machine have been completed, and prototypes of the machine are being manufactured, which will participate in state tests. The development was ordered by the Ministry of Defense, but the Ministry of Internal Affairs and the Russian Guard have already expressed interest in the machine.
The preliminary tests of the machine have already been completed, they were successful. We plan to transfer the AM-17 for state tests next year. I note that the tactical and technical assignment was approved by the Ministry of Defense, but the Ministry of Internal Affairs and the Russian Guard also showed interest in this development.
- he added.
For our part, we note that, most likely, we are talking about two assault rifles at once: the AM-17 itself chambered for 5,45X39 and its modification AMB-17 chambered for 9X39.
Small-sized automatic machines AM-17 and AMB-17 were developed by the Kalashnikov concern to replace the outdated AKS-74U and AS Val.
The total length of the AM-17 assault rifle is 740 mm, the barrel length is 230 mm. The cartridge used is 5,45X39 mm, the magazine holds 30 rounds. The telescopic stock folds to the right, the fire mode switches are located on both sides of the machine. The cocking handle can be located on both the right and left sides
weapons
... There is a Picatinny rail that allows you to install various sights and lights on the weapon. AM-17 weight - 2,5 kg.
The small-sized silent machine AMB-17 as a whole repeats the design of the "basic" AM-17, but has a number of characteristic differences. AMB-17 received a modified barrel with an integrated silencer. The cartridge used is 9X39 mm. Magazine for 20 and 30 rounds.