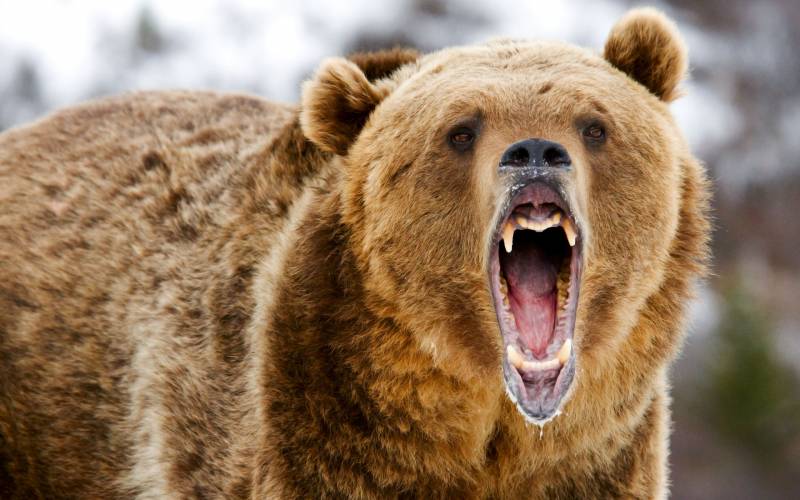 In the Russian segment of the Internet, many copies have been broken regarding the prospects for legalizing a civilian short-barreled rifle in our country
weapons
... At the same time, opponents and supporters of granting the population the right to acquire, store and carry pistols and revolvers consider them exclusively as a means of self-defense against criminals. Today I want to consider another possible option for using short-barreled civilian weapons.
From the attack of bears
Cases of bear attacks on people are recorded annually on the territory of the Far Eastern Federal District. This happens for various reasons. Often, the victims themselves show frivolity in relation to wild animals: they come close on floating craft to a bear swimming across the river. They are trying to feed the bear cub, not thinking that his mother may be nearby. Noticing the beast on the side of the road, they stop, get out of the cars and try to film it on the phone.
But much more often people become victims when they encounter an animal in the taiga while collecting wild plants or on the river while fishing. It is not uncommon for an offended person or a hungry bear to purposefully hunt people in the vicinity of settlements.
Living in the Far East, I can testify with full responsibility that there have been many more brown bears in the vicinity of settlements over the past 10 years. Moreover, sometimes bears are seen on city streets. This happens for the following reasons: uncontrolled and total deforestation deprives animals of their habitats, barbaric salmon fishing in the Amur estuary leads to the fact that chum salmon and pink salmon do not reach the taiga rivers, and the animal cannot eat off for wintering. In addition, illegal garbage dumps in the vicinity of villages attract hungry animals.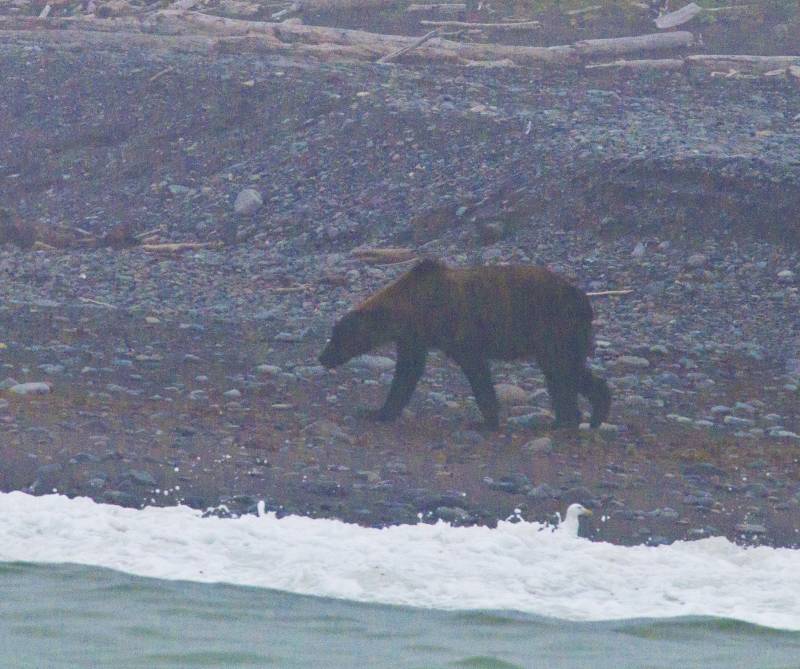 Brown bear on the shore. Shantar Islands. Photo from the personal collection of the author
I myself have seen bears of different ages and sizes several times, while fishing or picking mushrooms, lingonberries, and pine nuts. A couple of meetings were very unpleasant, when the animal was 5-10 meters away, but, fortunately, managed to disperse peacefully. However, two of my friends, one might say, miraculously survived. Both cases occurred in the taiga, when people were alone, and the bear deliberately attacked them.
The first case occurred in early February 2014. It is no secret that hunters-trappers in winter, unnecessarily, try not to bring their weapons into a warm room. This is due to the fact that water condensation inevitably occurs on cold metal under conditions of higher air temperature and humidity. Water that is not removed in a timely manner leads to corrosion, and the most unpleasant thing is that the formed ice in the cold can impede the normal operation of the moving parts of the weapon.
That evening, the hunter decided to clean the carbine after the shooting, and his KO-44 remained in the winter hut. In the middle of the night, a connecting rod began to break into the hut. It helped a lot that the door in this winter room, contrary to the taiga custom, opened outward, and my friend managed to load the weapon and make an aimed shot. Although the hunter was a very experienced person and had been fishing for more than 20 years, he later admitted that he was shaking for a long time, and from a nervous shock he could no longer close his eyes until morning.
At daybreak, when I managed to see the killed animal well, it turned out that it was a medium-sized and extremely emaciated three-year-old, who, however, mad with hunger, was very dangerous. In the afternoon, for the sake of courage, the hunter put the dead bear on its hind legs next to the winter quarters. Where he stood until the beginning of March, after which he was thrown onto the ice, and he was carried away by the spring flood.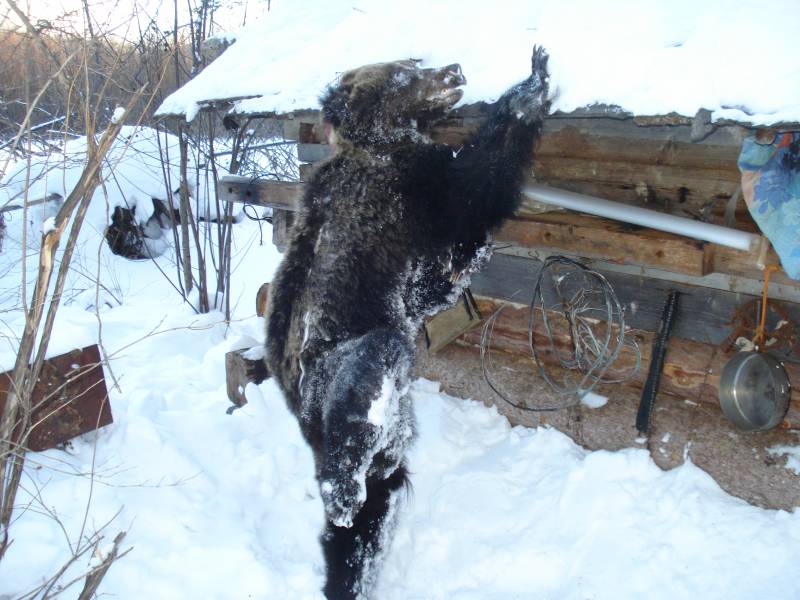 The same bear. Photo from the personal collection of the author
So we saw this connecting rod, having arrived a week later on a fishing trip. I must say that although my partner and I legally have rifled and smooth-bore weapons, we usually do not take them with us during fishing trips (for reasons that will be discussed below).
Another bear attack on humans happened a couple of years ago, at the end of October. We met this hunter when we met in January on the river, and this is what
history
He said. As you know, before the start of the season, fishermen bring in various supplies: food, hunting equipment, bedding, as well as fuel and lubricants for a snowmobile. In most cases, you have to make several walks if there is no way to throw the load by helicopter or by water. Having made one trip to his site, the hunter managed to return to the UAZ, which was parked on the site near the logging cabins being towed.
This trailer stood on one of the branches of the main timber road, was used as a transshipment base and was locked with a padlock. Those who were supposed to know where the key to the change house was hidden. I must say that I also spent the night in this trailer a couple of times. Inside there were four iron bunks with bedding and pillows, which (by taiga standards) is a luxury, as well as a table, a small supply of food, a stove and firewood. Everyone could use firewood and food, but everyone who spent the night had to replenish the supply of firewood and leave something to eat.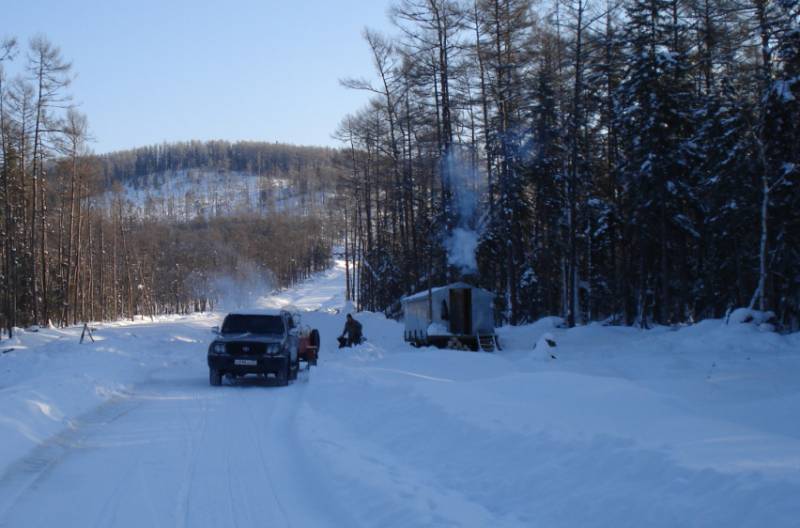 The same trailer. Photo from the personal collection of the author
It was no later than it was just getting dark. The stove was heated in the trailer, the hunter was drinking tea. On the street, the temperature dropped slightly below zero and, in order not to create stuffiness, the door was open. At the same time, the carbine was hanging on a nail outside near the door. A very large bear crept silently and attacked suddenly, but hesitated a little in front of the open door. The man, taking advantage of this, managed to slam the door and lock it on the latch from the inside, literally in front of the beast's nose.
A critical situation arose, the weapon was outside, and the bear did not allow to reach it. It was clear that the door would not hold him for a long time, and the person could not leave the shed through the small windows. In this situation, the hunter made, perhaps, the only correct decision. He poured diesel fuel on the pillow intended for quick kindling, set it on fire, and, opening the door, threw the burning pillow at the bear. The beast recoiled from the fire, the hunter managed to get to the weapon and with several shots from the SCS killed the bear.
It seemed that one could breathe calmly, but in a stressful situation, the person did not notice that the animal still managed to hook him. At first, the hunter did not understand what was running down his back. It turned out to be blood from a laceration left by bear claws. A piece of meat hung above the left shoulder blade. Having somehow closed the wound, the hunter, struggling with dizziness, managed to independently make a dressing, cutting a sheet for this.
By morning, the temperature rose, the wound was very painful, and almost nothing could be done with the left hand. There was no talk of starting and driving the car on a bumpy road. We had to walk 8 km to the road along which the timber was taken out, and then we had to shake for several hours in the cabin of the timber truck. As a result, the victim was able to get to the hospital about a day after the bear attack. Because of the onset of inflammation, he spent more than a month in the hospital and was able to go fishing only at the end of December.
Law enforcement instinct
It would seem, knowing such examples and regularly seeing a bear in its natural habitat, it would be logical to carry a 20-12 caliber rifle or a rifled carbine loaded with bullet cartridges for self-defense. However, in most cases we don't, and here's why. According to the current legislation, being in the taiga with a weapon outside the hunting season or without an open voucher-license for hunting birds or animals is automatically considered poaching and leads to the seizure of weapons and a large fine.
"Law enforcers", who themselves are always armed in the taiga, are absolutely not interested in the fact that you can be eaten or crippled. The main thing for them is to show the results of their "work", draw up a protocol and draw up an act of withdrawal, or, as an option, "agree".
It helps in part that representatives of official structures have a very developed instinct for self-preservation. They rarely go to the real wilderness and only in large groups. And at the same time, fishermen and pickers of wild plants are most often watched at car parks and bivouacs. In this situation, the gun can be disassembled and hidden in a backpack, and for a personal search, good reasons are needed, it is required to draw up a protocol and look for attesting witnesses.
Shotgun "Saiga-12S"
In case of a high probability of meeting a bear, I sometimes take with me a Saiga-12S smoothbore gun with a magazine for five rounds loaded with a Poleva-3 bullet. Such a 12-gauge bullet has a high stopping effect and is quite effective when firing at a distance of up to 50 meters.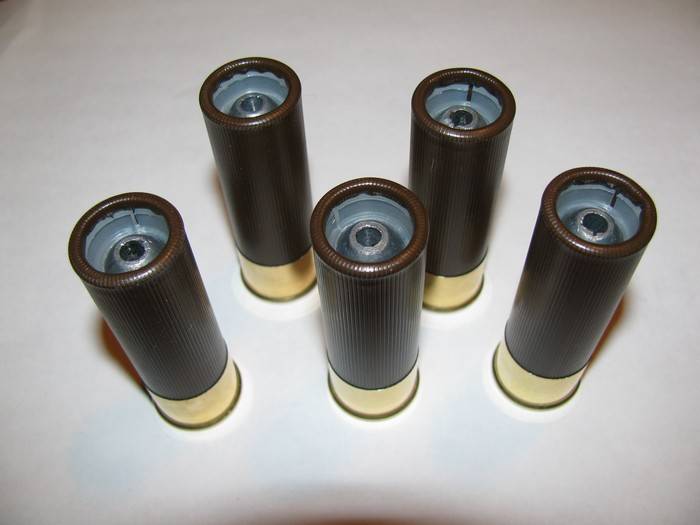 Cartridges with a bullet "Poleva-3"
But I go fishing without a weapon. Anyone who fished on the rapid taiga rivers will confirm that when fishing for grayling, lenok or taimen, in most cases you have to move a lot. Overcome rifts, creases, wading through the coastal jungle, bypassing deep pits. Taking into account the fact that on the banks very often there are dense thickets of prickly Eleutherococcus, entwined with lemongrass vines, it is also quite burdensome to carry a gun with you. In addition, the Saiga has a weak magazine latch, there is a high risk of losing it. Based on all of the above, I usually do not take weapons to the river.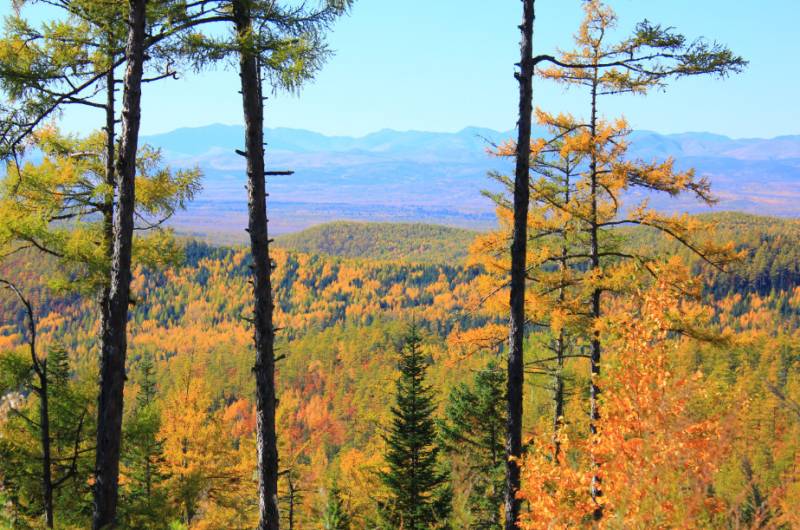 Far Eastern taiga at the end of September. Photo from the personal collection of the author
Another thing is when we are an organized group going to gum, pick lingonberries, lemongrass or wild grapes. In this case, I am often asked to be a security guard, and I go light only with a gun, and then we divide the harvested crop among everyone.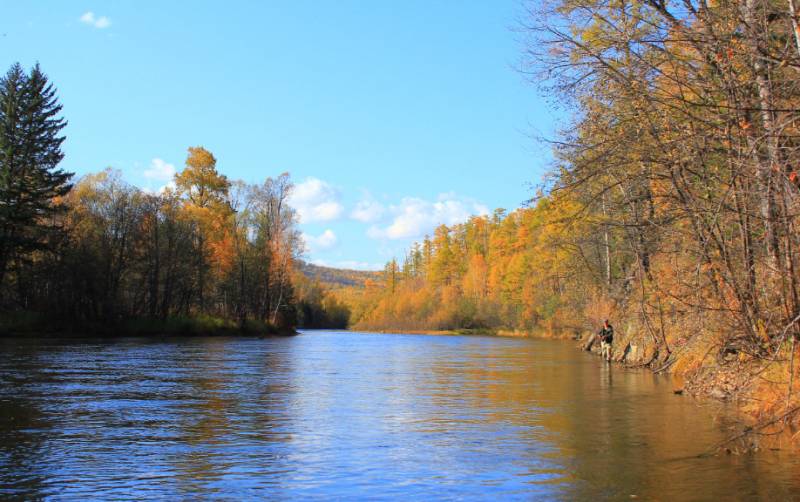 The Limuri River. Photo from the personal collection of the author
Last year, in June, on one of the taiga rivers, I met a guy of about forty, with whom there was a companion who caught grayling along with him. The pair turned out to be well equipped, both had rather expensive waders and wading jackets. In addition, the guy had a compact gun with a pistol grip "Bekas-16M" on his shoulder, which is smaller in size and weight than my "Saiga-12S", and is much better suited for carrying and short-term self-defense. It is clear that being on the river with a weapon in the summer is absolutely illegal, but the safety, apparently, of his combat girlfriend was clearly more important for him.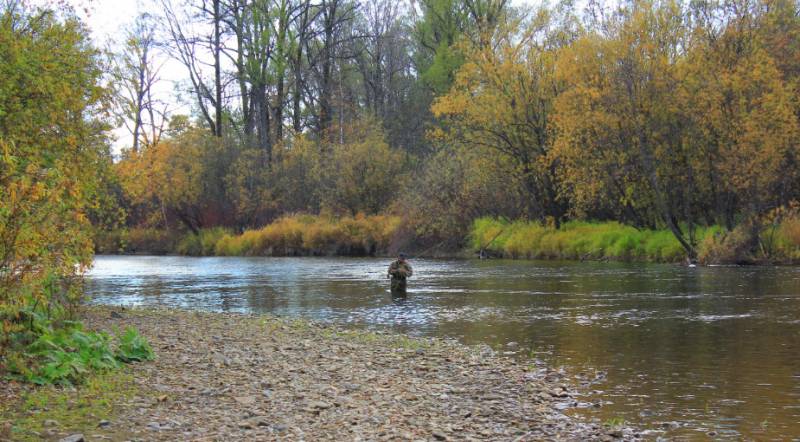 The Limuri River. Photo from the personal collection of the author
Based on personal experience (taking into account the opinions of friends and acquaintances), I think that for self-defense against wild animals and dashing people in the taiga, a large-caliber short-barreled multiply-charged weapon that does not have a butt is optimal. Such a weapon is comfortable to carry and not suitable for hunting, which means that its owner cannot be indiscriminately accused of poaching. A similar approach is practiced in Alaska, where there are many large grizzly bears, and fishermen often see them along river banks.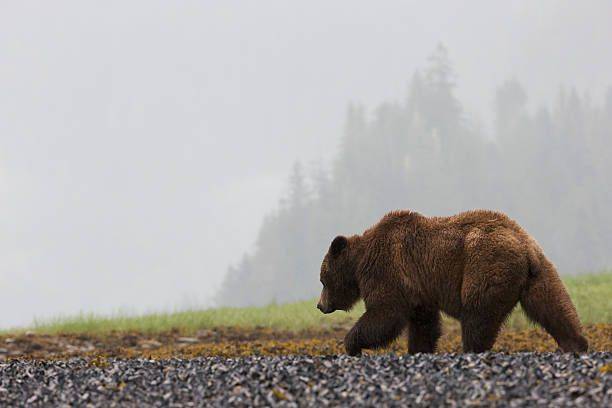 Armed neutrality
It must be said that the majority of healthy bears are absolutely not interested in humans, observing armed neutrality. However, among animals (as well as among people), sometimes inadequate or sick individuals are found, capable of unprovoked aggression.
Sudden unintentional encounters, when a person encounters an animal head to head on a forest path, are also of great danger. In this situation, short-barreled weapons of 9-12 mm caliber can become the only means of salvation. It is clear that the larger the caliber and the more powerful the cartridge, the more chances of putting the beast down from the first shot. But it should be understood that a very powerful weapon will have a crushing recoil, as well as significant weight and dimensions.
Taking into account that the bear is a very large and strong animal, it is quite obvious that the energy of the bullet should be enough to pierce a strong skin, muscles, crush bones, destroy vital organs and cause shock. It is absolutely necessary not only to shoot an aggressive animal, but to do it so that it, being mortally wounded, could not harm a person. That is, (in addition to destructive power), a certain stopping action is required.
American anti-bear experience
Based on the American experience of using pistols and revolvers against a bear, the minimum caliber suitable for reliable self-defense is .357 Magnum, with an energy of 8 g of a bullet of about 900 J. In 2012, this cartridge was certified for production in Russia as ammunition for sports hunting weapons, and its production was mastered by the Tula Cartridge Plant.
Taking into account the requirements of reliability and safety of handling, the most preferable is a double-action revolver. Such a weapon with a drum for five to six rounds and a stainless steel frame can have a relatively modest size and acceptable weight, which makes it possible to use it as a "second chance weapon" for hunting and a means of self-defense, without burdening the owner.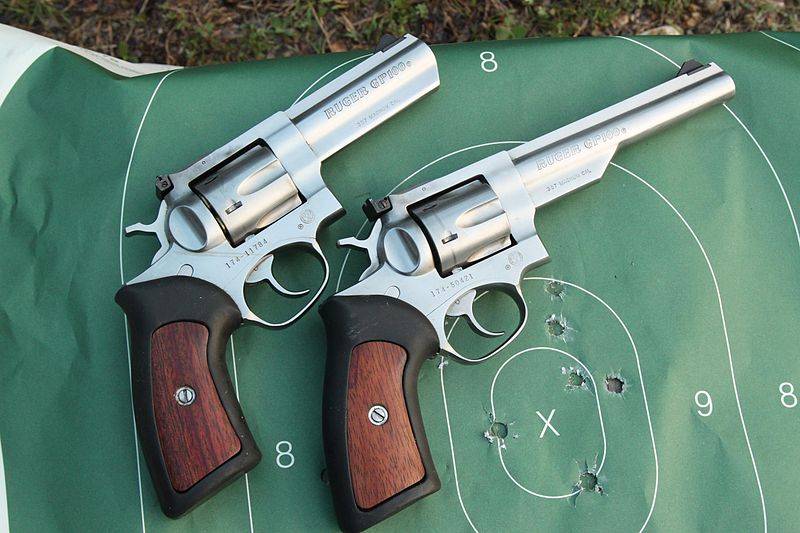 Ruger GP100 revolvers with 4 '' and 6 '' barrels
Revolver Ruger SP101
One of the more popular .357 Magnum revolvers is the Ruger GP100. This model was replaced in 1985 in production by the Ruger Redhawk. Weight revolver GP100 with a barrel length of 4 inches with a stainless steel frame 1,1 kg, with a barrel length of 6 inches - about 1,25 kg.
Weapons experts note that the GP100 revolver is very durable and has a long service life.
The cost of new revolvers of the GP100 family is $ 800-950.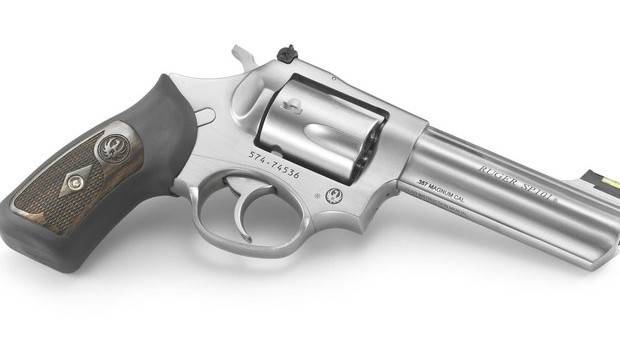 If the weapon is not supposed to shoot a lot, then fishermen and hunters often prefer the lightweight Ruger SP101. Like the Ruger GP100, this is a double-action revolver and is also available with a stainless steel frame. The weapon with a 4-inch barrel weighs 0,836 kg. Drum capacity - 5 rounds. Price (depending on frame material) from $ 680-800.
Revolver Taurus 627 Tracker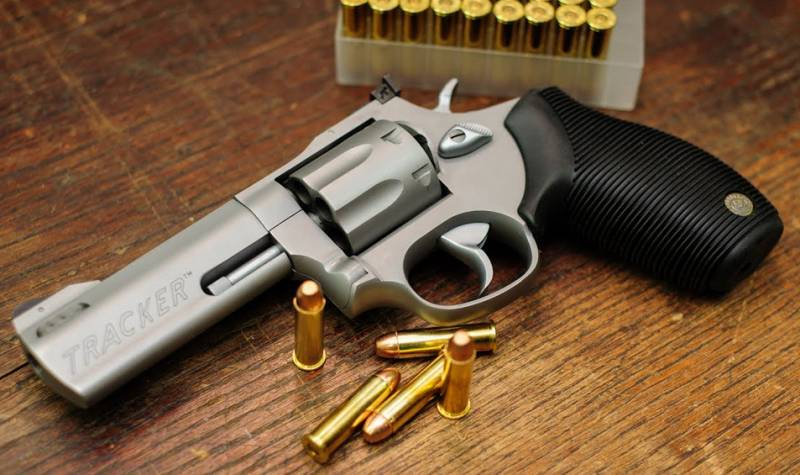 Revolver Taurus 627 Tracker
In addition to the Ruger GP100 and Ruger SP101, among those who visit places where a grizzly or black bear is likely to be encountered, the Ruger Redhawk, Smith & Wesson Model 686 and Taurus 627 Tracker revolvers are popular, which can also use the 9mm Magnum.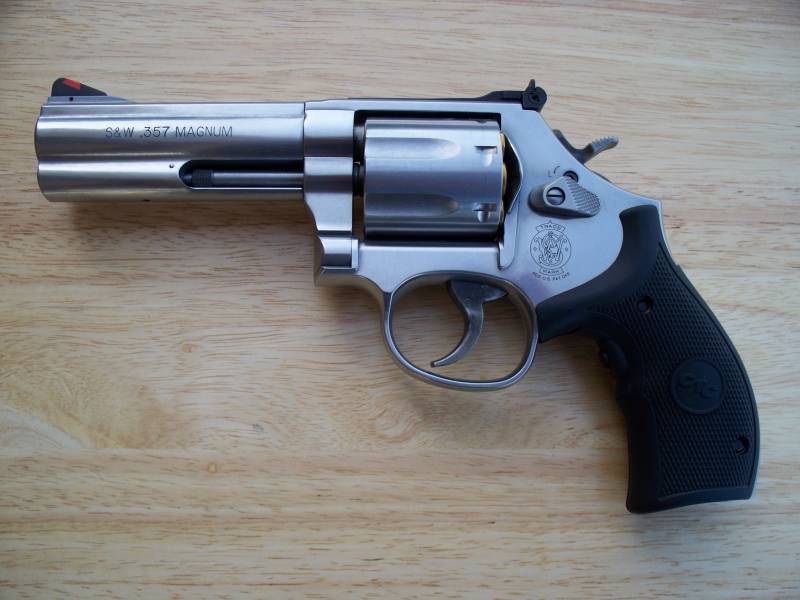 Revolver Smith & Wesson Model 686 Plus
Compared to a .357 Magnum weapon, a .44 Magnum revolver will be much more effective (in terms of destructive power and stopping effect) in a collision with a bear. According to reference data, a bullet weighing 16,2 g, leaving a 152 mm long barrel, has an initial velocity of about 390 m / s and an energy of about 1 J, which is comparable in energy to a bullet fired from the barrel of an AK-300 assault rifle.
However, for successful firing from a revolver chambered for such a cartridge, one must have very strong hands, since the mass and size of the .44 Magnum weapon is significantly larger, and the powerful ammunition gives a strong recoil. In this regard, heavy and very powerful revolvers place increased demands on the level of training and physical shape of the shooter.
Revolver Ruger Super Redhawk
In caliber .44 Magnum, the Ruger Super Redhawk revolver with a barrel length of 1987-190 mm, produced since 241, is heavily advertised. Weapon weight depending on barrel length: 1,5 - 1,645 kg. Drum capacity: 6 rounds. In American gun stores, the estimated cost of this revolver is approximately $ 1100.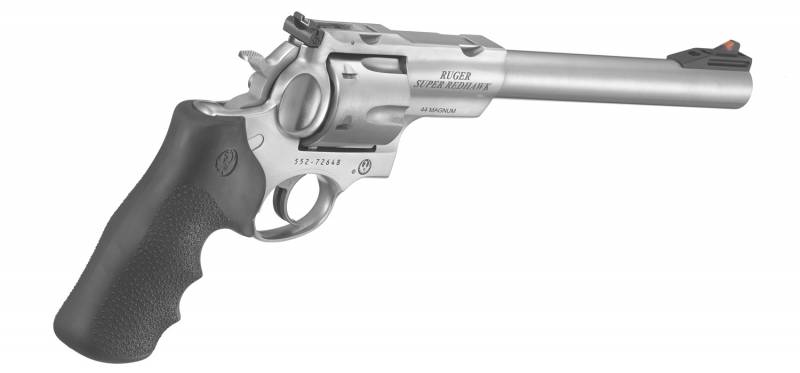 Revolver Ruger Super Redhawk
In addition to .44 Magnum cartridges, Super Redhawk revolvers can use the more powerful .454 Casull and .480 Ruger cartridges with an energy of about 2 J. Shooting with powerful cartridges is possible thanks to a strong frame with a massive front lug that covers the breech, that is, the zone of greatest pressure powder gases, as well as a hardened drum, the chambers of which can withstand increased pressure.
However, revolvers for such ammunition are not widely used, and are used by a rather narrow circle of connoisseurs, who, basically, equip cartridges on their own.
Revolver Ruger Super Redhawk Alaskan
For ordinary shooters who deliberately do not hunt big game with a revolver and prefer weapons where high lethality is combined with lightness and compactness, the Ruger Super Redhawk Alaskan is intended.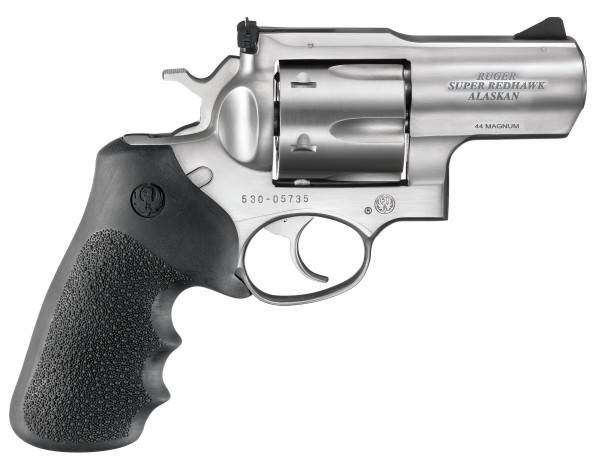 Revolver Ruger Super Redhawk Alaskan
Introduced in 2005, this large bore revolver is based on the Super Redhawk and is designed to protect against large and dangerous animals.
There are options for weapons chambered for: .44 Magnum, .454 Casull and .480 Ruger. At the same time, the model chambered for .480 Ruger was originally a six-shooter, and in 2008 it was replaced in production by a five-shot modification.
All Super Redhawk Alaskan revolvers are made of stainless steel and have a rubberized non-slip grip with finger recesses. The .44 Magnum version weighs 1,275 kg. Although (compared to modern 9-mm pistols) the revolver has a solid weight, for this caliber it is quite compact.
The price tag of this weapon in the United States is $ 1100-1200.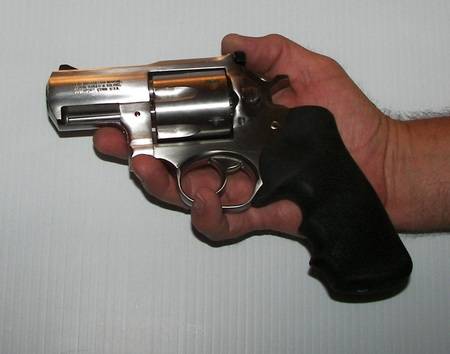 The main advantage of the Ruger Super Redhawk Alaskan over other large-caliber revolvers is that it can be quickly removed from the chest holster, which is convenient for fishing and hiking. However, the short 2,5-inch barrel is not optimal for heavy-duty rounds. Compared to a revolver with a 6-inch barrel, muzzle velocity is about 25% less. In addition, when fired (due to incomplete combustion of the powder charge), there is a strong flash, blinding the arrow. For this reason, the manufacturer recommends the use of special cartridges with an optimally matched powder load and a weighted bullet.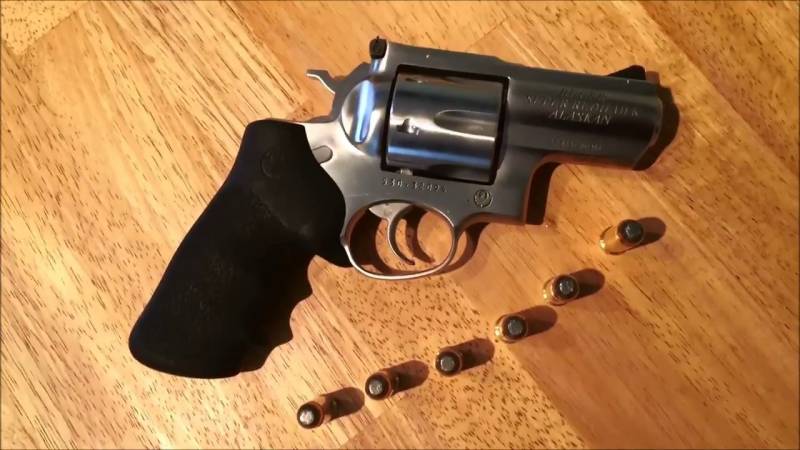 Even taking into account the disadvantages that are a consequence of the shortened barrel, this revolver can be considered an acceptable means of defense against bears. In the 10 years that have passed since the start of sales in the United States, several attacks by grizzly and black bears have been repelled. Apparently, the first successful application of the Super Redhawk Alaskan compact revolver occurred in August 2009. Greg Brush from Soldotna, Alaska was walking his dog when he was attacked by a bear. Pulling out his Super Redhawk Alaskan, retreating quickly, he fired four shots at the bear. The animal was stopped 3 m from the shooter.
An intermediate position between .357 and .44 Magnum cartridges is .41 Magnum. This ammunition is equipped with a bullet weighing 13,6 g, which leaves the six-inch barrel at a speed of 390 m / s, and has a muzzle energy of about 1050 J. Although revolvers chambered for this cartridge are also quite suitable for self-defense against a bear, such a weapon is not widely used.
In the last decade, revolvers chambered for the .500 S&W Magnum, introduced in early 2003, have been gaining popularity as an anti-bear.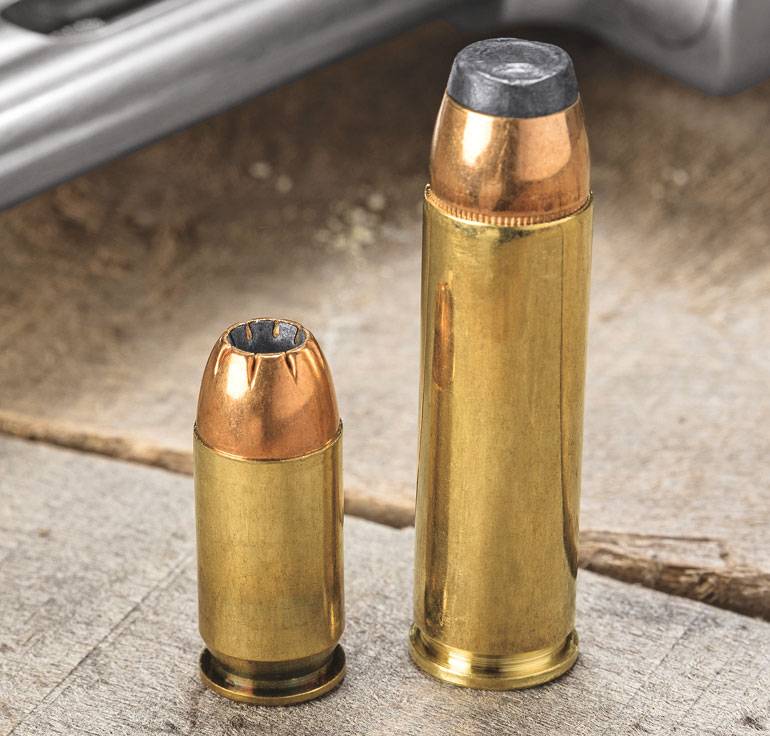 .45 ACP and .500 S&W Magnum cartridges
It is the most powerful revolver cartridge produced to date. A 12,7 mm bullet weighing 21,1 g is accelerated in a barrel length of 213 mm to 550 m / s (energy is about 3 J). There are also cartridges with a bullet weighing 000 g, the muzzle velocity of which when fired from a 23-inch barrel is 10 m / s, and the muzzle energy exceeds 602 J. But such ammunition can only be used for firing carbines, since there are few shooters will withstand such a powerful kickback. In hand-held short-barreled weapons, it is recommended to use cartridges equipped with a bullet weighing 4-000 ​​g with an initial speed of 23-25 m / s.
Revolver Smith & Wesson Model 500

Revolver Smith & Wesson Model 500
The first mass-produced revolver chambered for the .500 S&W was the Smith & Wesson Model 500. Production of this five-shot revolver began in 2003. Initially, variants with a barrel length of 165-213 mm were produced. But taking into account the fact that carrying long-barreled revolvers is not very convenient, "snub-nosed" models appeared. But since hunting with a revolver is allowed in the United States, long-barreled modifications are in steady demand.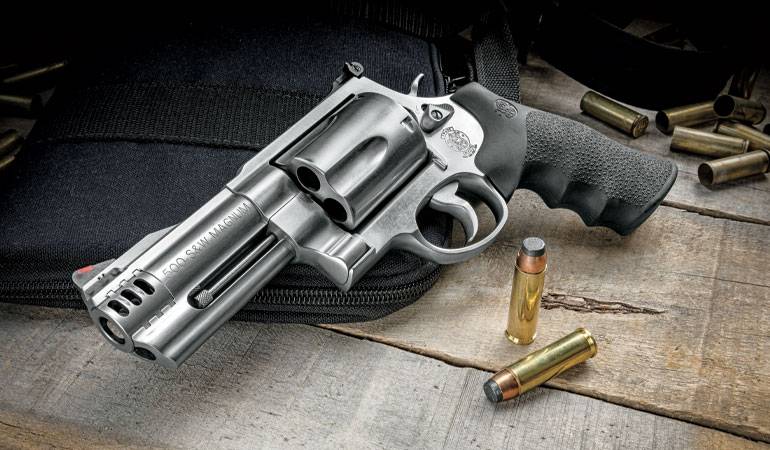 Revolver Smith & Wesson Model 500 4-in
The most optimal model for fishermen from the entire range of Model 500 revolvers is a weapon with a barrel length of 4 inches. To reduce recoil, the barrel has a compensator. The weight of the weapon is 1,632 kg.
Retail price is about $ 2000.
Revolver Taurus Raging Bull 500
Another serial .500 S&W revolver is the Taurus Raging Bull 500, introduced in 2005. However, despite the increased advertising and about half the price of the Smith & Wesson Model 500, it was not possible to establish a stable sale of this weapon in the United States, and now this revolver is not produced.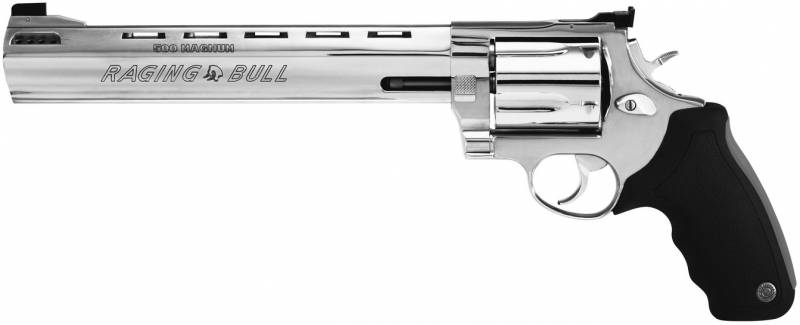 Revolver Taurus Raging Bull 500
The revolver was produced in only one version - with a barrel length of 10 inches. Its weight is 2,050 kg. Ballistic characteristics correspond to those of the Smith & Wesson Model 500.
However, despite the unprecedentedly high destructive power for short-barreled weapons, 12,7-mm revolvers are, by and large, a weapon exotic. Their use for self-defense is difficult, since confident shooting from them is possible only when holding with two hands, and a powerful recoil with a high degree of probability will hit a poorly trained shooter on the head with a weapon. In fact, the .44 Magnum cartridge is the ceiling of power at which a reasonable compromise is possible in terms of weapon weight and recoil when firing. And the minimum sufficient for reliable self-defense against an aggressive beast (weighing up to 250 kg) can be considered .357 Magnum.
Revolver U-94 "Blow"
Given the wide choice of foreign large-caliber revolvers that are suitable for self-defense against a bear, a logical question arises, what do we have.
In our country, in the mid-1990s, the Tula Instrument Design Bureau developed the U-94 Udar revolver. The 12,3 × 40 mm cartridge for the U-94 Udar revolver was created on the basis of a shortened brass sleeve from a 32-caliber hunting cartridge.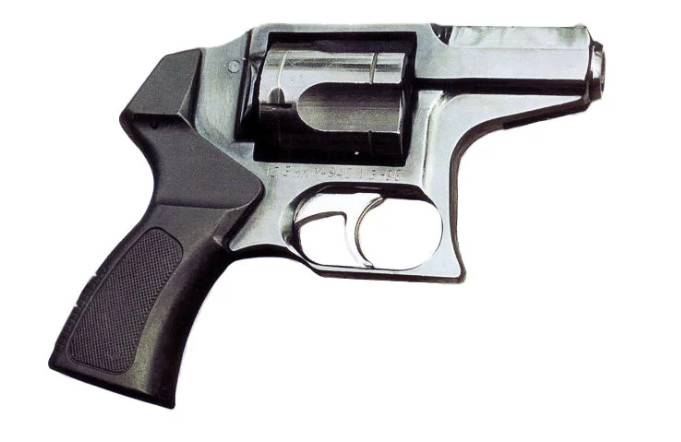 The U-94 Udar revolver used the traditional reloading scheme with simultaneous extraction of cartridges to the left from the 5-round drum. The cartridges are loaded one at a time, also with the drum tilted to the side. The trigger mechanism of the revolver is hammer, with a half-hidden hammer. For a number of reasons, this 12,3 mm revolver was not mass-produced. And in terms of its power, it is hardly capable of stopping a large animal with the first shot.
Revolver OTs-20 "Gnome"
At about the same time as the U-94 "Udar", the Central Research Institute Tochmash created a smooth-bore 12,5-mm revolver OTs-20 "Gnome". For firing this weapon, the SC-110 cartridge with a steel bullet weighing 11 g in a plastic piston was intended, which serves to disperse the bullet and as a tail unit for stabilization in flight. According to unconfirmed reports, the initial speed of the steel bullet exceeded 400 m / s. A lead bullet weighing 12 g with an initial speed of 350 m / s and a muzzle energy of 735 J.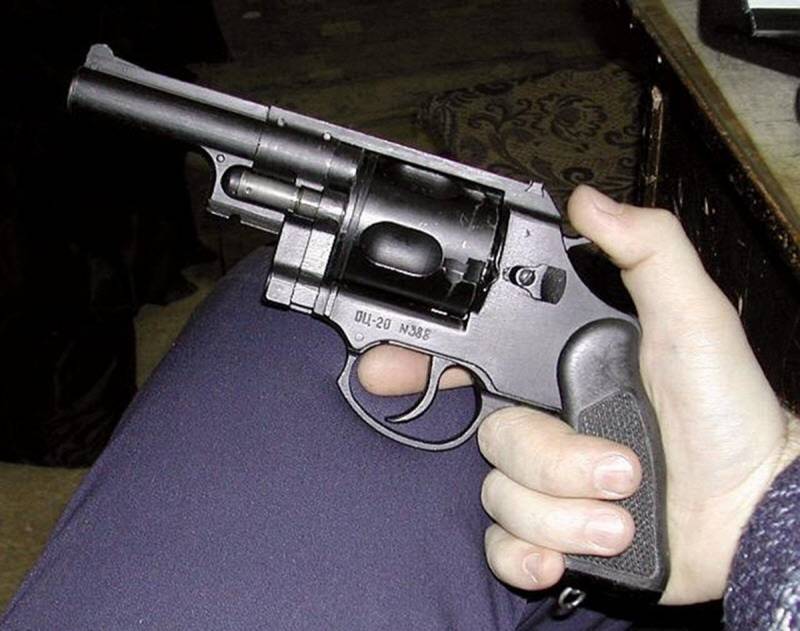 The revolver has a double action trigger mechanism with an open hammer. To remove spent cartridges, the drum leans to the left, and (when you press the extractor located on the central axis of the drum), all spent cartridges are removed at once. In 1994, the OTs-20 "Gnome" was adopted by the Ministry of Internal Affairs, but was not widely adopted. The production volume was approximately 200 units.
Thus, it can be stated that there are some developments in large-caliber revolvers in our country. As an experiment, in remote and northern regions of our country, where there is a significant risk of attack by wild animals, it would be reasonable to allow limited carrying of powerful short-barreled weapons outside of settlements. In terms of its status, this weapon should be equated to a rifled one, and only citizens with experience in possession of a smooth-bore weapon could get access to it. The transportation and storage of short-barreled self-defense weapons should be carried out unloaded and covered. Wearing in the forest is only open.
But given the fact that our executive and legislative branches of government are extremely negative about the idea of ​​legalizing short-barreled self-defense weapons, it is safe to say that law-abiding citizens (even at the risk of being eaten alive) will not get such an opportunity in the near future.
Revolver OTs-62
However, there is another way to solve this problem. Several years ago TsKIB SOO presented the OTs-12 62-gauge smoothbore revolver. Not much information is available about this sample. It is only known that this revolver appeared as a further development of the MTs255 revolving hunting rifle.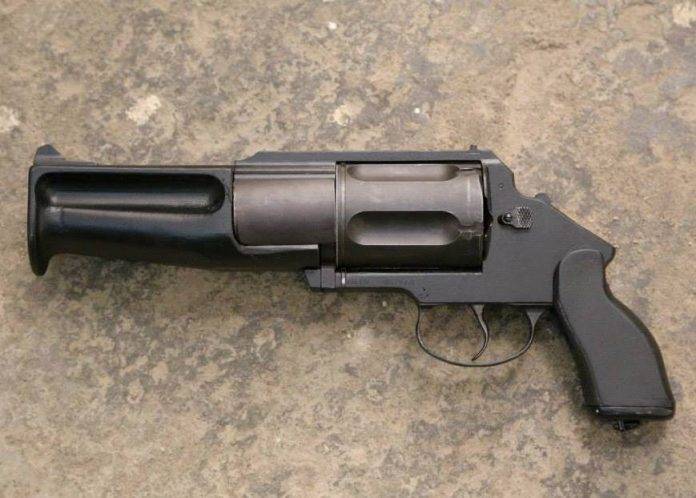 The OTs-62 uses a reduced power cartridge with a sleeve length of 67 mm. The drum of the revolver holds five rounds. The weight of a revolver-gun without cartridges is 2,5 kg. The OTs-62 barrel has a length of 200 mm. Weapon length - 366 mm.
In my opinion, the use of 12-gauge cartridges with such a barrel length is not rational. The barrel could be lengthened by 100 mm, and 20 caliber is optimal when firing a bullet. Taking into account that such a gun is practically not suitable for hunting and is effective when shooting a bullet at close range, it could be certified as a means of self-defense and equated in status with a smooth-bore weapon.
Of course, such a gun is far enough from the idea of ​​an ideal self-defense weapon. But that's better than nothing.