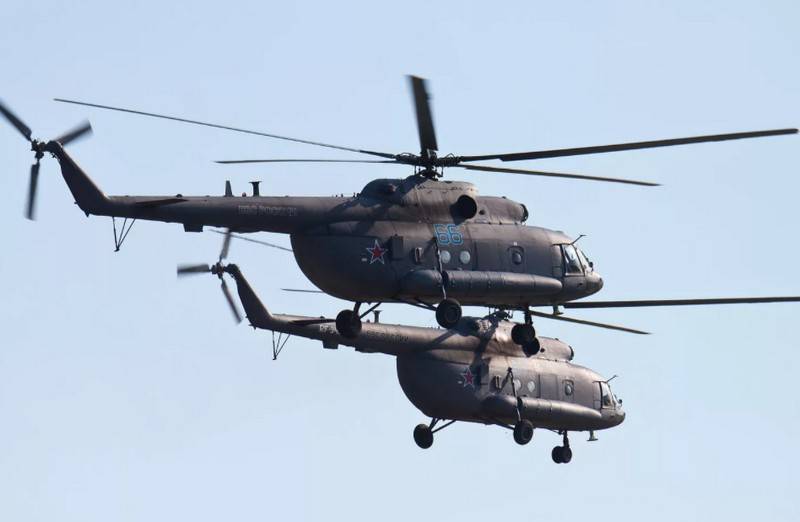 The Ministry of Defense has decided to significantly increase the number of helicopters equipped with electronic warfare "Lever-AV" systems. According to the military department, the grouping of the Southern Military District, including Crimea, will be strengthened first.
According to the plans of the Ministry of Defense, the subdivisions and units of the Southern Military District will be reinforced with Mi-8MTPR-1 helicopters with the "Lever-AV" radio suppression system. The emergence of these helicopters will be an effective response to the possible deployment of medium and short-range missiles in the region.
The number of vehicles planned for delivery has not been reported. Earlier, the Ministry of Defense ordered 18 helicopters in this modification, most likely, the number of machines will be increased, if this has not already happened.
The first helicopters with the electronic warfare "Lever-AV" system appeared in 2016. At the beginning of April of that year, Russian Helicopters announced the early modernization of the Mi-8MTV-5-1 helicopters with the installation of the Lever-AV system on them. In mid-April 2016, the first two modernized helicopters entered the ZVO.
Active jamming stations "Lever-AV" are powerful enough to "blind" the enemy's electronics at a distance of up to 150 kilometers. At the same time, it is argued that this is only one of the operating modes, the range of the complex is much greater. The stations have a database with information about various means that pose a threat to the covered objects. The computer system matches the signal coming from the source with the types of signals available in the database. If a match with a threat signal is detected, then the system works, which selects the most effective interference for the source of danger. The complex operates fully automatically without operator intervention. Base stations "Lever-AV" - multi-beam antenna arrays. When generating signals, the station uses DRFM (Digital Radio Frequency Memory - digital processing and recording of radio signals) technology, which guarantees stable reception of signals from radar facilities and their radio suppression throughout the entire coverage area.
The Mi-8MTPR-1 helicopter, while in the air, is capable of simultaneously jamming up to 8 enemy radars, interfering not only with ground, but also
aviation
radars. With the help of "Lever-AV" stations, helicopters are able to conduct electronic reconnaissance and suppress enemy troops and weapons control systems. The systems provide group protection for aviation and ground vehicles.
Mi-8MTPR-1 is produced at the Kazan Helicopter Plant. In 2019, information appeared about the imminent adoption of an upgraded version of the system - Lever-AVM ".