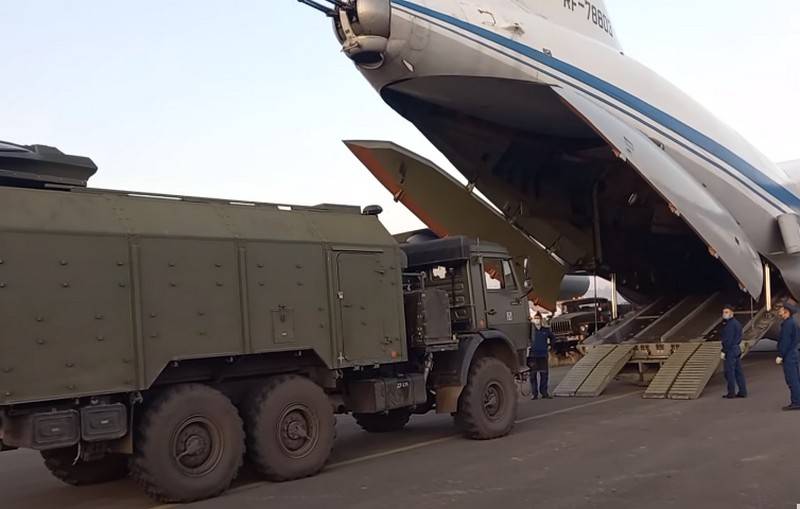 The Ministry of Defense continues to transfer peacekeepers to Nagorno-Karabakh. Following the three Il-76s, five more Il-76 military transport aircraft with the Russian military and equipment on board took off from Ulyanovsk. This is reported by the military department.
On November 11, 2020, five more Il-76 military transport aircraft
aviation
took off with Russian peacekeepers from the airfield in the Ulyanovsk region
- said in a statement.
It is clarified that in addition to military personnel, there is automotive and special equipment, as well as material resources on board. Over the past day, 27 Il-76 and An-124 sorties were flown. 414 military personnel, 54 units of automobile and special equipment, 8 helicopters, as well as two complexes of unmanned aerial vehicles were transported.
As the Ministry of Defense said earlier, 1960 Russian servicemen of the 15th separate motorized rifle brigade (peacekeeping) of the Central Military District, 90 armored personnel carriers BTR-82A, 380 units of automobile and special equipment, including armored vehicles "Tigr" and "Typhoon" will be in the conflict zone.
BTA aircraft land at the Erebuni airfield, after which Russian servicemen make a three-hundred-kilometer march and complete their concentration in the area of ​​the Goris settlement. The deployment of the first posts of the peacekeeping forces will begin on November 12. Observation posts will be set up along the line of contact in Nagorno-Karabakh and along the Lachin corridor connecting Armenia and Nagorno-Karabakh.
To date, the advanced units of the contingent of the Armed Forces of the Russian Federation have taken control of the Lachin corridor and the section of the Lachin road - Lysogorsky state farm with the setting up of temporary observation posts
- stated in the Russian Ministry of Defense.