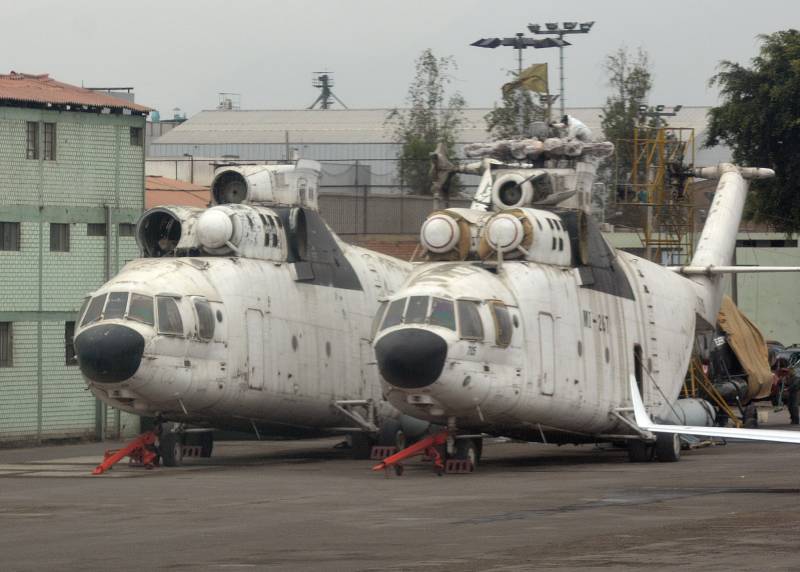 The Peruvian Armed Forces sold off the entire fleet of Mi-26T helicopters, actually handing them over to the buyer by weight, and not as complex technical products.
The Cyprus company AGSL Aero Systems acquired at an open auction three heavy transport rotorcraft Mi-26T, which the Peruvian army
aviation
decommissioned in August this year. The purchase price was slightly over $ 300 for the entire lot. The new owner intends to dismantle all equipment that can still be used, and sell the rest as scrap metal. Among other things, machine engines are subject to assessment.
The equipment was manufactured in 1992 and previously flew in the interests of the Russian Aeroflot. Peru acquired the Mi-26T through Mobetek for approximately $ 9,7 million. Since 1995, helicopters have been part of the 811th Air Assault and Transport Battalion of the Peruvian Army. They had registration numbers EP-705, EP-706, EP-707 and were not used for 12, 17 and 21 years, respectively. The tender for their sale was opened on August 12, 2020.
Their units are certified and can be used as spare parts for overhaul of this type of helicopter.
- explained in the Armed Forces of Peru, noting that the reason for the sale of cars is the too high price of their maintenance:
The repair of three helicopters will require large investments, given their technical condition and inactivity.
As indicated, among the units, D-136 engines, TA-8V starting auxiliary engines and gearboxes did not need repair. The two helicopters have hydraulic, electrical and navigation components that are unusable due to wear and tear due to outdoor storage (in Lima Callao, near the sea).
The Mi-26T EP-707 sample had the least flight time (only 142 hours), but in October 2003 it made an emergency landing and has been in storage ever since.