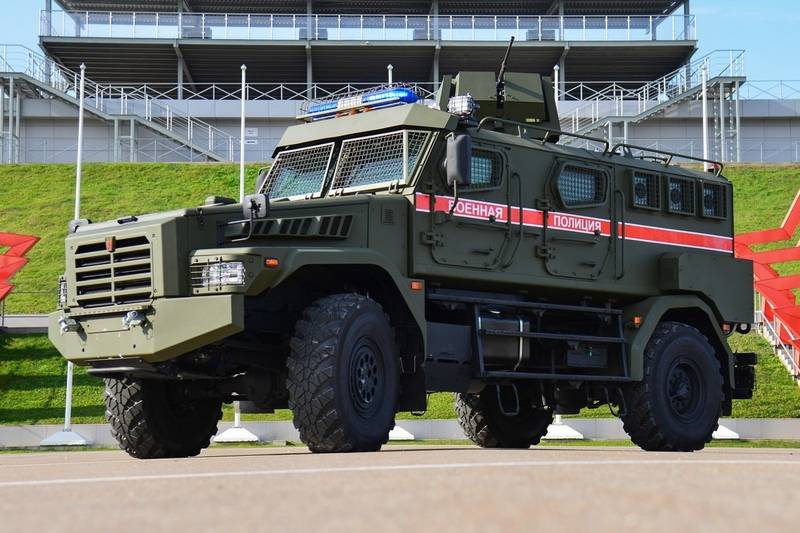 The first batch of Patrol armored vehicles entered service with the military police. The solemn ceremony of handing over the vehicles took place at the Alabino training ground in the Moscow region. This is reported by the Ministry of Defense.
The first batch handed over to the military police consisted of five "special vehicles" of the military police "Patrol". The equipment was supplied as part of the state defense order.
Today we are adopting armored vehicles "Patrol", which have already been successfully tested, into service with military police units. The vehicles will be used to provide escort and protection of military convoys, patrolling and, most importantly, to protect the crew from the damaging action of small arms.
weapons
and explosive devices
- said the head of the Main Directorate of the Military Police of the Russian Defense Ministry, Colonel-General Sergei Kuralenko.
As they say in the message, the Patrol armored car is built on the KamAZ chassis. The body is made in the form of an armored capsule and provides protection against damage by small arms of 5,45 and 7,62 caliber. The car can withstand explosive detonation up to 2 kg in TNT equivalent under the wheels, as well as under the bottom. The gas tanks are treated with a special compound that tightens the bullet holes.
Earlier armored vehicles "Patrol" entered service with divisions of "Rosgvardia".
Wheel arrangement 4x4, curb weight 11700 kg, V8 diesel KAMAZ-740.652-260 engine, engine power 260 HP, mechanical transmission, five-speed, two-stage transfer case with a lockable cross-axle differential, crew 2 + 8 people, overall dimensions 7340x2550x2950 mm, ground clearance 370 mm, cruising range 1000 km.