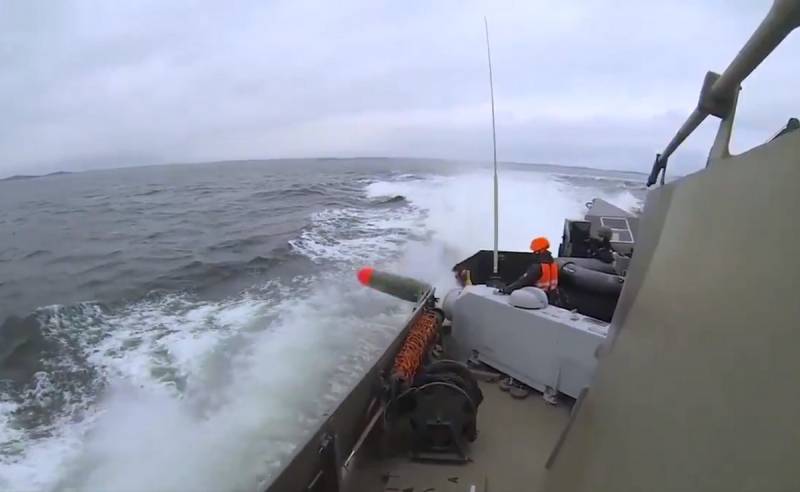 The Finnish naval forces are gradually undergoing modernization, which should give them the ability to fight enemy submarines.
In particular, the existing anti-submarine defense systems receive new
weapons
systems. The use of a torpedo from the Swedish company Saab was recently demonstrated. The footage, laid out by the military department, shows the work of the boat "Hamina", during which he tried to hit a simulated submarine.
Apparently, we are talking about testing the 400 mm torpedo Tp-45. An agreement on their temporary use was signed with Sweden in January 2018. The weapon of this type should close the gap in the Finnish anti-submarine defense before the start of deliveries of the new NLT torpedo, also known as the Tp-47 (expected in 2023-2025).
The use of the Tp-45 indicates the completion of the modernization of at least one Hamina-class boat (there are 4 of them in total, they form the core of the Finnish Navy), which had not previously specialized in ASW. In accordance with the Paris Peace Treaty of 1947, Helsinki was actually prohibited from having torpedo weapons.
Ensuring navigation and protection of our territorial waters is the main task of the Navy. We monitor our sea around the clock, every day of the year
- explained on
navy
.
#Rannikkolaivasto jatkaa uuden suorituskyvyn kehittämistä. #Hamina-luokan ohjusveneiden henkilöstö harjaantuu torpedon käyttöön #laivasto'n harjoituksissa. #RLAIV #merivoimat #torpedo #ohjusvene #Tornio # merellä #valmius #laivasto pic.twitter.com/wJzC4rCYAc

- Rannikkolaivasto (@rlaivasto) October 13, 2020